Best Gear of September-October 2022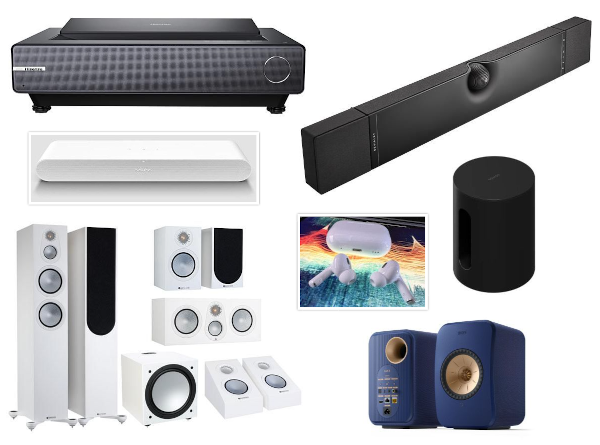 Ready for the hands-down best all-in-one soundbar you've ever heard? Or how about a light cannon that will project a massive image on your wall without you having to climb up on a ladder to install it on the ceiling? These are just two of the remarkable products that made our Top Picks list in recent weeks along with an alluring set of noise-canceling wireless earbuds and an exceptional sounding wireless speaker system. Read on as we celebrate the latest round of A/V riches.
A Bigger Big-Screen Experience
Hisense PX1-Pro 4K DLP Laser TV Projector: $3,500
If you're looking for a hassle-free path to a bigger big-screen experience and have yet to delve into the world of ultra-short-throw (UST) projectors, now's a good time to take a look. Along with Epson and others, Hisense has been busy expanding (and perfecting) its roster of "laser TVs" while consistently lowering the price of admission. Though the new PX1-Pro isn't cheap, it's designed to project a brilliant image up to 9.4 feet across (130 inches diagonal) when placed only a foot or two away from the projection surface. In other words, you won't have to worry about mounting a projector on the ceiling to get that theater-at-home experience you've been dreaming of.
Compact and stylish, the projector looks nothing like a traditional light cannon. It mates a DLP chip with a super-fast four-way pixel shifting mirror that (easily) fools your eyes into thinking they're watching native 4K and is equipped with a laser light engine comprising red, green, and blue lasers designed to reveal an expanded range of colors. The PX1-Pro is easy to set up, thanks to its motorized focus system, supports high-dynamic range (HDR), and has a couple things you won't find on most projectors: a built-in (ATSC 1.0) TV tuner for receiving high-definition broadcasts over the air and (Android) smart TV connectivity that puts Disney+, HBO Max, Hulu, Prime Video, and other streaming services (sorry, no Netflix) at your fingertips, while providing two HDMI 2.1 ports, one with enhanced Audio Return Channel (eARC) capability, and an optical audio output.
Casting a critical eye on performance, reviewer/professional calibrator Michael Hamilton embraced the PX1-Pro's ability to deliver "exceptional performance at a price that seems inexplicably low given the technology at play." Welcome news for enthusiasts of all stripes.
AT A GLANCE
Plus
Ultra-wide color gamut
Terrific lens for impressive focus
Built-in (ATSC 1.0) tuner
Minus
No dynamic tone mapping
Netflix not part of the Android bundle
Tuner doesn't support ATSC 3.0
Full Review Here (posted 9/22/22)
World's Best Soundbar
Devialet Dione Atmos Soundbar: $2,499
It's rare that a reviewer will proclaim a speaker, let alone a soundbar, the best he's ever heard, yet such is the case with Dione, an amazing all-in-one system from Paris-based Devialet, maker of the utterly unique
Phantom
line of compact speaker systems. Okay, at $2,499 Dione is anything but cheap but, boy, does it deliver. And it does so in a way that will leave you stunned as you look around for additional speakers and a subwoofer.
Dione is a 5.1.2-channel Dolby Atmos system with 17 drivers — including eight (!) woofers, upfiring units for Atmos front height channels, side-firing surround drivers, and a central Orb that houses its center-channel speaker — in a sleek enclosure almost 4 feet wide but still slim enough to fit below the screen of a table-mounted TV. The cool thing about the Orb is that an internal gyroscope detects whether the soundbar is being placed on a table or mounted flat against the wall and reorients the driver accordingly. Among the bar's many useful features you'll find the versatile Devialet app, which provides quick-but-effective automated calibration and wireless connectivity via Bluetooth, Apple AirPlay 2, Spotify Connect, or a UPnP (Universal Plug and Play) network server.
The moment you fire it up Dione makes its presence know, especially in the bass department. Veteran reviewer and former S&V editor Rob Sabin admits to being "astonished" by what he heard and felt when he fed the system a 20Hz tone. Aiding and abetting every aspect of the soundbar's performance is 950 watts of class-D amplification and an arsenal of custom signal monitoring and processing designed to achieve max SPL without distortion and project well-defined virtual speakers into the room. Bottom line: Whether you're listening to music or watching a blockbuster movie, the Devialet Dione will blow your mind. As Sabin put it: "Movie soundtracks were outright balls-to-the-wall fun and extraordinarily detailed, balanced, and dynamic" as the soundbar reached its volume limits with no detectable distortion or edginess. "If you've been listening on any other soundbar, you won't believe what you've been missing."
AT A GLANCE
Plus
Stupendous bass without an external subwoofer
Outstanding timbre and dynamics
Easy to use via HDMI-CEC or Devialet app
Minus
No remote learning for optical connections
No voice integration
No DTS decoding
Full Review Here (posted 9/7/22)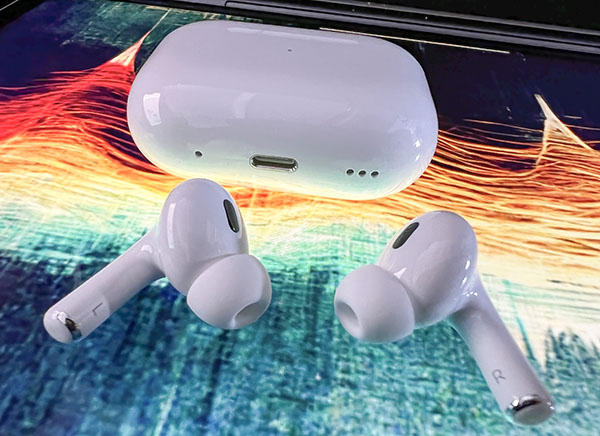 Earbud Heaven
Apple AirPods Pro (2nd Gen) Noise-Canceling Wireless Earbuds: $249
It took Apple three years to release the second generation of its popular AirPods Pro wireless earbuds but it was worth the wait. Apple has stepped up its earbud game. Big time. Though they look the same as their predecessors, don't be fooled: The updated 'buds bring improved sound quality thanks to a new driver/amp combo, a more secure yet super comfortable fit, and noise cancellation that can hang with the best full-size travel headphones. There's also an outstanding Adaptive Transparency mode that delivers on the promise of reducing intrusive noises, while maintaining situational awareness.
Sound & Vision
editor Mark Henninger found the transparency mode to work so well that he kept it engaged while tooling around Philadelphia on a OneWheel even when he wasn't listening to music.
Spatial audio with personalization remains a big draw with ear-modeled head-tracking providing a more accurate rendering of Dolby Atmos surround soundtracks, though the feature has to be set up on an iOS device for the best results. The refreshed earbuds also now provide touch-sensitive controls on the stem so you can adjust volume with a simple swipe. Battery life is slightly better than the first-generation Pros — around 6 hours with noise canceling enabled, 7 hours without — with the charging case providing up to 30 hours of playtime with noise cancellation before you need to find a USB charger. The charging case even has a blinking LED and a built-in speaker to help you find it when it's gone missing — or you can use location tracking.
In terms of sound quality, Henninger characterized what he heard as "crystal clear and non-fatiguing. The difference between AirPods Pro 2nd Gen and big cans like my [$995] Audeze LCD-2 closed-back (which uses planar-magnetic technology) is surprisingly slim. The one thing the big cans have over earbuds is sheer power, they can play a lot louder. But cleaner? More precise?" You don't need to be a full-on Apple user to appreciate the updated AirPods Pro but, if you are, you just might fall in love with them.
AT A GLANCE
Plus
Noticeably better active noise cancellation
Improved audio fidelity
Superior fit with four ear tip sizes
Adaptive Transparency
Personalized Spatial Audio for better immersive sound
Touch-sensitive control
Minus
Requires an iPhone to set up
Touch controls occasionally fidgety
Spatial audio with head tracking sometimes lost track of my head
Uses a Lightning connector instead of USB C
Full Review Here (posted 9/22/22)
Just Add Power (and Wi-FI)
KEF LSX II Wireless Speaker System: $1,400
The art and science of coaxing "big sound" out of little speakers is well known and has led to numerous examples of small boxes that do just that. KEF's cantaloupe-sized LSX II speakers fall squarely in this camp with their ability to deliver sound that is rich, full-bodied, and exquisite. More than that, the LSX II is a well-conceived and impeccably built wireless music system that is completely self-contained, requiring nothing more than power and an internet connection. Fire up its app, and you have Tidal, Qobuz, Spotify, Amazon Music, and other top streaming services at your immediate disposal — without having to worry about "hooking up a system." You don't even have to run a cable between the speakers if you don't want to.
Veteran reviewer Dan Kumin remained consistently captivated by what he heard as he worked his way through a varied list of music covering everything from folk and classical to rock and EDM, noting that the "low end proved eminently capable of producing a satisfying bottom" with most genres of music. But what impressed him most was the system's versatility and ability to present a believably real sense of space. "No matter what I cued up, the sound was clear, detailed, and spatially distinct." Even full-orchestral recordings played at middle-of-the-house concert-hall levels were powerful and satisfying.
Quibbles were confined to the speaker's sensitivity to placement — a byproduct of the horn-like effect created by its coincident drivers — and the lack of physical controls (though you do get a remote control in addition to the app). And, yes, bass is limited (you can't defy physics), so you will need a subwoofer if you want to revel in truly deep bass. But that's not to in any way knock the exceptional audiophile sound these speakers are capable of producing.
AT A GLANCE
Plus
Highly accurate tonal balance
Superb imaging
Sub output for instant upgrade
All-in-one solution with HDMI ARC for TV sound
Minus
Limited output in large rooms
No physical controls
Full Review Here (posted 9/28/22)