Best Gear of February 2021
Spring beckons and so does the long-awaited return to normal life as the
pandemic winds down
. It's been almost a year since the start of government-mandated lockdowns, a dire and lingering state that forced us to reevaluate our lives and relationships with friends and family. Home entertainment in its many forms — from board games to movie night — helped preserve sanity and provide an escape from a solitary existence. Being holed up gave me the push I need to finally set up a turntable and rediscover a vinyl collection that had been stowed away in the basement for years. Spinning LPs, old and new (the 180g pressing of
McCartney III
is outstanding) has again become a favorite pastime. Though February was short, we learned a few things from our Top Picks for the month: (1) Subwoofers don't have to look like subwoofers, (2) you can't judge a speaker by its looks, and (3) you don't have to spend thousands to get a big-screen TV that delivers terrific picture quality. Will one of our February gems help you rediscover your passion for music and movies or gaming (Pac-Man anyone?) and push your home entertainment experience to the next level? There's only one way to find out.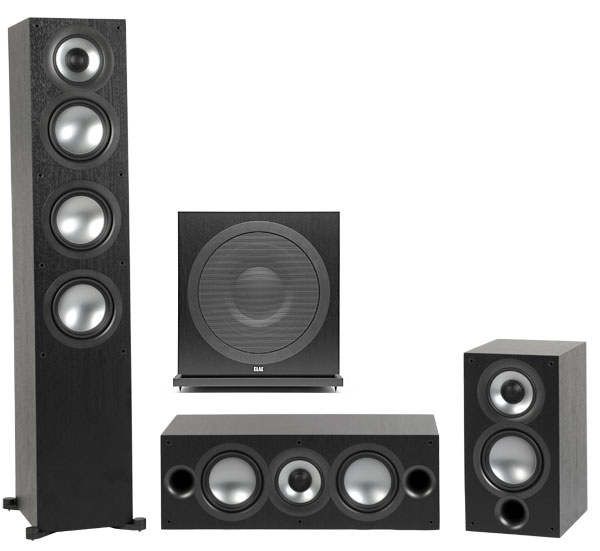 Elac Uni-Fi 2.0 Surround Speaker System: $3,000 (as tested)
Elac's Uni-Fi 2.0 speakers look ordinary, some might say boring, but their performance with movies and music is anything but pedestrian. In reprising the excellent
Uni-Fi Series of speakers we reviewed in 2016
, designer Andrew Jones has revisited the original line and made several improvements. All models in the revamped line have been updated with a new concentric driver featuring a wide-surround 1-inch soft dome — redesigned for a smoother blend with the 4-inch midrange driver, which itself features a larger voice coil — a beefed-up 5.25-inch woofer, and a receiver-friendly 6-ohm impedance (the original series was 4 ohms). On the bookshelf and center speaker models, Jones also relocated the port to the front of the cabinet to accommodate placement in a cabinet or on a shelf.
The Uni-Fi Series doesn't offer a subwoofer so the tower-based 5.1 home theater suite we put together included Elac's highly capable SUB3030 subwoofer, which may well be unique for its total lack of physical controls. There's not even a power button! Setup is handled entirely through Elac's companion app, which provides the usual complement of controls plus four EQ presets and a very useful parametric EQ with eight memory slots for storing custom settings.
It didn't take reviewer Al Griffin long to conclude that, in addition to looking great on paper, Elac's 2.0 technical updates translated into impressive sound quality, conveying the chaotic soundtrack of District 9 with precision, clarity, and a heightened sense of drama. The sonic thrills continued with Requiem for a Dream's dynamic soundtrack but didn't end with movies. The adventurous 5.1 remix of Roxy Music's Avalon (1982) created a sense of full immersion with "well-balanced sound that was detailed but not overly bright" and powerful at the low end. Listening to a variety of music on Elac's UF52 towers alone, Griffin noted respectable bass in the 40-Hz range (which dipped to 25 Hz with the subwoofer in play) and marveled at the speakers' ability to convey a "clean, lively presentation that never once sounded aggressive" with the instruments spread wide across the soundstage in a realistic manner. Elac's Uni-Fi 2.0 speaker series is a serious contender in its price range, making it easy to recommend.
AT A GLANCE
Plus
Clean, well-balanced sound
Consistent off-axis performance
Subwoofer control app with Auto-EQ
Excellent value
Minus
Basic looks
Available only with black finish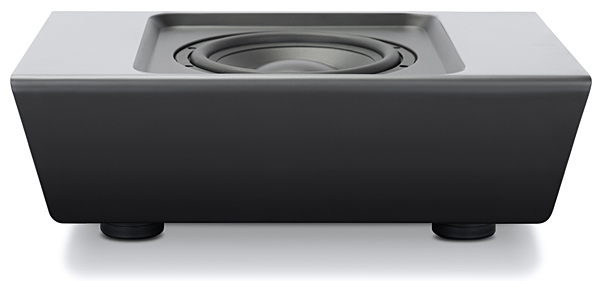 Bluesound Pulse Sub+ Subwoofer: $749
Bluesound's Pulse Sub+, a bigger and better take on the
Pulse Sub we reviewed in 2017
, has a lot going for it. For starters, it doesn't look like a subwoofer…at all — a trait sure to please décor-conscious system builders. Its trapezoid-shaped cabinet is slim enough to slide under a sofa or end table or you can stand it on end (as shown below) using a second set of rubber feet that attach magnetically to provide vibration relief. If you want to get really fancy, you can even mount the Pulse Sub+ on the wall using the supplied bracket. The sub is available in black or white and wireless when used with Bluesound products such as the Pulse Soundbar or Powernode 2i streaming amplifier; otherwise, it has a line-level input for integration with any system. Like many new subwoofers, there's no remote — setup and control are handled via the BluOS Controller app, which makes it easy to adjust volume, phase, delay, crossover frequency, and the brightness of its power indicator.
Regardless of where you put the Sub+, this very unsubwoofer-like bass module will rock your world with a 150-watt smart amp/digital processor and 8-inch driver combo rated to rumble down to 22 Hz (±2 dB). Testing its might with the spectacular Amazon Olympics opening scene from Wonder Woman 1984, reviewer Leslie Shapiro reveled in the sound of driving drums and thundering horse hooves and the pounding bass in Hans Zimmer's score. Turning to music, she was equally impressed with how the Sub+ "deftly handled the relentless deep bass, 1980s synth patches, and exaggerated kick drum" in "Welcome to the Pleasuredome," the 1984 track by England's Frankie Goes to Hollywood. "Its 150-watt amplifier and 8-inch driver provided substantial amounts of bass, and its DSP kept the sound precise and controlled."
AT A GLANCE
Plus
Impressive kick from a slim, elegant cabinet
Refined sound
Extensive control via smartphone app
Minus
No remote control
No auto-calibration/room EQ feature