The Best of the Boxes: 2012's Best Blu-ray Collections
2012 saw an all-time great slate of Blu-ray debuts and reissues. A handful of box sets truly stood out, bountiful editions bedecked with Blu-rays, possibly books, music…and more Blu-rays! These collections are a terrific way to catch up on our favorite film franchises or beloved TV series, or to celebrate the long-awaited arrival of some incomparable cinematic classics. So if you've been jonesing for the Indiana Jones or James Bond canons, freaking out in anticipation of the Universal Monsters, or simply wanting to indulge yourself in the works of directors as diverse as Hitchcock and Tarantino, 2012 will be a year to remember. It was an unprecedented era for Blu-ray 3D as well, so we've cobbled together our own "box set" of worthy 3D gems.
Friends: The Complete Series (Warner)
Few television shows receive the sort of love that Warner has lavished on this 21-disc, 236-episode set, but then few shows have enjoyed the popularity of NBC's erstwhile Thursday-night cornerstone, Friends. Never before on Blu-ray, all 10 seasons have been remastered for 1080p/16:9 and 5.1-channel audio for their best-ever technical quality, which may or may not be one of the reasons why the twenty-something/thirty-something ensemble comedy is still very funny upon repeat viewing. Plenty of bonus material has been ported from the best-selling DVD releases, including commentaries for dozens of different episodes, but there are also hours of Blu originals, notably some newly produced documentaries with far-reaching insights from Friends insiders. There are also extended-broadcast episodes, the cast/crew's private gag reel, the music video for the theme song, back-in-the-day Jay Leno and Ellen DeGeneres cast appearances, plus an in-depth exploration of Season Eight's "The One Where Rachel Tells Ross," with a re-assembled producer's cut, an illuminating introduction, and a draft of the script.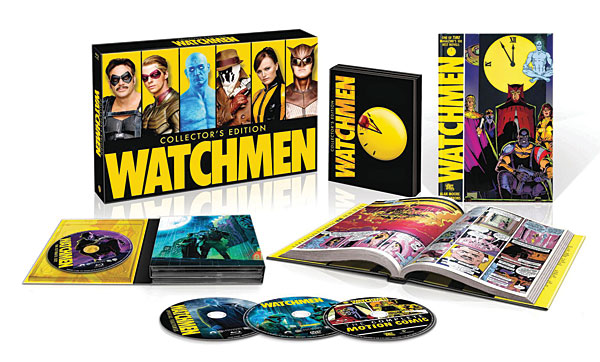 Watchmen Collection's Edition (Warner
A lot of non–comic book fans have been gushing to me about the offbeat men-in-tights opus Watchmen for years, and I've consistently replied, "You should read the original story!" C'mon, what other title on Time's Top 100 Novels list features a self-made, buck-naked, bald, blue demigod? Warner has finally made it easy—and super classy—to compare the sacred text against what director Zack Snyder hath wrought, thanks to its big Collector's Edition set. It presents the Ultimate Cut, which goes a step further than the Director's Cut by integrating the once-separately released Tales of the Black Freighter animated subplot, throwing in the Motion Comics adaptation of the entire series plus hours of additional supplements for good measure. But best of all, a beautiful hardbound copy of the entire Alan Moore/Dave Gibbons graphic novel (Watchmen all but gave birth to that term back in 1986) is included in the box as well. For newbies, I can't say which you should tackle first, the book or the movie, just be sure to read the book, cover to cover. A DVD of the theatrical cut and an UltraViolet Digital Copy round out this handsome new reissue.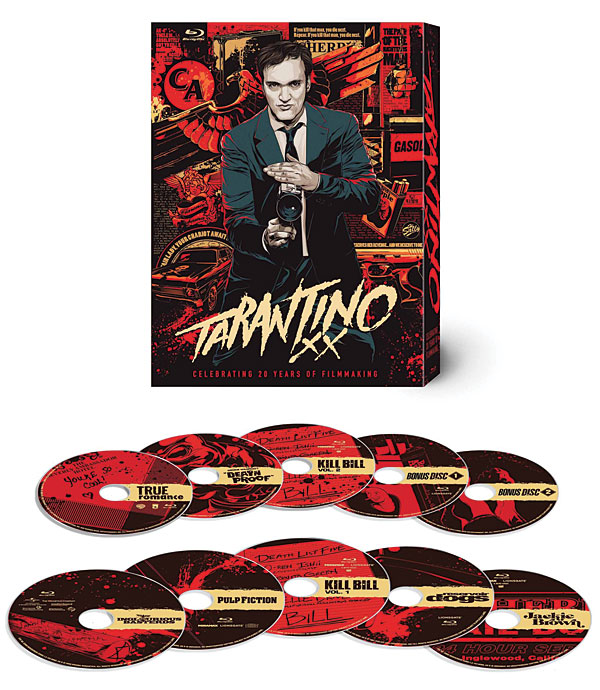 Quentin Tarantino 8 Film Blu-ray Collection (Lionsgate
In anticipation of his first-ever Western Django Unchained coming to theaters, Lionsgate has brought together all seven feature films directed by the one-of-a-kind Tarantino. From his brutal caper-gone-awry debut Reservoir Dogs, to his career-defining follow-up Pulp Fiction, through his Elmore Leonard adaptation Jackie Brown, both Volumes of Kill Bill, the Death Proof half of the Grindhouse double feature, and the Oscar-winning sorta-remake Inglourious Basterds, Mr. T. has reflected a deep enthusiasm for cinema's past while expressing himself in an undeniably original voice. (Somewhat curiously, the Tarantino-scripted, Tony Scott–directed True Romance is here as well.) All of the discs appear to have been culled from prior editions, which means there is quite a variety of legacy bonus features to sift through, some—in the case of Pulp Fiction, for example—rather recent, and excellent. Two additional discs are tucked into the collectible packaging, bringing more than five hours of new bonus content to make this retrospective set truly special.
The Classic Monsters Collection (Universal
The two 1931 versions of Dracula (starring our choice of Bela Lugosi or Carlos Villar, a great story in itself, together on a single BD-50) are joined by all-time greats Frankenstein, The Mummy, The Invisible Man, Bride of Frankenstein, The Wolf Man, and Phantom of the Opera. And in an especially welcome indulgence for state-of-the-art home theater buffs, both the 2D and 3D versions of 1954's Creature From the Black Lagoon complete this mammoth monster mash of magnificent proportions. Universal has been releasing restorations and remasters of its most iconic films all year, and this gallery of things that go bump in the night is sure to be a hit with any fan of classic horror. Porting much of its bonus content from outstanding DVD editions of the past several years, the set is festooned with title-specific and more general studio featurettes, as well as at least one audio commentary per movie, and scads more. Dracula and Frankenstein (the Batman and Superman of monsters?) also offer interactive pop-up Monster Tracks about their individual production secrets.
Game of Thrones: The Complete First Season Collector's Edition (HBO
HBO excels at finding compelling drama where others could easily overlook it. Bayou bloodsuckers. The Atlantic City boardwalk. And now George R.R. Martin's geektastic A Song of Ice and Fire series of fantasy novels. Inspired casting, high production values, and smart writing/directing help elevate this extended tale of personal, political, and royal intrigue in the Seven Kingdoms of fictitious Westeros to must-see-TV status. This is actually the studio's third release of the runaway-crazy-smash hit on Blu-ray but the first with the value of HBO Select, which also bundles in the entire first season on extras-loaded DVDs, plus a Digital Copy, redeemable via iTunes, Amazon, or Vudu, or an UltraViolet cloud copy accessible through Flixster. Plenty more Blu-ray-exclusive content awaits the faithful, including elaborately produced, interactive in-episode experiences as well as several hidden dragon eggs since Easter is still a few months away. And in one of the more impressive home video tchotchkes, an exquisitely detailed dragon egg stands ready to start conversations, weigh down loose papers, or traumatize gullible children.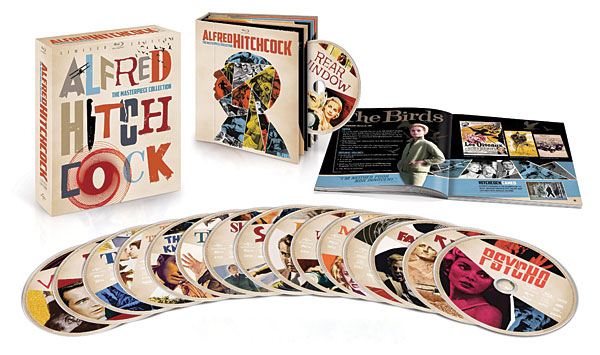 Alfred Hitchcock: The Masterpiece Collection (Universal Studios
For many serious film collectors, a home entertainment format just isn't a format until the canon of the late, great Alfred Hitchcock has become available. And to them you can now say, "Blu-ray has arrived." Prepare yourselves for best-ever home video versions of 16 of the legendary filmmaker's works spanning more than three decades. So many of his finest are here, from the World War II–era Saboteur to Shadow of a Doubt, Rope, Rear Window, The Trouble With Harry, The Man Who Knew Too Much, Vertigo, North by Northwest, Psycho, The Birds, Marnie, Torn Curtain, Topaz, Frenzy, and Family Plot, which would be his final film, reuniting him with NNW scribe Ernest Lehman. These are also some of frequent collaborator Jimmy Stewart's best-loved movies, and as we jump from disc to disc we can appreciate Hitch's penchant for blonde leading ladies: Grace Kelly, Doris Day, Kim Novak, Eva Marie Saint, Janet Leigh, and introducing Tippi Hedren. All are hereby issued in spiffy HD remasters, and all but Psycho and North by Northwest are new to Blu. Here again, Universal is preserving a long list of pre-existing bonus features from special-edition DVDs, but the new documentary The Birds: Hitchcock's Monster Movie is a Blu-ray exclusive, and a bit of next-gen froufrou (BD-Live, pocketBLU) is onboard, too.
BOND 50 (Fox/MGM
In honor of James Bond's golden (Finger? Gun? Eye?) anniversary on the silver screen, Fox has collected all 22 of his official feature films into one massive high-definition set for the first time. (Nine of these movies have not been previously released on Blu-ray.) In chronological order, we're talkin' Dr. No, From Russia With Love, Goldfinger, Thunderball, You Only Live Twice, On Her Majesty's Secret Service, Diamonds Are Forever, Live and Let Die, The Man With the Golden Gun, The Spy Who Loved Me, Moonraker, For Your Eyes Only, Octopussy, A View to a Kill, The Living Daylights, Licence to Kill, GoldenEye, Tomorrow Never Dies, The World Is Not Enough, Die Another Day, Casino Royale, and Quantum of Solace. Most of these are the Lowry Digital restorations from several years ago that look much better than the TV airings so many of us grew up on. Joining the movies is a staggering dossier of well over 100 hours of supplemental material, from audio commentaries to on-camera interviews to long-lost vintage featurettes that boggle the mind with their obscurity. New to this exquisitely packaged collection are two new Bond documentaries that look at the suave secret agent's signature style, and the thespian sextet that has rocked the tux across five decades: Sean, George, Roger, Timothy, Pierce, and Daniel. Mr. Craig, lest we forget, is appearing in Skyfall, and we are also treated here to on-set cast and crew video blogs from that latest installment in the unparalleled spy-thriller franchise.
Indiana Jones: The Complete Adventures (Paramount
Raiders of the Lost Ark is simply one of the best damned movies ever produced, made by guys who love movies (George Lucas and Steven Spielberg) for guys who love movies. Oh, and there were three sequels, all of which brought back Harrison Ford with a whip and fedora. For its first-ever Blu-ray, Spielberg and legendary sound designer Ben Burtt personally oversaw the restoration, remix, and remaster of Raiders, an arduous task with spectacular results. Indiana Jones and the Temple of Doom and The Last Crusade, meanwhile, were digitally remastered to take their place in the five-disc set next to Kingdom of the Crystal Skull, which had been released on Blu-ray day-and-date with the DVD back in 2008. Several fun, vintage making-of programs lend a nostalgic flair to the extras, which also include more than a dozen ported featurettes, some (from Crystal Skull) in HD. New for this Complete edition is the two-part doc On Set With Raiders of the Lost Ark.

Lawrence of Arabia Limited Edition Four-Disc Collector's Gift Set (Sony Pictures
In a superlative presentation worthy of one of the screen's grandest epics, David Lean's immortal Lawrence of Arabia has finally come to high-def disc. It required a bit of cleanup for the occasion, and so the original negative of the director's cut was meticulously restored in 4K resolution at Sony Pictures' Colorworks. The subsequent set contains three Blu-rays sporting an unprecedented assemblage of classic and never-before-seen bonus features, starting with a Graphic-in-Picture track that provides extensive cultural context while you watch. Recently retired leading man Peter O'Toole looks back on his most famous role, while newsreel footage, marketing collateral, and multiple featurettes from years past are collected, including both the 1963 and 1970 versions of Wind, Sand and Star: The Making of a Classic. Adding even more cachet, a little-known deleted scene is introduced by Oscar-winning film editor Anne V. Coates. Disc four is a CD of the original soundtrack with some tracks previously unreleased. And since everyone loves stuff, especially around the holidays, we're further gifted with a numbered, newly printed 70mm film frame and an 88-page hardcover coffee-table book, sure to impress your espresso-swilling guests.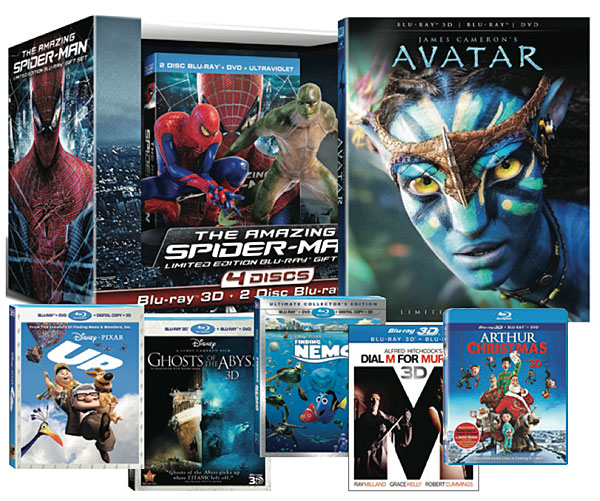 Assorted Blu-ray 3D Discs (Warner, Disney, Fox, Sony
So you—or a loved one—have a shiny new 3D LED or plasma, and you're just itching for some high-quality programming to show off what it can do. Trouble is, a lot of the Blu-ray 3D discs released thus far have been lackluster, gimmicky, or in some cases just plain awful. Well, guess what? There may actually be hope for 3D after all. We hereby tender this roster of movies that are worth watching in 2D, but are a whopping 50 percent better since they were all produced specifically for three-dimensional exhibition.
Remember all that good stuff I said about Alfred Hitchcock before? One title you won't find in that set is his smart Grace-Kelly-in-peril thriller Dial M for Murder, which marks the one-and-only time he rode the '50s 3D craze. James Cameron knows a thing or two about the Titanic, and he returned to the doomed ship's final resting place for his powerful pseudo-documentary Ghosts of the Abyss, arriving on Blu-ray in 3D and with both its one-hour original and hour-and-a-half extended cuts. The King of the World's biggest hit, Avatar, had previously been available only through an exclusive Panasonic mail-away offer but can now be had wherever fine Blu-rays are sold.
Marc Webb's reboot The Amazing Spider-Man puts a fresh spin on the wisecracking wall-crawler, owing largely to a heartfelt performance by star Andrew Garfield. With few exceptions, you can't go wrong with Pixar, and the boys from Emeryville have bestowed two of their very best: Finding Nemo, only recently premiered in 3D on the big screen, and a new-and-improved edition of my possible all-time personal favorite, Up, not seen in three dimensions since its 2009 theatrical run. And if you're looking for 3D animation that will entertain the entire brood with its astute British wit as much as its pretty colors, consider Arthur Christmas to help you keep your holiday spirits bubbling all year long.
LATEST VIDEO