Beck's Bolero: An Aural Appreciation of Jeff Beck, The World's Most Fully Realized Three-Dimensional Guitar Player
Jeff Beck was the guitarist's guitarist. He came of age during the British Invasion, and he created sound after otherworldly guitar sound that would cause you to both tap your foot and bob your head in appreciation while concurrently boggling your mind. Sadly, Beck passed away in his native England on January 10 at age 78, following a brief illness. Luckily for us, his recorded legacy spans seven decades, and whether the playback format was mono, stereo, or surround sound, Jeff Beck could always be heard playing on a three-dimensional plane.
Whenever I talk with musicians (which is pretty much on a daily basis), the three artists who come up organically in conversation the most are The Beatles, Jimi Hendrix, and Jeff Beck. It's not hard to understand why, really, seeing how each of these three artists, in their own respective ways, changed the course of popular music in the latter half of the 20th century—and their influence continues to this day. Each successive generation of listeners and musicians alike are hearing and gleaning a myriad of creative elements from these artists in terms of song structure, melody, memorable hooks, instrumental acuity, harmonics, and how to best support lyrical content—and if that's not the very definition of legacy, I don't know what is.
Jeff Beck's own recorded legacy, which spans 60 years, is legion and vast. Over on our sister site AnalogPlanet, I've dissected ten Beck songs best heard and appreciated on vinyl, and you can read that story here.
Here on S&V, however, I will highlight some other key Beck tracks not discussed over on AP, including a number of them that are available in surround sound—but first, the following.
I had the privilege of meeting Jeff Beck twice over the years. The last time was during a private, press-only listening session held at Electric Lady Studios in New York City on April 7, 2016, the purpose of which was to preview his then-forthcoming album Loud Hailer (which was subsequently released by the Atco label on July 15 of that year). Loud Hailer is prime late-period Beck, a perfect marriage of his instrumental muscle ("Pull It") wed/welded with his penchant for knowing exactly how to support tracks that feature lead vocals ("The Revolution Will Be Televised," expertly sung through a loud hailer—a.k.a. a megaphone—by Rosie Bones).
Beck made a few telling statements that day. "This is the most frightening thing—to play my stuff for you," he admitted before the listening session commenced. "I wanted to focus on giving forth my feelings about things you'll have to flesh out when you hear the subject matter. It couldn't be done just with the guitar, so I weave in and out of it here and there. It's not explicit or anything—it's the got the flavor, just hinted at, as to what's going on. The more you play it, the more you'll understand what the whole thing's about." And that, in a nutshell, encapsulates Beck's M.O. for seven decades' worth of playing and recording—support but don't overwhelm the song, and let the story being told reveal itself as it strolls on (to morph a song title).
I was also honored to have spent some private time with Jeff in the green room at Electric Lady after that listening session, during which we talked about our favorite albums on vinyl and the joys of listening to music in cars (Beck, as you may know, absolutely loved vintage cars, and especially tinkering on them in his garage).
But now, let's talk music. If you're into the stereo side of Beck's guitar prowess, here are a few choice cuts to dig into: The Yardbirds' 1965 single "Heart Full of Soul," on which Beck harnesses an Indian-music-influenced fuzztone riff that's also one of the earliest examples of his knack for creating memorable hooks; the instrumental tour de force "Beck's Bolero," from his July 1968 solo debut Truth, which veers from soaring stereo-panned riffage to out-and-out full-bore proto-metal thunder; "Freeway Jam," a funk/fusion hybrid from March 1975's Blow by Blow wherein Beck and keyboardist Max Middleton skillfully share a back-and-forth nonverbal conversation; "Ambitious," a steeped-in-the-1980s track from 1985's Flash with Beck swirling all around—but never stepping on—vocalist Jimmy Hall (of Wet Willie fame); "People Get Ready," also from Flash, and a touchingly heartfelt track that best showcases the give-and-take connection between Beck and his lifelong pal, vocalist Rod Stewart; the electronica-tinged "THX138" from March 1999's Who Else!, also featuring guitar-synth foil Jennifer Batten and keyboardist/producer Tony Hymas; and a truly fuzzed-out, volume-dealing take on Killing Joke's "The Death and Resurrection Show," from his final LP, June 2022's 18, a collaboration with Johnny Depp.
As I noted near the outset, there are indeed a decent number of Beck's recordings available in surround sound. That said, while the balance of Beck's catalog has yet to appear in Dolby Atmos, here's hoping for that eventuality. In the meantime, you can hear Beck doing his thing in Atmos by way of his featured guest appearance on the title track to Ozzy Osbourne's September 2022 album Patient Number 9. About midway through the song, and right after Ozzy sings through the title phrase at the end of the second chorus, Beck's solo takes center stage, both straight up the middle and panned well up into the ether, his signature guitar snarl being especially apparent through the sustained notes that occur more than once before Ozzy returns to the track around 4:35. Beck also makes his electrified Atmos mark in the song's final minute, countering a newly introduced acoustic-guitar figure across the full soundstage until the literal final crash to the fade.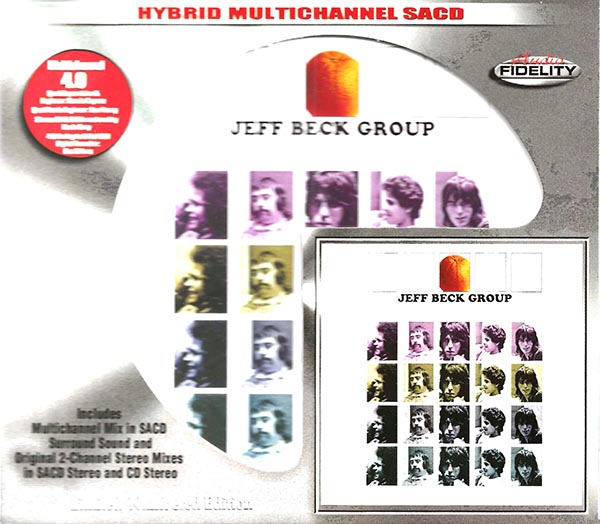 Back to the titular Beck in surround. The self-titled Jeff Beck Group first appeared as a quad LP in October 1972 on Epic (with the quad remix having been done by engineer Don Young), and it later resurfaced as a hybrid 4.0 SACD from Audio Fidelity in 2015 with the mastering done by Kevin Gray and DSD transfer by Gus Skinas. (There's also a 2016 Japanese import version, on Epic). The album's best-known track, a searing cover of Don Nix's "Going Down," got the most airplay, and it's a prime in-quad example of Beck doing what he does best. Following a piano-only intro from Max Middleton, Beck's lead, and mostly warbling, guitar riffage is panned right and Middleton's piano counters are rolled over on the left, with Bob Tench's pleading lead vocals mainly left of center and the rhythm section rumble of bassist Clive Chemen and drummer Cozy Powell in the rear quadrants. Beck's rotational solo takes center stage when the time comes, and you'll also enjoy the band's ensuing impact that follows each occasional false dead-stop.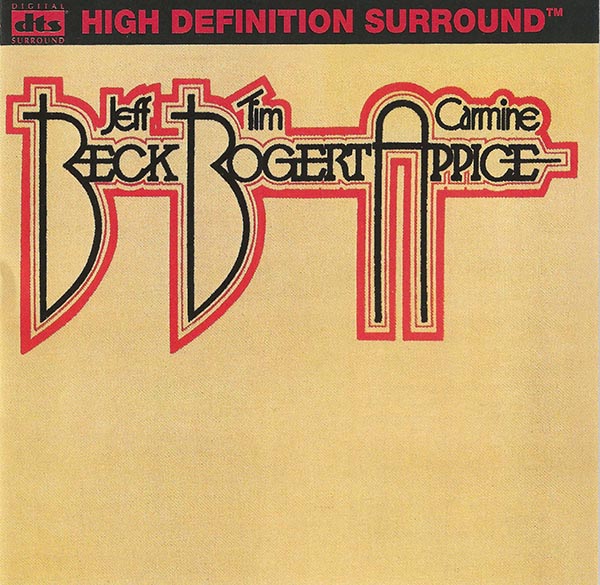 Next, Beck's collaboration with bassist Tim Bogert and drummer Carmine Appice on March 1973's Beck, Bogert & Appice initially appeared as a quad LP on Epic that September, with Don Young again handling the quad remix. Probably the best-known track from that album, a rousing cover of Stevie Wonder's "Superstition," is played to the hilt in 4.1 via the High Definition Surround disc from DTS. Though the packaging alludes to it being DTS 5.0, it's actually John Fox's update of the original quad, sans a center channel—with Beck's guitar well out front of the overall mix either way. Bogert's mostly centered lead vocal is at times overwhelmed by Beck's ferocious playing, though whenever certain multi-layered Bogert harmonies appear here and there throughout the track, they get a volume boost in the rear channels. Beck's two main solos will appear all around you, both of them sporting a slightly different character (another Beck hallmark). As the track comes to an end, Appice puts forth a brief drum-solo closeout that's cleverly reminiscent of how Mickey Waller ended the proceedings on Beck's update of Wille Dixon's "I Ain't Superstitious" on Truth. (Ah yes, now you get the connection!)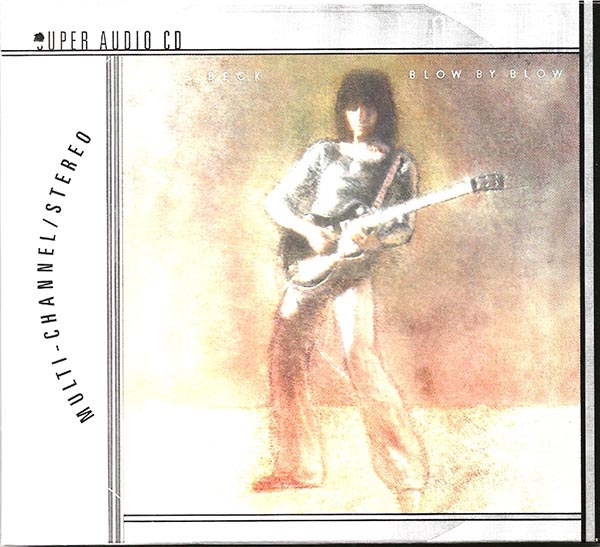 Finally, March 1975's aforementioned genre-busting Blow by Blow made an appearance on a quad Epic LP that same year, and it later resurfaced on an Epic SACD in 2001, as engineered by Darcy Proper. Analogue Productions reissued it as a hybrid multichannel SACD in 2016 (and there are import versions available as well). The 2001 SACD sports the circular orange Epic label style of the 1970s. "Cause We've Ended as Lovers," another Steve Wonder cover that Beck dedicated to fellow guitar icon Roy Buchanan in the song title's parenthetical, is a pure sonic marvel on SACD. In this case, emotion rather than bombast carries the load, with Beck's mournful leads crying out across the soundfield at the outset, buttressed by Middleton's piano and drummer Richard Bailey's refined stick and snare work. As the track gets more and more intense, Beck's guitar tone shifts gears and he moves into a more centralized position while his fellow musicians add to the much fiercer interplay. A blend of expressive passion and defiant response, "Lovers" is among the best of Beck's performances on record in any format.
All of this great music goes to show Jeff Beck is an artist who consistently transcended genre and labeling to come across as someone who perpetually lived and breathed his craft in three dimensions. As his onetime vocal foil Rod Stewart put it on social media, Jeff Beck and his playing were "from another planet," and his 60 years of guitar wrangling and stage performing have graced us with a sizable body of work from a truly unparalleled talent. Rest in peace, Geoffrey Arnold Beck—and stroll on.