"The Beaver." Seriously. At SXSW.
In her latest film, director/co-star Jodie Foster has Mel Gibson speaking almost exclusively in a Cockney accent - the "voice" of a beaver puppet.
Is this the recipe for a train wreck?
That's what a long line of people wanted to know at the SXSW Film Festival, where The Beaver had its World Premiere. (The movie is due to open on May 20.)
Or, as a line in the film itself acknowledges: "People seem to love a train wreck when it's not happening to them."
Foster, attending the screening, admitted that making the movie was "the biggest struggle" of her career. Why? "It was hard getting the tone right." And then, "there were other things beyond our control that came in." Some of those things, of course, had to do with the unwanted negative publicity stemming from Gibson's personal life, requiring the film to be shelved until things simmered down.
But Foster was quick to add: "I feel very grateful to have Mel Gibson in this film. I certainly have no regrets of him being in it."
Neither do I.
Because - surprise! - The Beaver is a fine piece of work from all concerned. Including Gibson, who turns in a performance that's reminiscent of Anthony Hopkins's role in Magic. That movie got dark, and so does this one. After all, it's about "a hopelessly depressed individual." So, believe me, when you get past the initial chuckles that come from seeing Gibson wearing a beaver puppet, you'll settle (or unsettle) into an engrossing story.
As Foster prepped us before the lights went down, "It's not a comedy," chuckling herself as she stretched that last syllable into a sing-songy "deeeeee."
When the lights came back up and Foster returned, she was greeted with cheers. "Wow, you're all still here! I think that's a good sign."
A few more movies I saw were given awards at the festival. Read on.
Natural Selection (World Premiere), written and directed by Robbie Pickering, was not only named the Best Narrative Feature (by both the SXSW Jury and the audience) but also earned five of the seven remaining Jury Awards for Narrative Feature: Best Screenplay, Best Editing, Best Score, and the Breakthrough Performances of Rachael Harris (above) and Matt O'Leary. Harris plays a housewife looking for the son of her ailing husband, and there's a good chance she'll get an Oscar nomination for the role, too.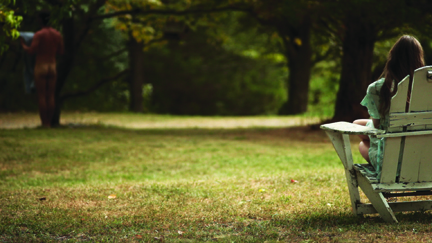 Green (World Premiere) won a Special Jury Award - the SXSW Chicken-and-Egg Emergent Narrative Woman-Director Award - for its director, Sophia Takal, who also wrote the film and co-starred. In addition, the movie won the Audience Award for Film Design, and it's a look that features lush shades of . . . green. Story-wise, we're talking the green-eyed monster of jealousy, played out deftly in the countryside between a couple and a neighbor.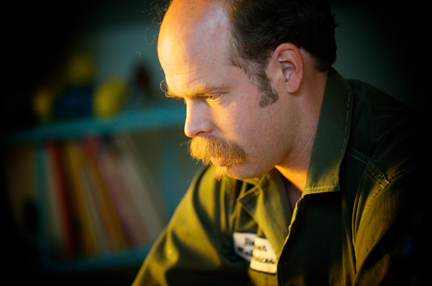 Pioneer, written and directed by David Lowery, won the Jury Award for Narrative Short. I can do no better than to quote the tagline in the SXSW Film Pocket Guide: "A father tells his son the most epic bedtime story ever." By the way, the father is Will Oldham (above), a.k.a. the singer/songwriter Bonnie "Prince" Billy.
Other shorts I was keen on: Nocturn (World Premiere), in which a woman who can't sleep goes on a walk that leads her into a strange new world, and That Which Once Was (part of the ITVS FutureStates series), where two very different refugees in a post-global-warming age learn to cope together. All of the FutureStates shorts can be seen here.
- Ken Richardson