BD Live Goes Live
The specs for Blu-ray discs and players hold the promise of loads of cool features, including stuff like games, Web-based interactivity, and video picture-in-picture where you can see the director discussing the movie on an inset box onscreen while it plays in the background. Problem is, the current crop of Blu-ray players don't all support such features.
When it came out last fall, Panasonic's DMP-BD30 BD player was one of the first models to meet the "Full Standard Profile" (a.k.a. 1.1) specs. At CES, the company is demo'ing its forthcoming DMP-BD50 BD-Live model, which satisfies all the requirements for a Profile 2 player.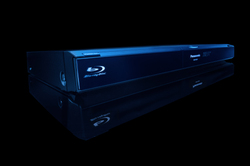 What the hell does that mean? First, you get a mandatory Ethernet jack for Internet hookup plus 1 GB of local storage for data downloads. Second it has dual audio/video decoders to enable the video picture-in-picture feature that's gotten so much attention — mostly because studios releasing Blu-ray discs haven't yet properly implemented it, and the bulk of players out there have so far been unable to support it. But you'll be both PIP and BD-Live ready when Panasonic ships the DMP-BD50 later this year.
Other features to look forward to on the DMP-BD50: full onboard decoding for Dolby True HD and DTS-HD Master Audio, HDMI 1.3 output, 7-channel analog audio jacks, 1080p/24 video out, and an SD card slot.
Just remember to also pick up the company's 150-inch plasma TV to watch your discs on.
—Al Griffin
LATEST VIDEO