Audirvana Unveils Improved MacOS Audio Player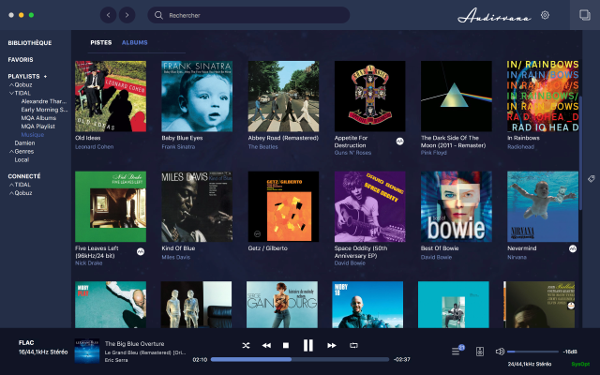 Paris-based audio software specialist Audirvana has introduced a new version of its high-performance MacOS audio player.
The new Audirvana Version 3.5 is a complete overhaul of its predecessor, Audirvana Plus, featuring improved sound quality and an all-new user interface with light and dark modes, a mini-player option, and other new features.
In addition to track and album views, the new software provides an artist view and allows direct selection of audio devices via a new button in the main window. Search capabilities have also been updated to include track, album, artist, and playlist and users can now modify metadata information about albums and songs, which in the case of classical music covers a number of categories, including conductor, orchestra, soloist, period, style, and main Instrument.
Users of the new Audirvana player can also create standard playlists or intelligent playlists with content that updates automatically according to defined criteria.
Audirvana says the new Version 3.5 software optimizes the operation of the digital-to-analog converter (DAC), whether internal or external, and in doing so prevents the intervention of other applications during listening as well as any "hidden modifications of the audio samples." The software is also said to reduce processor activity and stabilize the power supply to minimize digital distortion and radio interference.
The player transfers audio files to network players that support the UPnP/DLNA protocol and is designed to manage all types of music libraries, regardless of size. It supports high-resolution audio in the FLAC, WAV, AIFF, MQA, and DSD formats and incorporates the hi-res streaming services Tidal, Qobuz, and HRA Streaming.
The software costs $75 but the company is offering a 30-day free trial and provides the upgrade for free to owners of Version 3. The upgrade costs $52.50 for owners of Version 1 and $45 for owners of Version 2.
Created by Damien Plisson, Audirvana Plus established itself as a leader in paid audio software for Mac owners, allowing music lovers who use MacOs to replace Apple's iTunes. The company also offers a Windows 10 version of the software.
For information, visit audirvana.com.