AudioQuest Unveils Refined In-Wall Speaker Cables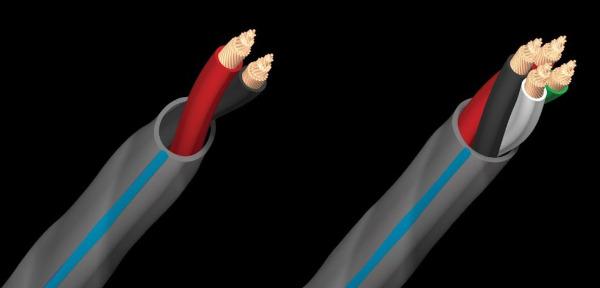 AudioQuest has introduced a refined version of its popular SLiP in-wall series of speaker cables.
The new SLiP XTRM cables retain the slippery, easy-to-pull CL3/FT4-rated jacket with convenient feet and meter markings but use semi-solid conductors that have fewer, larger strands than earlier versions.
In what AudioQuest calls a "true-concentric" design, the strands remain in the same position down the length of the cable and each layer of strands spiral in the opposite direction from the one underneath to reduce electrical interaction between them. The design produces "more contact pressure on the points of contact rather than the lines of contact," which is said to lower distortion and improve resolution.
Further refinement comes from the use of a smooth "perfect-surface copper" outer layer that surrounds the conductor's long-grain copper center, which AudioQuest says affects clarity and smoothness.
A box of two-conductor SLiP XTRM cable is priced at $820 for 164 feet (50 meters) and $1,640 for 328 feet (100 meters); four-conductor cable pricing is $1,640 for 164 feet and $3,280 for 328 feet.
For more information, visit audioquest.com.
WHERE TECHNOLOGY BECOMES ENTERTAINMENT