Audio Advice Launches Interactive Home Theater Design Tool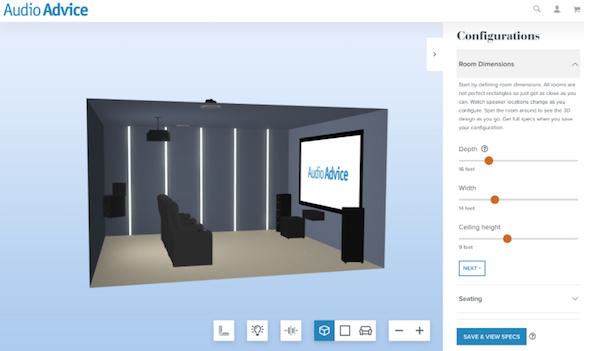 A/V retailer and e-commerce site Audio Advice has introduced Home Theater Designer, an interactive 3D design tool that lets consumers model a virtual home theater system. Users simply enter their room's dimensions, and the tool helps them to create a three-dimensional visualization of an optimized A/V space complete with speakers, TV or projector, and seating. The Home Theater Designer is available for free on the Audio Advice
website
.
"People need resources when it comes to designing their entertainment set ups. The popularity of DIY home design software gives everyday people the power to take on projects on their own. The magic of this tool is that if you feel good with your report, you can take on your install; if you need additional help, our service team can guide you through deeper solutions; or if you want to hand it off for full installation, we can do that too," said Audio Advice CEO Scott Newnam. "It's a great way to connect with consumers, but it is also a tool other firms and manufacturers can use with their customers, or interior designers can use with homeowners. We created this for the greater good of saving time and providing help. That is why, after over a year of designing and building the tool, we decided to make it free," added Newnam. "In a year that is falling short on gifts, this is our gift to anyone who wants to explore a better at-home entertainment experience."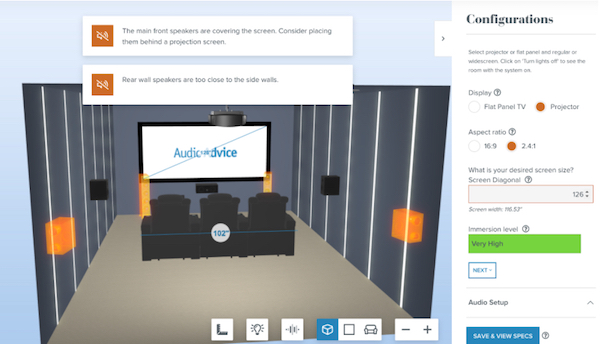 When using Home Theater Designer, the tool asks questions about the desired seating configuration, display type (flat-panel TV or projector), speaker configuration (5.1, 7.1.4, etc.), seating distance from screen, and aisle position and width. Results are displayed in real-time, with the tool scaling the room dimension, seating, and screen size, as well as adding or subtracting speakers in response to user input. A powerful feature of the program is the guidance it provides when selections are deemed inappropriate for a given space—Atmos ceiling speakers in a 7.14 configuration will be too close to the back wall, for example. Another feature, the Audio Advice proprietary Immersion Level™ calculation algorithm, helps users select an appropriate screen size to maximize immersive viewing.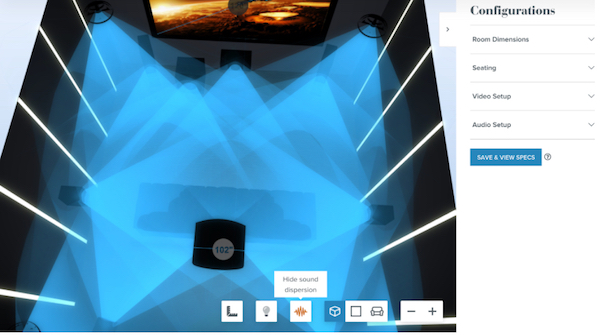 The Tool's 3D design capabilities allow for users to get various views of their virtual home theater. You can visualize the space from different angles, overhead, or a seated viewpoint that reflects how it would be experienced in the real world. You can also select lighted or dark room views, as well as a sound dispersion view that shows the immersive effects of a selected speaker configuration in a given space. Once your perfect theater has been designed, you then get the option to save the project and generate a specifications report with exact speaker locations, screen size, and room dimensions, and it provides an Immersive Level rating.
The Home Theater Designer is part of a suite of design and education tools that includes buyer's guides, galleries, and installation videos available at audioadvice.com.