Atlantic Technology Ships its Best-Ever Tower Speaker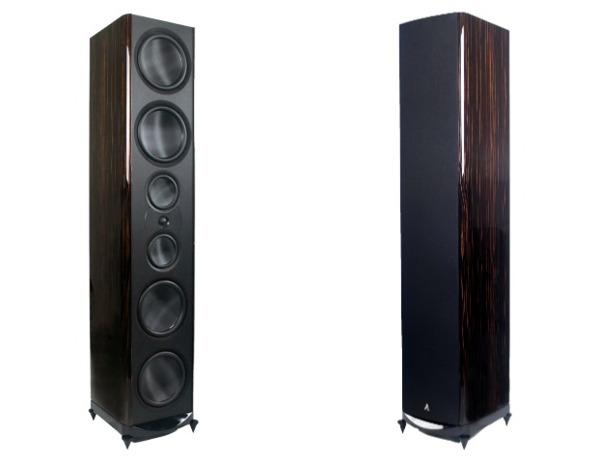 Atlantic Technology today announced that it is now shipping the "highest caliber" tower speaker the company has ever built.
The new 8600e LR expands the brand's range into high-end territory with a striking three-way speaker featuring an internally-braced, non-resonant MDF cabinet housing seven custom drivers configured in a D'Appolito MTM (mid-tweeter-mid), array: four 8-inch fiberglass woofers, two 5.25-inch fiberglass midrange-drivers, and a 1-inch aluminum/magnesium dome tweeter. The midrange pair and tweeter are each isolated within their own sub-enclosure inside the 52-inch-tall cabinet.
Pricing is $5,199/pair but the speakers can be pre-ordered through December 26 for $4,679/pair on the Atlantic Technology website.
Technical features and controls include a fourth-order Butterworth crossover in an asymmetrical time-aligned Linkwitz-Riley configuration with bi-wire inputs, a three-position high-frequency switch that changes the tilt of the tweeter's response, a Location Selector switch that "shelves" upper midrange and high-frequency output for when the speaker is placed behind a perforated screen, a Boundary Compensation control that adjusts the lower midrange to minimize colorations caused by placing the speaker in a custom cabinet or adjacent to a TV, and rear-mounted acoustic optimization controls for "minimizing detrimental effects of speaker placement and room acoustics."
Atlantic Technology is offering the 8600e with side panels finished in gloss black or high-gloss lacquered Makassar Ebony veneer (shown in the photo above). A beveled smoked-glass top completes the elegant look.
Key specs include a frequency response of 50 Hz-25 kHz ±2 dB, nominal impedance of 6 ohms, crossover points of 450 Hz and 3 kHz, and a 91 dB sensitivity. Each speaker weighs 93 pounds and is rated to handle up to 300 watts RMS.
"With the design of the 8600e LR, we decided to set new standards and create a next-level of speaker system for Atlantic Technology," said national sales manager Mike Miller. "By implementing new driver technology in an all-new configuration, we have developed an ultra-high performance speaker system... Whether critically listening to two-channel music or enjoying surround-sound movies, the 8600e LR delivers the explosive dynamics of the latest Hollywood blockbuster as well as the subtle details of a classic recording."
For more information, visit atlantictechnology.com.