Atlantic Technology AT-2 Loudspeaker
Price
: $900 each
At A Glance
: Comprehensive bass optimization in a small cabinet • Compelling midrange • Speckle gloss finish
As a surround-oriented magazine, we rarely review speakers in stereo. But when Atlantic Technology offered a pair of its AT-2 H-PAS speaker, we couldn't resist a listen. This loudspeaker uses an intricately constructed stand-mount enclosure to deliver bass comparable to that of an equivalent conventional floorstander. Does anyone want it?
Market researchers say stand-mounts are hot: The category rose 15.7 percent in unit shipments and a whopping 72 percent in dollar sales in the first nine months of 2011, according to the Consumer Electronics Association, whereas floorstanders rose only 0.4 percent in shipments and actually dropped 3.3 percent in sales. So the timing of the AT-2's debut is almost eerily perfect. It's arriving into a world where more listeners are demanding smaller speakers, while many of them still demand high performance.
The AT-2 is actually Atlantic's second H-PAS model, following the release of the floorstanding AT-1 about a year ago. Both models are variations of technology originally developed by speaker designer Phil Clements to produce big bass from a small enclosure. Atlantic claims bass response down -3 decibels at 44 hertz. That's just above the bottom note of a bass guitar, making the speaker almost completely self-sufficient for music—although pipe-organ aficionados and movie lovers in search of gut-punching impact might still install a powered subwoofer to handle low frequencies and increase dynamic output capabilities.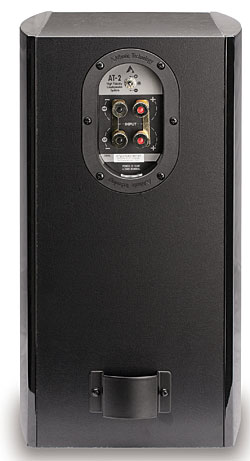 For this quasi-review, I pulled my venerable Jeff Rowland Model 1 power amp and Consonance preamp out of mothballs. Their staid, black faceplates aren't as fancy as the shiny, patterned aluminum of current Rowland gear, but I cherish them as two of my best-ever audio investments. The main signal source was an Oppo BDP-83 SE. As the Special Edition version of this universal player, it has an upgraded power supply, plus a dedicated stack of ESS DACs for its two-channel analog output. I paid the Special Edition premium for just such an occasion. As I set up the system, I admired the curved side panels of the speakers with their metallic-speckle, gloss finish.
Sound Like...
First reaction: These speakers took me back to my college days, and the first speakers I ever bought. The AT-2 reminded me of my old KLH 17s in two ways: First, as advertised, it mustered deep (but far more accurate, as I recollect) bass. Not a bad trick considering that my collegiate-era speakers had 10-inch woofers, whereas the AT-2 gets by on a mere 5.25 inches. Of course, the H-PAS speaker's bass output struck me as much more linear and less boomy than what I remember of my old speakers. In fact, in pitch accuracy, it could easily beat many low- to moderately priced, non-room-corrected, subwoofer-equipped systems.
The other source of déjà vu was the three-position "high frequency energy" switch shared by the AT-2 and my old speakers. This allowed me to tweak the output of the 1.13-inch textile-domed tweeter. While the speakers were breaking in and the Rowland gear was warming up, I toggled down to reduce grit. Once the system hit its stride, I toggled to the middle position, which proved best for the Oppo and most source material. Note that the tweeter sits in an aluminum back chamber that dissipates heat, among other benefits. I could play the system loud and pig out on bass without hitting the audible stop signs that would signal a distressed tweeter. Blasting Led Zeppelin's "The Ocean" from Houses of the Holy, I could truly hear the ocean's roar, not to mention that pile-driving rhythm section.
As the speakers continued to break in, familiar recordings began to take on new and welcome personalities—not only in the bass, but in the speaker's marvelously versatile midrange. For example, I've always found Martha Argerich's Live from the Lugano Festival CD series a bit bright at the top and too lean in the middle. With Mendelssohn's "Piano Trio No. 2" from the 2005 edition, the AT-2 opened up the strings with midrange nuances and shadings I'd never previously accessed while maintaining the characteristic sparkle of the piano. I could get a touch more boundary reinforcement by pushing the speakers toward the wall, but I preferred to keep them at least 18 inches out just because the mids were so endlessly compelling, so full of fresh surprises, that I didn't want them muddied by wall interaction.
Could the AT-2 provide the impact of a 12-inch subwoofer? Not entirely. Adding a subwoofer would've given more thump to kick drums and more power to stereoidal action-movie effects. But the naked stand-mount speaker did excel at acoustical bass lines, especially muted, distant-miked string basses in old jazz recordings, which often elude conventional midsized and small speakers. For example, Eugene Wright, bassist for the original Dave Brubeck Quartet, tends to get underemphasized on anything but a true full-range speaker. On the AT-2, his iconic octave-spanning "Take Five" bass line was fully present in both level and timbre, almost as though he'd pushed his bass closer to my armchair.
The speakers were adept at both male and female voices as well. On Richard and Linda Thompson's I Want to See the Bright Lights Tonight, the low and midrange components of a young Richard Thompson's voice didn't have to navigate a sub crossover, giving it an effortless, organic wholeness. The big, fabric-domed tweeter delivered Linda Thompson's voice with its steely outline intact but added the humanizing timbral subtleties most speakers miss.
The Wrap
Will the Atlantic Technology AT-2 usher in a new age of bass-hip smaller speakers? Due to the challenges of its complex enclosure design, probably not. But if you're thinking of eliminating the sub from your stereo or surround system—or would like to enjoy the better-integrated bass feel of a sub-equipped rig with a lower crossover—the AT-2 deserves a listen. It's sold in odd-numbered lots, so you can buy a set of five to seven if you care to outfit a home theater. I had weeks of fun with just two.