Atlantic Tech Unveils Wireless Bookshelf Speaker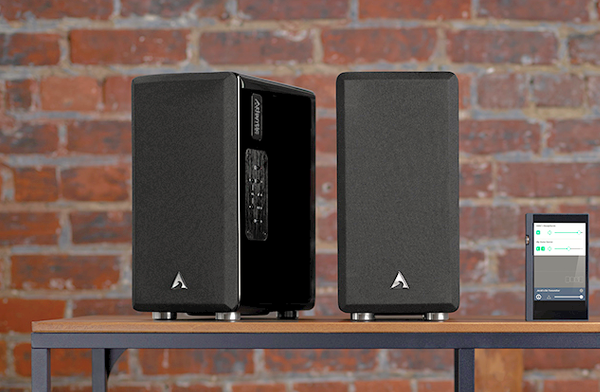 To celebrate its 30-year anniversary, Atlantic Technology announced more than 30 new products at the recent CEDIA Expo 2019.
Beyond the stately 8600eLR tower and companion center speaker that caught Tom Norton's eye, one of the many new products on display was a high performance wireless bookshelf speaker built around the proprietary SKAA wireless standard Atlantic has embraced in a number of products.
Sold as a pair for $750, the new FS-252 speaker mates a 0.75-inch silk-dome tweeter and two 3.5-inch woofers with a down-firing 4-inch passive radiator and 2 x 25-watt Class D amplifier in a compact enclosure just over 11 inches tall. Sensitivity is spec'd at 88 dB and the speaker is rated to play down to 100 Hz (±3 dB).
The speaker supports aptX-enabled Bluetooth streaming in addition to the SKAA protocol developed by Eleven Engineering, which is said to deliver robust CD-quality signals up to 150 feet over the 2.4 GHz band. Signal reliability is attributed to the use of patented Walking Frequency Diversity (or WFD) technology, which is described as a channel-hopping system with error correction that aims to eliminate interference and dropouts "in the noisiest RF environments."
SKAA is a close cousin to the Pro Audio Wireless (PAW) streaming technology used in live concert settings. The system is hailed as ideal for movies and gaming due to its "undetectable 36 millisecond (ms) fixed low-latency signal," which is said to eliminate lip-sync and audio lag. If there's a rub with SKAA, it's that a small wireless transmitter must be connected to the audio source for the system to work.
For hard-wire hookups, RCA and minijack analog inputs are provided on the back of the speaker housing the amplifier. The speaker has a removable grille.
For more information, visit atlantictechnology.com.