The Artist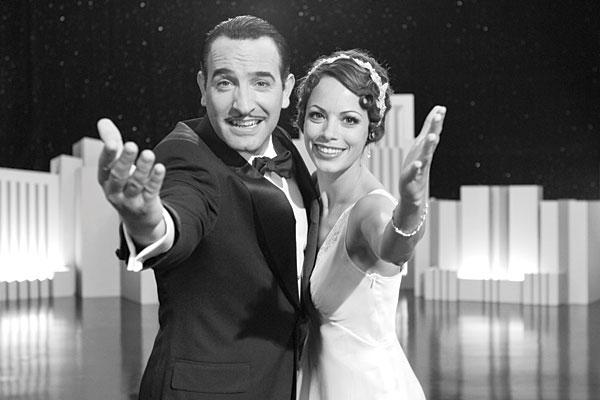 When given a glimpse of the latest technology, George brushes aside the proposition of so-called talking pictures as some curious fad. Rather than transform with the times, he commits his own fortune to writing, directing, and starring in what he hopes will be his greatest film. Meanwhile, Peppy is rapidly becoming big box office, her star shining ever brighter while another fades. French writer/director Michel Hazanavicius clearly owes a debt to A Star Is Born and Singin' in the Rain, recalling key dramatic points from both here, while rendering his own tale in wonderfully grand, operatic strokes.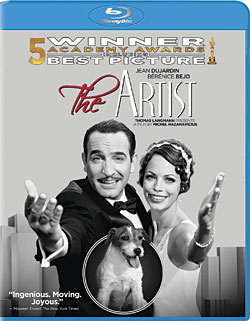 The actors are sufficiently expressive to convey their intentions without the need for abundant title cards and never resort to the clichéd exaggerations of the genre. At its heart, The Artist is a love story of the most innocent sort, between this man and this woman but also for the irresistible medium of film itself. Frankly, I doubt that any working American moviemaker could have paid such a fond, quaint tribute to bygone Hollywood.
At first glance, the 4:3 image might be a bit off-putting to some viewers as seen on a big 16:9 display, but if the movie is doing its job, you won't even notice the vertical black bars left and right. The black-and-white image is graced with a spray of film grain, most noticeably on the movies within the movie, with these conspicuous shifts effectively maintained. Overall, the quality of the high-bitrate video is clean and crisp down to the flecks of George's wool suit and the tiny droplets of sweat on his brow. The picture also boasts rich, organic blacks and exquisite shadow detail throughout.
The soundtrack is anything but silent, providing continuous musical accompaniment courtesy of composer Ludovic Bource (and one passage borrowed from Bernard Herrmann) that rises and falls with the emotional undercurrent of the story. Except for two crucial scenes, music is the only audio in fact, albeit somewhat restrained and subdued despite the DTS-HD Master Audio 5.1-channel presentation. The orchestra has definitely been mixed into the surrounds, reinforced with ample LFE, but we shouldn't expect any discrete cues or booming bass.
The special features provide a worthy complement to the movie, led by a relatively meaty making-of program in addition to an assortment of brief, topic-specific featurettes exploring the vintage locations, costumes, and more. Any remaining holes will likely be filled in by the video of a lengthy post-screening question-and-answer session with members of the cast and crew. The bloopers are cut together into a 2-minute montage, and we can only imagine what George would have thought of the included UltraViolet version in the cloud. Something tells me that these newfangled Digital Copies would have left him speechless.
Blu-Ray
Studio: Sony, 2011
Aspect Ratio: 1.33:1
Audio Format: DTS-HD Master Audio 5.1
Length: 101 mins.
MPAA Rating: PG-13
Director: Michel Hazanavicius
Starring: Jean Dujardin, Bérénice Bejo, John Goodman
Last year's Best Picture, The Artist, embodies a simple enough idea: a silent movie about silent movies, told in the classic style. Set in the waning days of the era, the story introduces us to aging matinee idol George Valentin (Oscar winner Jean Dujardin) who meets the wide-eyed ingénue Peppy Miller (nominee Bérénice Bejo) outside one of his premieres. Seldom does the screen see such an intoxicatingly attractive couple, and yet their relationship is a complicated smolder of admiration and respect that has its share of ups and downs across years of drastic change.
LATEST VIDEO