Anthem MRX 700 A/V Receiver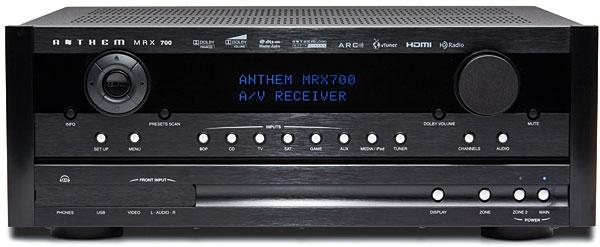 Price
: $2,000
At A Glance
: Light on bells and whistles, heavy on high-end sound • Anthem Room Correction worth the additional effort • High value from a true high-end brand
Anthem Lite and Right
When I hear "Anthem," I also usually hear "ka-ching!" Anthem's Statement D2v surround processor sells for a cool $8,500, which is enough cash to keep a Colorado hippie blazing in medical marijuana for years. The MRX 700 is the company's welcome foray into the world of down-to-earth-priced AVRs, punctuated by the inclusion of the same Anthem Room Correction (ARC) system the company uses in its costlier separates. Anthem's proprietary room correction alone might be enough to swing some consumers' decision. Those who've used ARC with Anthem's separates (including some people employed by this fine publication) hold it in high regard. An AVR at the MRX 700's $2,000 price point is going to be up against a lot of stiff competition. Will Anthem pull it off, or is its first attempt at a killer AVR for the masses about to go up in smoke?
That's Heavy, Man!
The MRX 700 has a unique, attractive look that takes design cues from Anthem's AVM 50v and Statement D2v. You'll recognize the small silver buttons that stretch across its obsidian black faceplate. The weighty transformer that powers the seven channels is clearly visible through the grated top plate, and it helps the MRX 700 tip the scales at over 35 pounds. In a breath of fresh honesty, the specs indicate that Anthem achieves the amplifier section's 120-watt rating with only two channels driven into 8 ohms. The rating drops to 90 watts when five channels are in play.
There are four HDMI 1.4a inputs (3D capable, future firmware update required), so you're covered for the typical installation of a high-def cable or satellite box, Blu-ray player, and gaming system (or two). The single HDMI output is probably appropriate at this price point, but there are less expensive AVRs that can feed both a flat panel and a projector without making you switch cables. Legacy components will make do with the Anthem's array of three component and three composite video inputs, seven two-channel analog audio inputs, and a total of five optical and coaxial digital inputs. S-video doesn't even get an honorable mention here, and good riddance.
Anthem provides a regular remote for the main room and a credit-card-sized remote for a second zone. While video for the second zone tops out at composite, that's sufficient for many users. The main-system remote lacks any heft, but it makes up for it with a curved battery compartment that invites your index finger to wrap around comfortably. The buttons are backlit, but only if you remember where the backlight button is in the dark. I'd prefer for any button push to engage the backlighting, battery life be damned.
The MRX 700 has built-in video processing. It cross-converts and upconverts component and composite analog video to HDMI. It also upconverts (and downconverts) incoming digital (HDMI) video to match your display. You can output video over HDMI at various resolutions or change it on the fly via the remote. The Auto and Through modes pass video signals from the MRX 700 to the connected display at the incoming source's native resolution. Through mode presumably performs no video processing. Auto seems to work the same as Through, but it overlays volume levels and other information on the screen, which suggests that at least some video processing is going on.
Anthem includes Internet radio capability. It works well enough, but it doesn't currently support stations that use Windows media streaming (WMA), which significantly reduces the number of stations you can bring in. Hopefully, Anthem will issue a firmware update to address this. Something else that I missed even more than streaming Atlanta's great alt-rock station 99X was the lack of support for Pandora or Rhapsody.