Anthem MRX 1120 A/V Receiver Review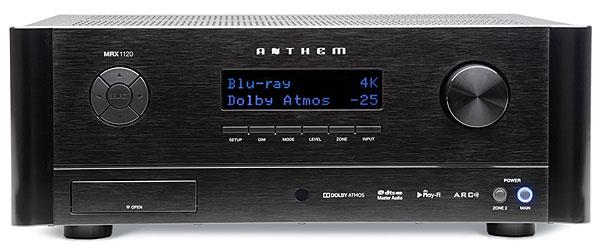 PRICE
$3,499
AT A GLANCE
Plus
Dolby Atmos and DTS:X support
Anthem Room Correction (ARC)
11 amp channels in one box
Minus
ARC doesn't calibrate dual subwoofers individually
Pricey
THE VERDICT
One of the finest-sounding AVRs I've had the pleasure to audition, though it'll cost ya.
Much like a luxury sports car, the flagship AVR is expected to have every bell and whistle under the hood in order to appeal to the well-heeled crowd that's willing to drop a few thousand dollars on a piece of electronics. The real bummer is that even if you spend the extra cash on a flagship, there's no such thing as totally future-proofing your investment, due to the rapidly changing landscape of the home theater business.
This has been especially true during the past few years in which 3D has come and (thankfully) gone, and when we've witnessed the rise of 4K even before a final industry-wide spec was finalized! At first, 4K was boasting a bump in resolution, which is all fine and dandy. But because most people sit too far from their displays for it to matter much, another hook was required—and it has now arrived in the form of high dynamic range (HDR) plus wide color gamut, delivered by the competing incompatible formats dubbed Dolby Vision and HDR10. Of course, with this new technology, the HDMI specification has changed once again: In order to fully support the current 4K spec, your equipment must be at least HDMI 2.0a compat- ible, with HDCP 2.2 copyright management, or else you're out of luck if you want to watch the latest Ultra HD Blu-ray Discs.
On the audio front, Dolby Atmos and the newcomer to the market, DTS:X, offer object-based, height-enhanced surround sound from up to 11 speakers for home systems (plus multiple subwoofers, if you're so inclined). Your flagship AVR will have to check both of those boxes as well. In my mind, the flagship must also include all of the required amplifiers in its one chassis, which hasn't been easily found to date. Most top-line models tap out at nine channels.
Give It to Me Straight
Enter the Anthem MRX 1120, the latest offering from the Canadian company best known for their Statement pre/pro from earlier this century. The MRX 1120 checks all the boxes listed above plus a few more, although DTS:X won't be up and running until there's a future firmware release. And as I requested, this receiver packs inside the 11 channels of amplification needed for a 7.1.4 system. Of course, you'll pay for the privilege—at $3,499, it doesn't come cheap (though a late- generation 11-channel surround processor and matching stand- alone amplification could easily come to more).
Aesthetically, the MRX 1120 isn't flashy and doesn't draw much attention to itself in the rack. The front panel has a black aluminum finish, with a large and easy-to-read LCD readout centrally located. The volume knob is on the right side; the main power and Zone 2 power buttons are underneath. Housed below the display are direct access buttons for Setup, Dim (to change the display's brightness), Mode, Level, Zone, and Input. On the left-hand side are four directional buttons encircling a select button, and below that is a surprisingly flimsy flip-down flap that hides an HDMI input (compatible with Mobile High-Definition Link, or MHL), a headphone jack, and a USB port.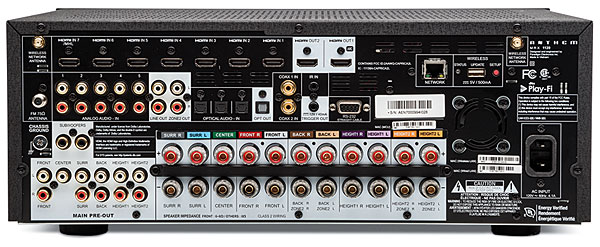 The rear panel sports dual Wi-Fi antennas located at the top of each corner, which makes the AVR look a bit like an alien with protruding ears when viewed from the front. Other connections include seven HDMI inputs plus two outputs. HDMI Out 1 supports Audio Return Channel, while HDMI In 7 supports MHL. As expected, each HDMI input/output is 2.0a compliant, supporting HDCP 2.2, 4K at 24/30/50/60 Hz, HDR, and BT.2020 color gamut, with the required bandwidth of 18.2 gigabits per second.
There are five analog stereo inputs, dual stereo outputs (Line Audio and Zone 2), three Toslink inputs (one output), and two coax digital inputs, as well as IR in, trigger out, RSC-232, FM antenna (no AM), Ethernet, factory-service USB, a wireless setup button, a grounding screw (for you vinyl lovers), and a detachable power cord. Additional outputs include subwoofer (two in parallel) and 11 main pre-outs. Among the 11 speaker outputs, the terminals of each pair are spaced too far apart to accept most dual banana plugs, and each terminal has a plastic ring at the base that makes using beefy spade lugs all but impossible. On the plus side, all of the terminals are spaced out enough to make hand-wiring not too difficult for those with larger than normal fingers. For most folks who are not reviewers, the speaker connections will be made just once.
Analog video acolytes should note that there are no composite or component video inputs or outputs, which really cleans up the look of the rear panel. The MRX 1120 doesn't offer, nor does it need, any video conversion; it will pass through any digital video unmolested from your source components to your display, stripping out the audio along the way to process and send to your speaker system.
Inside the box is plenty of pro- cessing power including a quad-core DSP, along with 768-kilohertz/32-bit digital-to-analog converters. Of the 11 channels of amplification, the five main channels offer 140 watts each, while the six others are rated for 60 watts each (two channels driven into 8 ohms). While on paper this looks somewhat weak for a flagship, my experience with Anthem is that they don't embellish their amplifier specs, so I'm curious to see how this measures; check our Test Bench box for the results. Anthem uses traditional Class AB amplification for the five main channels and Class D topology for the back surround and height channels where ultimate full-bandwidth sound quality plays a less important role, which presumably keeps the chassis a bit cooler when the unit is running full bore.
Room correction is a definite must-have for a flagship, and this one offers what is arguably a best-in-class solution: the proprietary Anthem Room Correction (ARC). Unlike other software on the market, ARC will work on all 11 speakers in your system in addition to your subwoofer, with one caveat. Those of us with dual subs are at a slight disadvantage because the program equalizes dual subs as one. I'd love to see Anthem treat each one individually.
The MRX 1120 doesn't offer any internal streaming options or Bluetooth, but it does sport DTS Play-Fi, which allows you to use the Play-Fi app on mobile devices to stream music from local sources, including your phone, and popular services like Amazon Music, iHeartRadio, Spotify (premium account required), and Pandora, just to name a few; it also provides DLNA compatibility with your home network and Internet Radio. Furthermore, Play-Fi doesn't compress the audio, and it will support file formats up to 192-kHz/ 24-bit hi-res as long as your network and mobile device support the data rates. While setup of Play-Fi didn't go as smoothly as I'd hoped (it took me three attempts with my iPad), once it was configured, it worked like a charm. Though I didn't test Play-Fi's multiroom capabilities, once the system is set up you can add standalone Play-Fi-compliant wireless speakers (such as those from Anthem's sister company Paradigm) around your home and operate them from the same app.
Source components for this review included an Oppo BDP-103D Blu-ray player, Samsung UBD-K8500 Ultra HD Blu-ray player, TiVo Series 3, Xbox 360, and Logitech Squeezebox Touch with both digital coax and analog stereo outputs. I tested the receiver's Zone 2 stereo outputs by feeding them to a NEAR 6XL amplifier that powers my outdoor speakers and subwoofer.