Ant-Man
To foil the unscrupulous Cross, who plans to sell the technology for billions, Pym finds an unlikely candidate to wear the special suit required and, together with an army of ants, infiltrates the company and destroys the technology before it can reduce the world to chaos. But his potential Ant-Man is ex-con (but good-guy) Scott Lang, whose first encounter with the suit didn't exactly sell him on the idea. Will Scott come to appreciate the small picture? Will he cross with Cross? Has a hyphenated Marvel superhero ever failed to come through?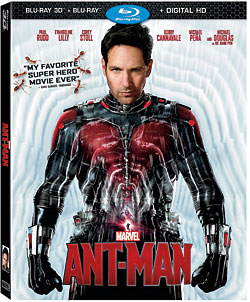 In what has become an endless string of Marvel Comics' superheroes, Ant-Man appears to be a relatively small player. But that could change. Ant-Man turned out to be one of my favorite Marvel films, and unlike too many of their productions, no New Yorks or Los Angeles were destroyed or even harmed in the filming. It lacks the Shakespearean feel and epic music score of the first Thor (still my favorite Marvel film) but brings more humor to the table, has some of the cleverest action set pieces ever, and, let's face it, the Ant-suit, or Shrink-suit or…whatever…is just too cool.
At first I found the video a bit overly warm, but that was certainly by design. It's crisply detailed and offers stunning blacks, particularly near the end in an amazing sequence I'm not going to spoil by describing here. While I prefer the 2D transfer, the 3D is spectacular throughout, particularly if your TV is up to it. The audio is solid and puts you into the center of the action but didn't quite make the hair stand up on the back of my neck like the very best soundtracks do, including some of Marvel's own.
The extras include two making-of featurettes, several "news" clips about Lang's pre-Ant-Man conviction, deleted and extended scenes, a gag reel, and (hooray) a full commentary track from star Paul Rudd and director Peyton Reed.
Blu-Ray 3D
Studio: Disney, 2015
Aspect Ratio: 1.85:1
Audio Format: DTS-HD Master Audio 7.1
Length: 117 mins.
MPAA Rating: PG-13
Director: Peyton Reed
Starring: Paul Rudd, Evangeline Lilly, Corey Stoll
Ant-Man begins in 1989 as genius inventor and industrialist Hank Pym achieves a major success in a revolutionary shrinking technology that can reduce a man to the size of an ant while increasing his strength a hundredfold or more. But he hides his accomplishment and resigns from his company to keep the development from falling into the wrong hands. As we jump to the present, his protégé, Darren Cross, is now the head of the company and close to the success that Pym secretly achieved in 1989.