The Angry Birds Movie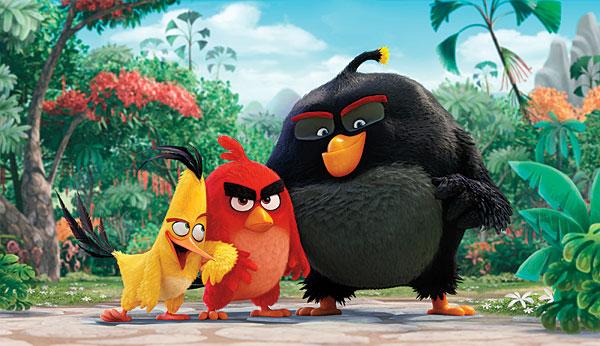 I wouldn't call The Angry Birds Movie an eggstatic animated title. Its thin plot and PG rating (rude humor and action) might inspire your own hatchlings to emulate Red's attitude. But the climax, a hard-boiled battle between the birds and the piggies, will certainly keep little ones glued to the screen—and older animation fans at least mildly amused.
But everyone will be captivated by the movie's crisp images and brilliant design. I watched the 4K disc all the way through on a Samsung 65-inch (diagonal) 65KS9800 UHD set, and later spot-checked the standard Blu-ray and 3D versions on a Sony VPL-HW45ES projector and a 100-inch (diagonal) screen. The UHD/HDR version (admittedly helped by the smaller screen) clearly had more pop and vivid colors than the standard HD disc, though the movie's lack of truly dark scenes doesn't fully exercise the benefits of HDR. Nevertheless, this is a superb transfer, however you roll. The 3D was also solid, though the inevitable reduction in brightness, and thus more muted colors, made the added depth of 3D (for me) more of a loss than a gain.
Interestingly, while the UHD disc has an Atmos track (not tested here), the standard HD and 3D discs do not. While the audio is just a hair short of the very best soundtracks, the dialogue is clear, the sound effects potent with solid bass where needed, and the music exceptional.
The best of the extras is a separate, music-only soundtrack. While it's not in lossless multichannel, it still sounds exceptional and provides more insight into the superb score. Far too much of that score is buried by sound effects and dialogue in the movie mix.
Blu-Ray 3D
Studio: Sony, 2016
Aspect Ratio: 1.78:1
Audio Format: Dolby Atmos (on UHD disc; DTS-HD Master Audio 7.1 on Blu-ray)
Length: 97 mins.
MPAA Rating: PG
Directors: Clay Kaytis, Fergal Reilly
Starring: Jason Sudeikis, Josh Gad, Danny McBride
I'd heard of Angry Birds but completely missed their first flight of fame in an immensely popular game for smartphones. Subsequently, they went bird-flu viral with follow-up games, an animated TV series, and more. A movie launch was inevitable. It features hotheaded Red and other (non-flighted!) feathered citizens of Bird Island. Sentenced to take an anger management course, Red meets a few similarly explosive (sometimes literally!) souls. But when shiploads of seemingly friendly green piggies arrive, Red and his new buddies discover that the piggies aren't all they're cracked up to be and are hatching a nefarious plan. As I watched, I couldn't help seeing an inspiration from the old TV series V, with a dash of the green aliens ("Ooooh, ahhhh") in Toy Story.