Amina Perfects the 'Invisible' Speaker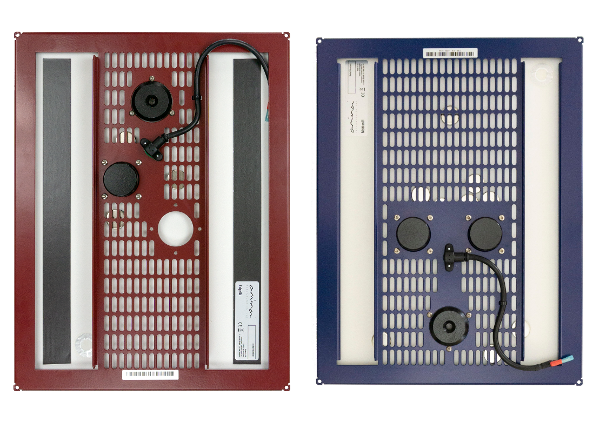 Amina Technologies, the U.K.-based maker of "invisible architectural speakers," say it has updated the performance and installation flexibility of its sound panels, which use exciters integrated in aluminium honeycomb or composite soundboards to radiate sound.
Designed to be completely concealed in standard dry-wall, the company's flagship Mobius and Edge series speakers employ a Distributed Mode Loudspeaker (DML) design that's said to disperse sound more evenly than traditional cone speakers, even in acoustically challenged spaces with glass or hard-surface walls and obstructions.
The new Mobius5i ($1,100 each) and Mobius7i ($1,600, right in above photo) speakers comprise a honeycomb aluminium soundboard and second-generation Excelsior exciter designed to deliver improved midrange and high-frequency performance; midrange sensitivity, in particular, is 6 dB higher than in the previous models, according to the company. The Mobius7i is built to produce higher sound-pressure levels than the Mobius5i.
The Mobius-i models are designed to be integrated between studs or into a solid wall or millwork and fitted with a back box. The panels are designed to radiate sound when covered by a skim coat of spackle, stucco, leather, or man-made veneers and laminates and are described as "impervious to moisture and corrosive elements" once they are installed and covered.
Representing a "new approach for drywall application" that requires no framing, the Edge5i ($1,000 each, shown at left in above photo) and Edge7i ($1,500 each) speakers are designed to replace a small section of drywall or plasterboard by attaching only to the wall, not the studs. Once filled, taped, feathered and painted or finished over with thin veneer, the Edge-i speakers disappear into the wall.
In addition to smoother low-frequency extension than its predecessor, the new Edge-i models boast increased power handling and a rated sensitivity of 90 dB @ 1 watt/1 meter (installed and finished). The Edge7i is built to produce higher sound-pressure levels than the Edge5i.
For more information, visit uk.aminasound.com.