American Hustle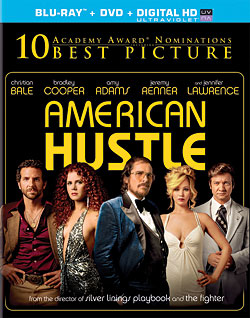 The lush, film-like picture is filled with dazzlingly rich colors in its re-creation of period details as the couple works their magic beguiling greedy marks. After the FBI busts their balloon, though, the story temporarily turns to dramatic scenes as the palette transforms into ugly '70s pastels and the nonstop music drops out completely. These soul-searching scenes are dimmer, too, shallower-focused, fuzzier, and flatter. But when we get back in the game of playing the politicians, the music surges back, colors pop, and the party continues. Then plentiful detail prevails: Velvet jackets have texture, and the fine checks in loud plaid suits are well defined. Robert De Niro's mobster sunglasses and Renner's big bow tie are an inky black, and shirts are bright white.
The Duke Ellington Orchestra comes across sweet and powerful, part of a great soundtrack of plentiful jazz and '70s pop, disco, and lounge, each sensational in 5.1. The music is well separated into each channel, with the emphasis on the surrounds, bringing everything off the front to float in the middle of the room. There's a little hiss in one scene, but otherwise dialogue and the frequent narration is crisp and clear, even over music. Surrounds are also used for atmospherics such as presses hissing and clanking in a laundry. There isn't much in the way of panned effects, though, except for the rolling drum opening of Santana's "Evil Ways" passing behind your head or an offscreen jet flying by.
The limited extras consist of 23 minutes of deleted and extended scenes that fill in some story gaps and add depth to relationships plus a well-made featurette focusing on the multifaceted characters in which intelligent actors and director David O. Russell make insightful comments.
Blu-Ray
Studio: Sony Pictures, 2013
Aspect Ratio: 2.40:1
Audio Format: DTS-HD Master Audio 5.1
Length: 138 mins.
MPAA Rating: R
Director: David O. Russell
Starring: Christian Bale, Amy Adams, Bradley Cooper
Set in 1978, this entertaining film tells the "some of this actually happened" story of a brilliant grifter (Christian Bale) and his co-conspirator lover (Amy Adams), who, on getting busted in a scam sting, are forced to work for an FBI agent (Bradley Cooper) in bringing down four fellow crooks. But the crazily ambitious fed ups the ante to entrapping corrupt politicians willing to accept kickbacks to grease the wheels of the sheik's scheme to rebuild Atlantic City casinos. But this, of course, will mean mafia involvement and taking down a decent New Jersey mayor (Jeremy Renner) who just wants to help his community. And out of all these fast-talking con artists, who's really zooming whom?