Amazon Expands Echo/Alexa Portfolio by 9 in Pre-Holiday Push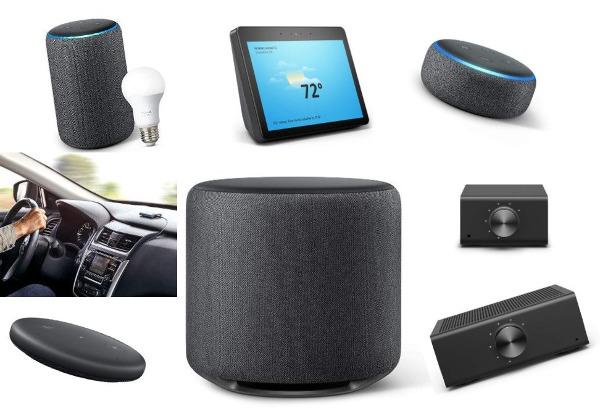 The we-sell-everything-everywhere behemoth otherwise known as Amazon is determined to remain the Big Kahuna in Smart-Speakerville.
With half of American homes on track to own a smart speaker in the coming months, Amazon is more than doing its part to make that happen. Last week the company announced nine new Echo-brand devices at prices ranging from $30 to $230.
The lineup includes three updated Echo speakers, all featuring an improved driver for better sound quality. Other upgrades include a new fabric design for the Echo Dot ($50), a built-in smart-home-friendly Zigbee hub for the Echo Plus ($150), and 10-inch display, 5-mega-pixel camera, Zigbee hub, and soon-to-be-added Skype/doorbell video calling feature for the Echo Show ($230). Amazon is accepting pre-orders for all three models, which are slated to ship in October.
Several "Echo companion devices" were also announced, two of which make it possible to bring Alexa to an existing stereo system.
The Echo Wall Clock ($30) connects to an existing Echo device "to visually enhance timers, alarms and reminders." The battery-powered 10-inch clock displays multiple timers and lets you use voice commands to start those timers. Echo Input ($35) adds Alexa to an existing speaker via Bluetooth or a minijack input. The half-inch-tall disc features a four-microphone array so you can query or command Alexa from across the room. Both products ship later this year
Echo Sub ($130, ships October) is Amazon's attempt to bolster bass on existing Echo devices. Standing 8 inches tall and resembling Apple's HomePod, the "sub" includes a voice-controlled equalizer and can be added to a mono speaker or used to create a 2.1 stereo system. Low-frequency response is rated at 30 Hz (–6 dB).
Echo Link ($200, ships later this year) — a small, nondescript black box with a big volume knob — makes it possible to stream music to an existing set of powered speakers. It offers a variety of connectivity options, including optical and coaxial digital inputs, a 3.5mm headphone input, a subwoofer line-out, and an Ethernet port.
Echo Link Amp ($300, ships in early 2019) brings Alexa and power to an existing set of stereo speakers. Like Echo Link, it's a simple black box but is slightly larger to make room for a two-channel 60-watt amplifier. No specs were provided. Around back it has binding posts.
Amazon is also seeking to expand its reach into the car with the "invitation-only" Echo Auto ($25), a thin dash-mountable device that uses your phone to connect to Alexa so you can use voice commands to play music, find a gas station, open the garage door, etc. About the size of a smartphone, the device is powered by the car's 12-volt outlet or USB and connects to the stereo system via a 3.5 mm audio jack or Bluetooth connection. The accessory is slated to ship "later this year."
Flexing its considerable muscle in new areas, Amazon also announced the AmazonBasics countertop microwave ($60, ships later this year), which connects to an Echo device to "make cooking easier," and the Amazon Smart Plug ($25, ships October) for controlling compatible lights, fans, coffee makers, etc.
For more information, visit amazon.com.