Alabama Shakes, Black Flamingo, and Gemma Ray: Billy Altman's SXSW 2012 Diary, Day Two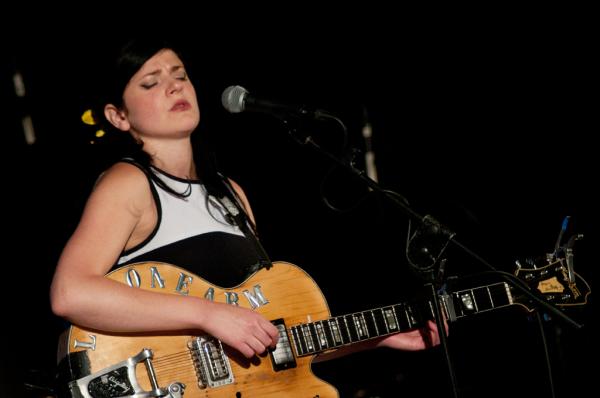 The first full day at the 2012 South By Southwest music festival was really all about the ladies, as a number of talented women from all points of the stylistic compass made their presence felt at various hot spots throughout the day and night.
While advance buzz about new acts had been at a marked premium before the start of the festival, one look around the jam-packed hall at the Austin Convention Center's Radio Day Stage before the performance by the Alabama Shakes had even started made it clear that something special was indeed being anticipated. And the Athens, AL quintet didn't disappoint, mainly due to the riveting presence of lead vocalist Brittany Howard, whose physically and emotionally imposing Otis Redding-channeling, gospel-laced rocking soul exhortations repeatedly brought the crowd to its feet.
Later, a tip from a friend brought me to B.D. Riley's on bustling 6th Street, where I was knocked over by Black Flamingo, an LA band fronted by three women who look and sound like they just stepped out of a 1967 folk-rock summer camp. Either that or a cult. Dressed in black, sporting nearly identical bang-accented hairdos, and floating three-part harmonies over gauzy, often wordless melody lines that would not have been out of place on the soundtrack of some old Hollywood hippie exploitation flick, the trio ended their gauzy set with a song called "Zombie" that had me thinking that I had better avoid any direct eye contact with them lest I lose my will and start somnambulating through downtown Austin.
And speaking of eye contact, the wonder that is Gemma Ray doesn't really make much with her audience, but since she's so darkly cool that she'd likely look right through you, that's ok. Armed with not only a bottleneck slide but also an honest to goodness kitchen knife that she uses for rather, er, unique effect as she literally attacks her guitar (she arrived for her show at the intimate Tap Room with her right palm bandaged – and no we didn't really want to know what happened), the British songstress led her jazz-tinged trio through a typically eclectic set of ballads and pop-rockers that included, of all things, a smooth version of "Bei Mir Bist Du Schön." I'll wager that's the only Andrews Sisters cover I'll hear all week.
More from the SXSW 2012 Diary:
Day One: Keeping Austin Weird With Joe "King" Carrasco
Day Three: Bruce Springsteen Keynote Address
Day Four: Fun. and The Drums