Acurus Announces State-of-the-Art ACT 4 Processor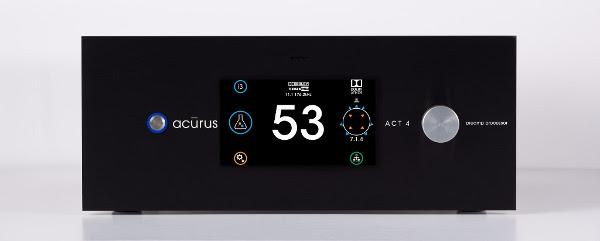 Indy Audio Labs (IAL), keeper of the iconic Acurus and Aragon brands, has announced production of the Acurus ACT 4, a state-of-the-art preamp/processor featuring Dolby Atmos and DTS:X surround processing that fueled a number of riveting demos at the recent CEDIA Expo.
Built in the U.S., the processor is loaded with high-tech features, including a Smart Auto mode that automatically "applies the best possible processing" based on the source signal and available speakers. It's also equipped with proprietary web technology to simplify remote control configuration and setup on mobile devices, tablets, and third-party control systems.
The thing you notice immediately is the ACT 4's vibrant 7-inch touch display, which is governed by a sensor that automatically adjusts brightness based on ambient light conditions.
"The ACT 4 has been designed with an array of DSPs that have enough horsepower and enough pre-testing with DTS to run both DTS:X and Dolby Atmos at launch rather than through a future firmware upgrade," said IAL co-founder and CEO Rick Santiago. "The DSP architecture we designed allows us to rapidly determine if an incoming stream is DTS:X or Dolby Atmos and process accordingly with DSP processing horsepower to spare."
As for DTS:X, which has been lagging behind Atmos in the market, Santiago said: "We've been working closely with DTS on the finalization of the 11.1 algorithm for our product (and others to come) so we're confident that we're running the best representation of the state of the art for DTS:X."
Features at a glance:
Supports up to 11.3 channels
Quad TI DSP processors
HDMI 2.0 connectivity with 4K and 3D passthrough
HDCP 2.2 copy protection
Supports 192 kH/24-bit audio on all digital inputs
Hardware and firmware upgradeable
Ethernet, RS-232, 12-volt trigger (in/out)
2 USB charging ports
Laser-engraved brushed aluminum finish
5-year warranty
Available for preorder, the Acurus ACT 4 is expected to ship in late November. Suggested retail price is $8,499. Visit
acurus.com
for more information.

SPONSORED VIDEO