Acoustic Energy Radiance 1 Speaker System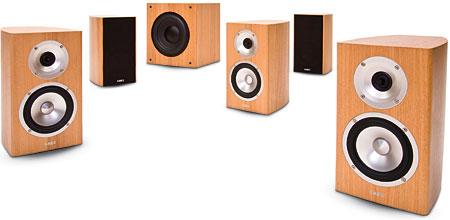 Price
: $4,200
At A Glance
: Ring radiator tweeter civilizes high frequencies • DXT lens matches tweeter's dispersion to woofer's • Subwoofer includes adjustable notch filter
Lord of the Ring
Sometimes a single moment of greatness defines a person or a company, even if other moments of greatness follow. For Judy Garland, it was "Over the Rainbow" in The Wizard of Oz. For Acoustic Energy, a British loudspeaker brand, it was the AE1. The monitor took recording studios by storm when it made its debut in 1988, and it soon became a favorite among consumer-level audiophiles as well.
Since then, Acoustic Energy has moved from West London to the bucolic Cotswolds, formed an alliance with a Malaysian manufacturer, and given birth to various speaker lines, including several newer variations of the AE1. One of these days, I'll have to capture five of the classic monitors and put them through their paces. First, let's talk about a new line, the Radiance series, which includes a tower, two monitors, a center, and a sub. This review covers a favorite configuration of mine, with five of the smaller Radiance 1 monitors and the Radiance Sub.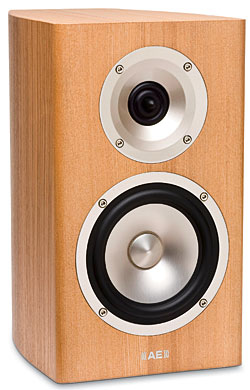 Ring Radiation
The Radiance 1 is about a foot and a half tall. It doesn't loom large, perhaps because its width is a little more than 7 inches. Its sides curve toward the back, which is an excellent way of minimizing the polluting influence of standing waves inside the enclosure. The overall visual impact is that of a satellite speaker half the size. It didn't crowd me.
Veneer choices are light Natural Oak or darker Antique Oak. I had the former and found it unassumingly beautiful. Its light satin finish was minimal and natural, not glossy or ruthlessly sanded down. I could feel the wood grain when I ran a fingertip over its surface.
Pull off the well-made aluminum grilles—with especially strong magnets that practically fly onto the speaker—and you'll find this simple two-way design's drivers. They include a tweeter with a 1-inch doped-fabric diaphragm and a woofer with a 5-inch deep-anodized aluminum alloy cone in a die-cast aluminum basket. Acoustic Energy says the woofer's dual-wound aluminum voice coils provide the benefits of low distortion and high power handling.
The tweeter is not a conventional dome but the latest iteration of Vifa's ring radiator, according to AE. "Through the use of motor optimization and special flux stabilizing rings, it has a 10-decibel reduction in motor distortion over previous models. To get the best from this new motor, we went through an intensive process of evaluating different diaphragm materials and varying source, type, and doping levels in order to find the perfect combination, which would give us the widest bandwidth and lowest distortion."
AE says the phase plug at the tweeter's center "helps the directivity at high frequencies by shaping the loading process across the tweeter diaphragm." The tweeter is recessed into a die-cast aluminum waveguide, which AE calls a DXT lens. Most tweeter waveguides focus the tweeter's output while controlling its interaction with the room. In this case, it's also designed specifically to match the tweeter's dispersion with the woofer's, improving integration around the crossover point. On the back are biwire transparent-nut binding posts.
Notch Your Problems Away
The Radiance Sub includes a front-mounted pulp cone driver of a little less than 9 inches in diameter that's housed in a sealed box, to which you may fit the supplied rubber feet or spikes. Seven knobs adorn the back panel. In addition to the usual three for volume, crossover, and power, the sub also has a continuously adjustable phase control and three more controls that apply a notch filter for room correction. While I've had varying results from the room correction/EQ features that are built into A/V receivers, I'm a strong believer in EQ built into subwoofers.
Bloated, uneven, or otherwise imperfect bass response is a common sonic flaw in most rooms. Often it's the one flaw on which all listeners agree, regardless of their hearing acuity. If you experiment with subwoofer placement, it usually helps, and some rooms benefit from an extra sub in a second location. But as worthwhile as those strategies are, they can only take you so far. It's sometimes desirable to finish the job by notching out the most objectionable, exaggerated frequency hump. To that end, the Radiance Sub has three controls that manipulate a notch filter. These adjust the notch's frequency (30 to 150 hertz), its slope or width (min/max), and its level (zero to –12 dB).