Acoustic Art: Bang & Olufsen BeoLab 12 Series Speakers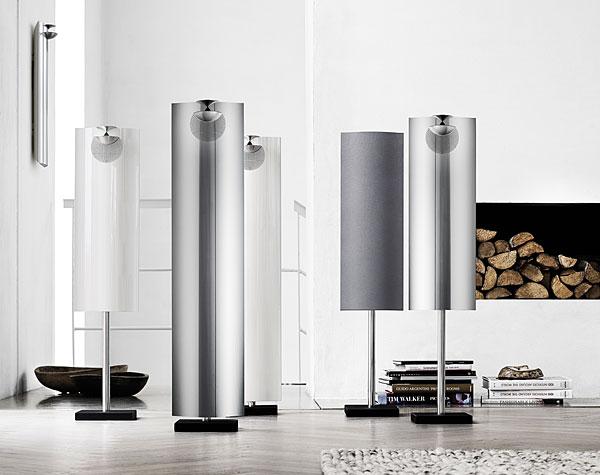 Denmark's Bang & Olufsen has always had a knack for style, but the BeoLab 12 Series speakers just might be the most elegant-looking speakers you can put on a stand or—even better—hang on the wall next to a flat-panel TV in a modern room. From large to small, the line comprises three models suitable for stereo or surround sound—the 37-inch-tall 12-3 and the 24.5-inch-tall 12-2 and 12-1—the first two of which use B&O's acoustic lens technology: A mushroom-like deflector disperses high frequencies in a 180-degree arc while minimizing floor and ceiling reflections that can muddle the sound. The result? A "deeper sense of space and realism," according to B&O. The speakers can be mounted with the lens on the top or bottom, depending on the installation.
The gently curved exterior, featuring a shimmering aluminum finish on models 12-3 and 12-2 and a fabric cover on the 12-1, was designed by David Lewis Designers, the firm founded by the late David Lewis, creative force behind B&O's iconic designs for more than four decades. There is also inner beauty to behold in the form of a compact and highly efficient amplifier made by ICEpower, a B&O company specializing in Class D amplifiers. The 12-3 packs 480 watts, while the 12-2 and 12-1 have 320 watts and 160 watts, respectively. Having onboard power not only ensures an ideal match between amplifier and speaker but simplifies installation by reducing the wire count.
Sound is reproduced by a flat 6.5-inch woofer and a 2-inch midrange/tweeter in the BeoLab 12-1, while models 12-2 and 12-3 add a 0.75-inch tweeter (and acoustic lens) to the mix plus a second woofer in the 12-3. With an effective frequency range of 45 hertz to some- where north of 22 kilohertz, the BeoLab beauties will benefit from a standalone subwoofer, such as the stylish BeoLab 2—especially for those who crave the full visceral impact of today's action-adventure movies. The speakers are offered in silver or white, and pricing is $4,613/pair for the 12-3, $3,120/pair for the 12-2, and $2,950/pair for the 12-1. Matching floor stands are available.
Bang & Olufsen • (866) 520-1400 • bang-olufsen.com
LATEST VIDEO