Ace of Bases: Three TV Speaker Stands That Can Pump Up Your Sound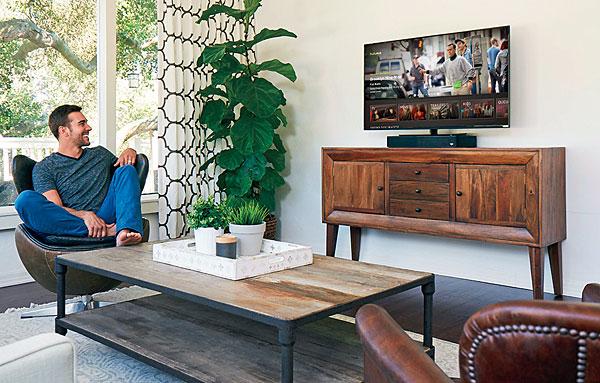 It's tough to be an audiophile these days. In the ongoing push by those pesky spouses and decorators to make our audio systems increasingly basic, simple, and invisible, some of us have felt the tug to hang our HDTVs on the wall and step down from a full-blown 5.1 surround sound home theater rig to a nice, slender soundbar. More often than not, that means having a subwoofer, typically supplied with the soundbar, just to fill in the bass, which inevitably goes missing during that slimming process. But, depending on how well the sub is integrated and its position in the room, that can often lead to other issues, including localization of deep male voices at the sub and possibly a gap in upper-bass frequency response that becomes most noticeable when playing music.
However, there is another option to the classic, bass-shy soundbar. It turns out that while many of us will point to the wafer-thin form factor of the latest TVs as a style-driven selling feature, few of us ever get around to actually hanging that lean new screen on the wall. Typically, the TV comes out of its box and just sits there on its pedestal. When that's the case, you can consider a soundbase platform, an all-in-one powered speaker that leverages your HDTV's need to rest on something fairly wide and deep. The payoff is that with that extra 10 to 15 inches of depth to play with, a soundbase can have a decent-sized enclosure that delivers the kind of bass that no prissy little soundbar can even dream of on its own—bass extension that should be well under the sensitive 100-to-175-hertz region where many soundbars cross over to their subwoofer. And with no subwoofer—wireless or otherwise—they're even easier to install than the average soundbar. To get some idea of how the latest soundbase offerings perform, we put three new models, priced from $250 to $600, through their paces.