Vizio Sound Stand S2121w-D50
PRICE
$250
AT A GLANCE
Plus
Plays very loud
Lots of hookup options
Good remote
Minus
Sounds congested when pushed hard
Cryptic display
Minimal stereo separation
THE VERDICT
Vizio's Sound Stand plays remarkably loud for such a small and affordable soundbase, but its sound lacks the finesse of even the company's own budget soundbars. [Ed.Note: See update at the end of this review.]
Editor's Note: Please see our update at the end of this review for comments on Vizio's recent firmware update for this product.
With just a pair of 2.75-inch full-range drivers supplemented by a single 5.25-inch "subwoofer," the Vizio Sound Stand has the most basic driver complement of the three soundbases under review. No amplifier power rating is specified, although, as you'll read, it's clear that the Sound Stand has been carefully tweaked to deliver the maximum possible volume.
Designed to support TVs sized up to 55 inches and weighing up to 60 pounds, the Sound Stand's hexagonal shape had no problem handling my aging 47-inch plasma TV (which is considerably heavier than a like-size LCD model). Inputs include both RCA and 3.5mm stereo analog connections, in addition to both optical and coaxial digital inputs and Bluetooth. A USB port can play uncompressed audio WAV files from a flash memory stick.

While we're talking about digital formats, it's useful to know that while the Sound Stand will happily decode Dolby Digital and PCM signals, it can't handle a native DTS bitstream—something true for all three units under test. For Blu-ray Discs with DTS soundtracks, you can set up your player's menu so that DTS is converted to PCM inside the machine.
A nice remote with real clickable buttons (no membrane here) lets you control various features including track skip on most Bluetooth-paired music sources, although you'll have to decipher the Sound Stand's display, which consists of a row of 12 white LEDs that flash in different patterns. Along with bass and treble controls, the remote has switches for DTS's TruVolume volume-leveling circuit, and DTS TruSurround, which provides a quasi-surround effect to help open up the sound despite the narrow spacing between the left- and right-channel drivers.
Auditioning the Sound Stand took place in two stages, because halfway through the process, Vizio released a firmware update that clearly affected the sonic performance. If you already have a Sound Stand or buy one that's been sitting around on a retailer's shelf, you should update to the latest firmware, which definitely offers improved tonal balance. Prior to the update, I needed to crank up the treble control to +3 and cut the bass down to its minimum setting to get the most natural sound. The revised firmware fixed the overblown bass, though the treble was now too hot, and I found that I preferred to cut it by a couple of notches.
While the Sound Stand was the smallest and least expensive of the group, it didn't wimp out. Like a baby that can wail far louder than its small size would suggest, the Sound Stand can really make its presence known. Vizio claims the Sound Stand can hit 101-dB peaks, which is insanely loud; in my room from about 9 feet away, a more realistic 94 dB was about the maximum limit. Still, this is substantially louder than the other two soundbases could muster, despite them being considerably larger than the Vizio.
The DTS TruVolume feature may be useful for late-night listening, but it tended to make things a bit too forward and aggressive sounding. Similarly, I found that while DTS TruSurround did open up the sound- stage somewhat, it came at the cost of added brightness and a loss of body in the midrange. I left both off for most of my listening.
With just a single pair of full-range drivers handling everything except the deep bass, the Vizio needed to work overtime to deliver those high sound levels. When the going gets tough, such as when the helicopter crashes into the lodge near the end of Skyfall, the Sound Stand simply reaches a point where it no longer gets any louder. Because the maximum output of the drivers is carefully held in check by digital signal processing, obvious distortion isn't really a problem. But the resulting loss of dynamics resulted in a somewhat congested and boxy sound.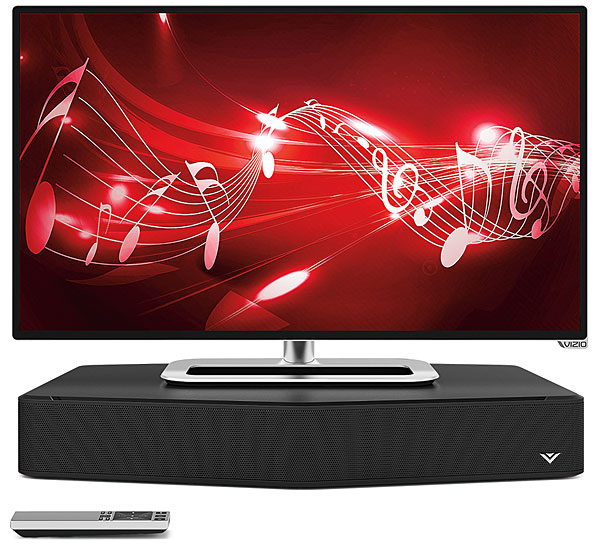 Music sources such as Buddy Guy's "Coming for You" from his Live at Legends CD showed similar limitations, with a loss of midrange energy balanced out by a mild midbass hump and lack of smoothness in the lower treble region. At lower volume, it was OK, but the coarseness and thickness crept back in as the volume went up. Not surprisingly, the closely spaced drivers also delivered little in the way of stereo separation, and while the bass was fairly punchy and tuneful as far as it went, it was clear that the speaker was somewhat strained.
Vizio makes several excellent soundbars, so the Sound Stand's congested and muddled sound was surprising and disappointing. Compared with your TV speakers, the Sound Stand will certainly play louder and add missing bass. But if you want more refined sound quality near this price point, I would consider one of the company's soundbars or just keep looking.
UPDATED 12/11/2014: Following my initial round of testing with the Sound Stand, Vizio supplied, in early December, another sample with a second revision of the software. I was able to compare this latest version directly with the first revision of the software that was still running on the review sample. It's clear that Vizio's latest changes reflect many of my concerns expressed in the review, although the changes in tonal balance are far from subtle and possibly go too far. Gone is the lumpy bass and sucked out midrange, giving the Sound Stand a much leaner and more forward character. The bass sounds tighter and more tuneful, although if you attempt to goose the bass level to restore some of the body in the music, the lumpiness soon returns. Vizio has also dialed back the treble a bit, alleviating some of the coarseness when it's cranked up, but it is still a long way from being a smooth and transparent speaker. On balance, I would say that this third version of the software offers the best overall balance (reflecting a bump in the Performance rating to 3.5 stars from 3.0), and I would urge existing Sound Stand owners to upgrade their firmware. — Michael Trei