Academy President: The future of 3D is strong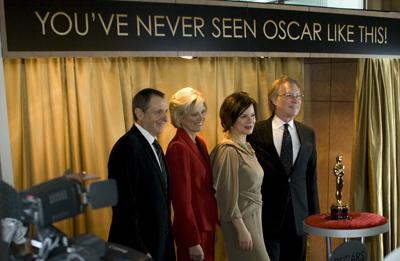 The Academy of Motion Pictures Arts & Sciences (that is, the "Oscars guys") opened up its New York Oscars exhibit today. The opening ceremony featured speeches from Academy president Tom Sherak, Kodak Entertainment Imaging Group president Kimberly Snyder, and Academy Award-winning actress Marcia Gay Harden.
After the ribbon-cutting, I spoke with Tom Sherak about the future of 3D technology in film. The president was very optimistic about the developing technology, and foresaw its use growing in the world of film. He said that not only will more new movies be filmed in 3D, but that we could start to see a trend of classic 2D films converted into 3D.
"As the technology gets better and better, and it is getting better and better, I think that it's a way of adding another piece to the business, and that's a good thing," Sherak said. "I think it has tremendous artistic merit, and I think that the technology, because it changes so quickly, you're going to see more and movies made into 3D, either shot in 3D or made into 3D."
"The technology for turning 2D into 3D is good now, and it's going to get better and better and better. Keep in mind that studios are studios because they have a past, and that past is called a library. When you start to think about all the titles that could be seen in 3D, it's really exciting."
— Will Greenwald
LATEST VIDEO