4 Record Stores in 1 Record Store Day
That's what my photographer son Tony and I accomplished last Saturday (April 19) on the first annual Record Store Day. As I announced here previously, RSD is an effort (spearheaded by indie-shop organizations) to remind people that, yes, record stores still exist. And on Saturday, some participating shops had specials, and some even had in-store appearances, such as the one you see above: The Parlor Mob at Jack's Music Shoppe. For more on that and the other three stores that Tony and I checked out, click below.
Jack's Music Shoppe, 30 Broad St., Red Bank, NJ
I used to shop at Jack's when I was a teen. Living in Bay Head at the time, I'd drive up north to make a pilgrimage every now and then. I remember Jack's having a good selection of British import LPs via the legendary distributor JEM Records. In those days, the store was on the east side of Broad Street (the quaint but fully stocked main avenue of Red Bank), but about 12 years ago, it moved across the street to its current location, a nice, bright, big space.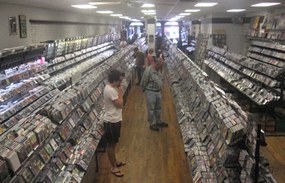 Tony and I arrive early Saturday afternoon to catch almost all of the in-store by The Parlor Mob. Dicey sound (well, what would you expect in the small upper loft of a record store?), but hot, energetic performance of good, no-nonsense, meat-and-potatoes rock & roll. The Mob's debut CD, And You Were a Crow, is due May 6 from Roadrunner. Smartly, the band hands out three-song samplers after its gig.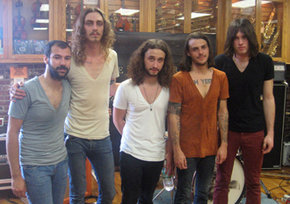 The Mobsters grew up around Red Bank, so they had a good turnout at Jack's. And what's it like to play an in-store at a place where they themselves would shop as kids? Says lead singer Mark Melicia (center in photo): "Weird!"
Jack's is an all-purpose store, focusing on CDs but also carrying DVDs and a bit of vinyl. The selection seems impressively deep; for example, the CD slot for The Soundtrack of Our Lives includes several discs from the band's forebear, Union Carbide Productions. The aisles are busy this afternoon, with the shop celebrating Record Store Day by offering 20% off on all used CDs, DVDs, and LPs.
Zig Zag, 2367 Route 36, Atlantic Highlands, NJ
That sign makes it look like any other store in the strip-mall called Eastpointe Plaza. But walking inside Zig Zag is like entering another dimension - specifically, the wayback time and place where record stores are tiny and cramped but bursting merrily at the seams with LPs and all sorts of music-related paraphernalia, and where the seen/bought/sold-everything owner himself mans the counter.
The owner here is Phil DiBenedetto, and although he seems surprised that the press is bothering to take notice of his humble shop, he's content to chat about record stores of yesterday and today.
"I've been doing this for about 30 years," recalls Phil. "I started in Brooklyn. I was working at a store there in the late 1970s, and then I bought it in the mid '80s. After that, I opened up a store in Staten Island, which I had for about 15 years. And then I closed that store and moved out here - because I live here. When the industry started to decline, it was easier [to run things by being] closer to home. And I've been in this location now for 5 years.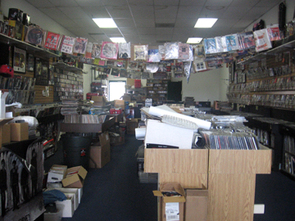 "When I first moved here, there were two independent stores nearby on Route 35; both of them closed. So you'd think that being the only game in town would be advantageous. But it really doesn't make much of a difference when there's hardly any interest anymore [in going to record stores]. There's eBay, which is good and bad - at least it's an outlet to make some money."
Is he doing well enough to keep himself going?
"Yeah, only because I've been doing it for so long. But for anyone to come in and try to do it now - forget it. . . . In the heyday, I used to have appointments every day to go to people's houses and look at their collections - in addition to the stuff coming in through the door here. But now, I think I'm just a grizzled old veteran who has lost the drive a little bit. I could advertise to buy stuff - which helps - but I don't."
Zig Zag does stock CDs, but most of the space is devoted to LPs. How's vinyl doing these days?
"There's definitely a resurgence. And when a vinyl collector comes in, he will actually spend money - whereas very rarely will someone come to the counter with a stack of CDs. Jack's Music Shoppe is nice enough that they send people here all the time, people who are looking for vinyl. I'd rather sell vinyl than CDs, because the people who buy vinyl are more passionate."
Record Collector, 358 Farnsworth Ave., Bordentown, NJ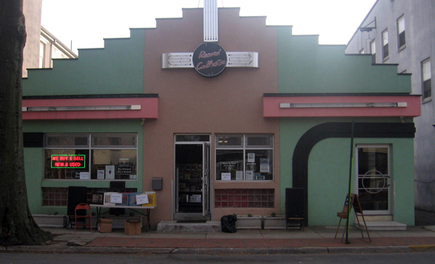 Here's another haven for LPs - but this time, in a freshly restored, spacious building that used to be a small bowling alley. And owners John and Sue Chrambanis are keen on Record Store Day, with flyers proclaiming: "All vinyl on sale!!! Used LPs, $1 each. Regular-priced LPs, buy 2, get 1 free!!!"
As for the store's selection of CDs: "Customers insisting on buying CDs will have a choice: (1) John will sing you a show tune. Or (2) Select a free LP (from $1.99 bins). What a deal!!!"
The Doughboys (with S&V fave Richard X. Heyman on drums) did an in-store last night. And today, DJs Bat Macumba and Tommy Gunn are "spinning the good stuff all day - completely iPod-free and not a laptop in sight! How do they do it???"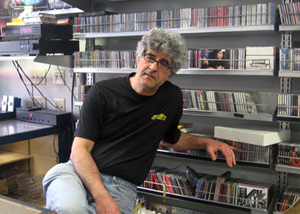 John (left) is more than happy to talk about how he does it at the Record Collector:
"I've been here for 2 years. Before that, I was in Morrisville, Pennsylvania - and before that, Trenton, where I started about 25 years ago. I came to Bordentown because I bought the building. They were going to tear it down. But it was an Art Deco building, and the town allowed us to restore it back to what it might have looked like."
Fitting for such a historic building - and a store called the Record Collector - vinyl is indeed John's major source of income. He takes me on a tour of several back rooms. "This room over here is the Amazon stuff. . . . This is eBay. . . . And this is the Record Collector site. So we have LPs on three Web sites. Sales online are very good. You have to branch out. Because in a small town like this, you die during the week. You've got Friday, Saturday, and maybe Sunday, and that's it. So you better be doing something online." Sue is in charge of running the couple's online business.
In one of the back rooms, I challenge John to find a true rarity: the original circular edition of the Small Faces' Ogden's Nut Gone Flake. And in a few seconds, he finds it. Mint condition, $100. Fair price!
"That album was in a load of stuff I got from an old roller-skating rink that had a fire. The building was in terrible shape; rainwater was coming in. Most of the records inside were damaged, but there were some that had been covered up with plastic. So I went through those and found some stuff that was very rare.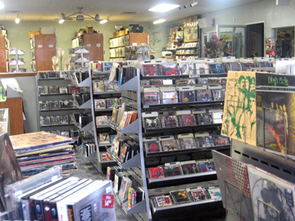 "I would say that 80% of my sales are vinyl. I actually haven't noticed the vinyl resurgence as much as other people have, because I've always been doing vinyl. But where I have seen it is with the increase in reissues. The only thing is, I've also seen the price increase in reissues. But they're still comparable to CDs. You can get vinyl reissues for $10 to $20, and CDs run in that range." He's stocking the early Metallica LP reissues, for example.
The store actually occupies only the front third of the building. John hopes that, one day, the back will be turned into some sort of arts/entertainment space.
"If an investor wants to come in here and pay to restore it, I'll give him the space rent-free until that investment is paid off."

John is always thinking of ways to increase foot traffic in his shop. He helps run a regular schedule of in-stores called The Living Room Concert Series. Next up, on Saturday, May 3: The Catholic Girls. Yes, those Catholic Girls, originally from 1982.
Did he get some traffic from the Record Store Day promotion? "Yeah, we did, but not as much as I would have thought. Then again, it's the first year, isn't it? But I hope it does become an annual event, because people can go up to each other and say, 'Happy national Record Store Day!' "
Princeton Record Exchange, 20 S. Tulane St., Princeton, NJ

It's getting late in the day, but this legendary store is still open - and still bustling with shoppers. As featured recently in The New York Times (click here for the full story), the Princeton Record Exchange is a New Jersey (make that East Coast) (make that national) institution. It started in this university town in 1980, at first occupying a small storefront on Nassau Street. (I remember it well. In my immediate post-college days, I used to shop there for punk and New Wave 45s, like the Clash and Kate Bush, loving their excellent sleeves.) Five years later, it moved to its present spot, a separate building on a tiny street off Nassau. And owner Barry Weisfeld just signed a lease to stay put for at least another 10 years.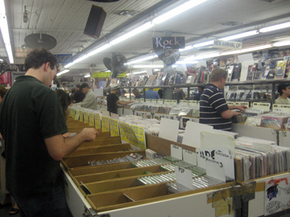 Barry isn't here right now, but several of his managers are, including longtime expert Jeff Johnson. "Record Store Day kind of took us by surprise," he admits, explaining the lack of any in-store performances. "Barry wasn't even sure if he wanted to do anything. But [general manager] Jon [Lambert] was really behind it. And next year, we'll probably do more."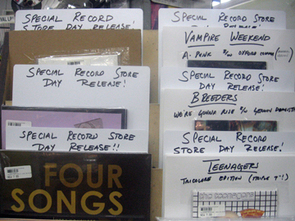 That said, this is the only one of the four stores we're visiting today that prominently displays official RSD releases. There are free CDs: Justin Currie's five-track No, Surrender EP (Rykodisc) and the Spring 2008 Intended Play sampler from Matador, including tracks by Cat Power, Mission of Burma, the New Pornographers, and Stephen Malkmus & the Jicks.
And there are several vinyl releases that are exclusive to participating shops on Record Store Day. I pick up Vampire Weekend's "A-Punk" 45 b/w the unreleased "rehearsal version" of "Oxford Comma" - and because I buy that, I am given a free copy of Sony BMG's official vinyl LP Record Store Day 2008 sampler, including everything from Patti Smith's "Kimberly" to Bruce Springsteen's "Girls in Their Summer Clothes."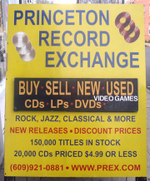 "I hate to see record stores disappear," Bruce has said.
If you feel the same way, find the stores nearest you, and don't be a stranger!

-Ken Richardson,
with all photos by Tony Richardson
LATEST VIDEO