3D Bundle from Panasonic
A lot can get lost in translation, but it looks like Panasonic has big news coming out from CEATEC, the Japanese electronics trade-show that's coming up shortly.
Panasonic is releasing a home theater package that's bound to raise some interest. The bundle will include a 103-inch plasma HDTV ($$$), a Blu-ray Disc player, and at least one pair of 3D glasses.
Will they be those classically geeky bi-color jobbers?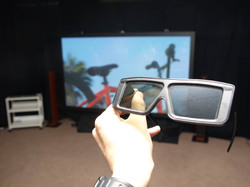 Not for this high-end package. Panasonic is using the Full HD 3D package that sends full HD 1,920 x 1,080 pixels to each eye with synchronized shutter glasses. This format, the name still undisclosed, is "employed by major Hollywood film studios." With a 103-inch display in the package, there's no way this is going to be a cost-saving bundle.
These photos are from the Japanese press. Let's hope users aren't forced to sit like that in their home theaters to enjoy the view.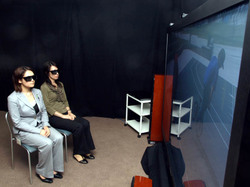 The synchronized shutter format is surprisingly impressive, without material released in the format, we can clearly see that this will be a waste of a perfectly dorky pair of glasses. -Leslie Shapiro
Photos and story: AV Watch
LATEST VIDEO
WHERE TECHNOLOGY BECOMES ENTERTAINMENT