2018 Rock & Roll Hall Of Fame Ceremony Now Streaming Worldwide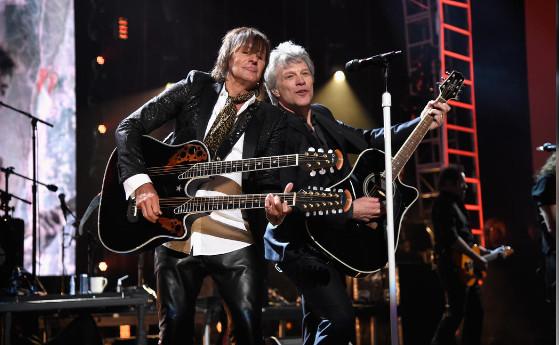 Amazon has announced that the 33rd Annual Rock & Roll Hall of Fame Induction Ceremony is now available for streaming in 34 countries on Prime Video for the first time ever.
The 2018 event, which took place on April 14 at Public Auditorium in Cleveland, honored Bon Jovi, The Cars, Dire Straits, The Moody Blues, Nina Simone, and Sister Rosetta Tharpe. The induction ceremony with live performances is now available in eight languages and with subtitles in Spanish, Portuguese, German, French, Italian, and Japanese through the video-on-demand service Prime Video Direct.
The show, which runs 2 hours and 53 minutes, can be streamed in the U.S. in HD with 5.1 surround sound via HBO.
Under the Amazon Prime Video deal, streaming is now also available in Argentina, Australia, Belize, Bolivia, Brazil, Chile, Colombia, Costa Rica, Denmark, Dominican Republic, Ecuador, El Salvador, Finland, France, Germany, Guatemala, Honduras, Iceland, Ireland, Italy, Japan, Mexico, New Zealand, Nicaragua, Norway, Panama, Paraguay, Peru, South Africa, Spain, Sweden, United Kingdom, Uruguay, and Venezuela.
Highlights include Richie Sambora reuniting and performing with Jon Bon Jovi for the first time in years, a Tom Petty tribute by The Killers, a reunion and performance by The Cars, performances by Ann Wilson and Jerry Cantrell, performances by Ms. Lauryn Hill and Andra Day honoring Nina Simone, and Brittany Howard inducting Sister Rosetta Tharpe. "Little Steven" Van Zandt introduced the new Hall of Fame Singles program, which recognizes songs released as singles that helped shape rock 'n' roll.
"For the past 33 years, the Rock and Roll Hall of Fame has celebrated the biggest names in Rock and Roll in an event that features unique performances, reunions and heartfelt tributes," said Joel Peresman, president and CEO of the Rock and Roll Hall of Fame Foundation, Inc. "We are thrilled to share this event with a worldwide audience for the first time."
Amazon Music compiled a 2018 Rock and Roll Hall of Fame music playlist featuring top songs by each of this year's inductees to mark the availability of streaming.