2018 Blu-Ray Gift Guide: 10 Standout Boxes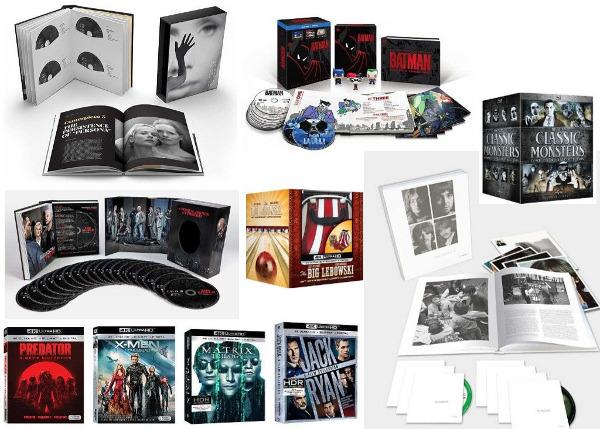 As a year packed with wonderful new high-definition and 4K discs comes to a close, we've selected ten standout box sets that are certain to bring a smile to the home theater buff in your life. Each box is special in its own way: some are hefty with gravitas, others have actual heft. All are sure to deliver ample audio/video pleasure plus a bounty of bonus features to enjoy through the new year and beyond.
The Beatles Super Deluxe Edition (Universal Music)
How does the biggest band in the world top what is possibly the greatest album of all time? Released a year-and-a-half after Sgt. Pepper's Lonely Hearts Club Band, The Beatles' eponymous The Beatles (a.k.a. The White Album) was their ninth studio album (not counting the soundtrack to their Magical Mystery Tour TV special in between) It was also the band's only double-LP affair—an attempt, perhaps, to augment their creativity with sheer quantity. Indeed, The White Album packs frothier cuts such as "Rocky Raccoon," but it also showcases the lads' striking evolution, both as a band and as solo artists. It kicks off with the high-energy "Back in the U.S.S.R." before taking us on an eclectic journey highlighted by the irresistible toe- tappers "Birthday" and "Ob-La-Di, Ob-La-Da." We then work our way toward the avant-garde "Revolution 9" and the unexpectedly classy "Good Night," but not before the self-referential "Glass Onion" and the legendary guitar-weeping of special guest Eric Clapton. This was arguably their most ambitious effort, embracing a new approach in the studio that relied less upon overdubbing and instead favored live lead vocals, which required a great many takes.
The individually numbered "Super Deluxe" edition includes three CDs of alternate versions and rarities, remixed and arranged chrono- logically, together with a CD of early acoustic demos laid down at George Harrison's home. The Blu-ray—exclusive to this set—serves up both Dolby TrueHD and DTS-HD Master Audio 5.1 remixes of the entire album, while the refreshed stereo configuration is given a high-resolution PCM presentation, too. The album's pristine mono mix is also included as a direct transfer. As with Pepper, producer Giles Martin and mix engineer Sam Okell have crafted something authentic yet distinctive for the 50th anniversary, with a clarity and dynamic range that makes every note somehow feel new again. A truly lavish fact- and photo-filled hardbound book comes complete with repro- ductions of the vintage portraits of John, Paul, George, and Ringo plus the two-sided foldout poster.
Gray-haired purists who were there in '68 get to rejoice arm-in-arm with today's analog newbies as remastered 2LP and limited-edition 4LP versions are being issued separately, all on 180g vinyl, the latter supplemented with four sides of the remixed demos.
X-Men 3-Film Collection (Fox)
It's hard to imagine, but true: Way back in 2000 when the wildly popular X-Men comics were first reconceived for the big screen, the modestly successful Blade was the only other Marvel movie that didn't suck! Bryan Singer's X-Men infused action with heart and social consciousness in its depiction of benevolent and malevolent factions of gifted "mutants" who were misunderstood and feared by the general public. It also laid the groundwork for the grander and still-thrilling X2 (2003) and Brett Ratner's X-Men: The Last Stand (2006). All were shot on 35mm film and have received a fine video upgrade here in 4K/HDR10, along with quite enjoyable DTS-HD Master Audio 5.1/5.1/6.1 soundtracks. Just the director commentaries adorn the 4K discs (plus a second track on The Last Stand), while the bundled 1080p Blu-rays pack quite a few legacy extras, notably the momentous screen test of a hungry young actor named Hugh Jackman.
The Shield - The Complete Series (Mill Creek Entertainment)
Post-Tony Soprano and pre-Walter White, Vic Mackey (an electric, buffed-up Michael Chiklis) advanced the cause of the deeply flawed (okay, outright bad) TV "hero" in FX's seminal police drama, The Shield. Raising brutality and corruption to an artform, Mackey led a special strike force gathered to clean up a particularly nasty part of L.A., but quickly resorted to tactics beyond the law and succumbed to some wholly ignoble temp- tations, too. The ceaselessly compelling Chiklis is backed by an extraordinary supporting cast and guest stars such as Glenn Close, Forest Whitaker, and Franka Potente, along with some equally impressive guest directors.
The Shield was originally composed for widescreen despite being squeezed into the boxy 4:3 shape used by many TVs in the early '00s, and the choice of 16mm film for production imparts a signature gritty look. Creator Shawn Ryan has person- ally overseen the rare 4K remastering of all 88 episodes across seven seasons. This beautifully packaged 18-disc set features exclusive new bonus content, which joins a host of vintage content including commentaries, deleted scenes, and mini- documentaries.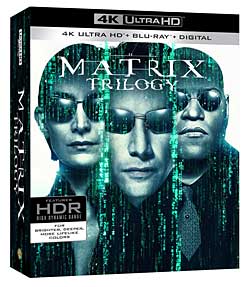 The Matrix Trilogy (Warner)
The Wachowskis really brought their A-game for their sci-fi/kung fu epic The Matrix, a masterpiece in both premise and execution. Yes, they should have stopped after the mind-blowing first outing, but each of the sequels has its go-to sequence (the freeway chase in Reloaded, the sentinel battle in Revolutions), and all have proven to be exceptional A/V demo material, now even more so in 4K. After years of fan complaints and studio/filmmaker push- back, a happy medium seems to have been struck in the nuanced manipulation of color to depict the distinct "real" and Matrix worlds. While the latter was notably tinted with synthetic greens on previously releases, the tinting on these versions is more reserved. With the involvement of director of photography Bill Pope, Dolby Vision HDR has been prodigiously exploited with spectacular results, while the Dolby Atmos sound remixes further expand the excitement. Philosopher and critic audio commentaries can be found on all three Ultra HD discs, along with a cast-and-crew and composer commentary on the first movie. For even more extras, pop in one of the supplied 1080p Blu-rays, which also feature remastered movie versions.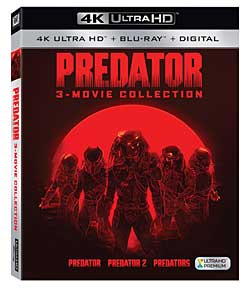 Predator 3-Movie Collection (Fox)
This franchise about well-equipped interstellar hunters and their plucky human prey has spawned three core films, ignoring Aliens crossovers and the recent reboot. Schwarzenegger went toe-to-toe with the ugly mo-fo in John McTiernan's sweaty, testosterone-charged Predator, which is still the cream of the crop. Danny Glover is no Arnold, although the transition from actual jungle to the near-future urban jungle of Los Angeles for Predator 2 brought some clever visuals and expanded the crea- ture's mythos. Oscar-winner Adrien Brody is no Arnold, either, but he is supported by a mélange of badass earthlings mysteriously conveyed to the Predators' distant planet, where it's kill or be killed. The first two films were shot on 35mm film and the problematic grain issues of the original have been addressed here. Even the HD video-originated threequel gets a pleasing visual upgrade in its new 4K rendition. Each 4K disc has at least one commentary track, and the bundled HD Blu-rays maintain previously released extras.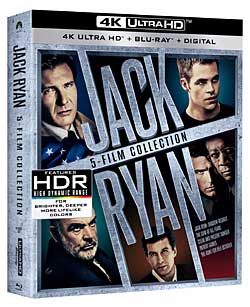 Jack Ryan 5-Film Collection (Paramount)
Jack Ryan's big-screen catalog peaks early with John McTiernan's The Hunt for Red October, which is as thrilling as Cold War thrillers get. Replacing star Alec Baldwin, Harrison Ford gave his all battling Irish terror- ists in Patriot Games and a drug cartel in A Clear and Present Danger, before Ben Affleck turned back the clock with The Sum of All Fears, thwarting Neo-Nazis seeking to reignite U.S./Soviet nuclear hostilities. Chris Pine assumed the reluctant CIA hero's mantle in the off- canon vehicle, Jack Ryan: Shadow Recruit. Paramount has not merely gone 4K but full Dolby Vision HDR here, and while black levels can be a bit iffy, the quality noticeably improves across the movies. Past extras are preserved on the bundled Blu-rays, while the 4K discs for Red October and Shadow Recruit port over the director commentaries. Sum features two of these, one shared between Phil Alden Robinson and novelist Tom Clancy himself—the real coup of this package.
Universal Classic Monsters: Complete 30-Film Collection (Universal Pictures Home Entertainment)
Frankenstein's monster. Count Dracula. The Wolf Man. Also, The Mummy, the Invisible Man, the Phantom of the Opera, and the Creature from the Black Lagoon. Universal Studios' cinematic interpretations defined these iconic characters for generations, thanks to some great performances and cutting-edge makeup, plus occasionally brilliant writing and directing. A total of 24 discs are neatly grouped here by monster, from 1931's Dracula and Franken- stein debuts to 1956's The Creature Walks Among Us. (The first two Creatures are presented in 3D as well!)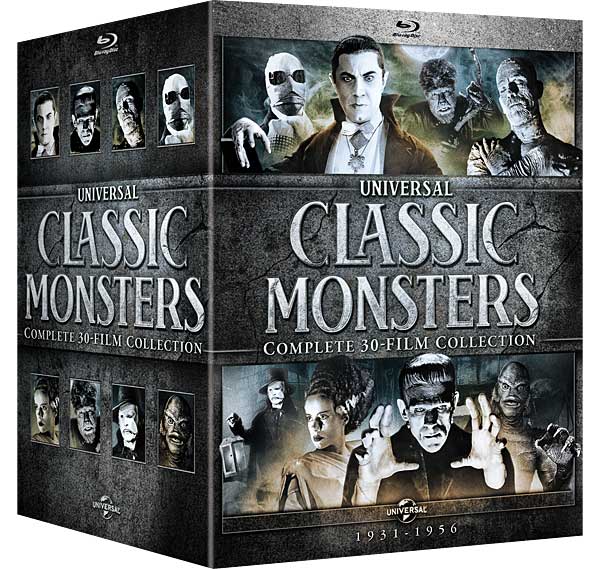 There are actually 31 films here when you count the fascinating Spanish-language Drácula, which is included as a supplement. Quite a bit of bonus content has built up over the years: 13 expert commentaries are spread here and there, along with documentary featurettes, rare behind-the-scenes footage, and gleefully dated trailers.
The Big Lebowski 20th Anniversary Limited Edition 4K Gift Set (Universal Pictures Home Entertainment)
I confess that this quirkiest of comedies took a while to grow on me, with Jeff Bridges' Dude seeming like no more than a blonde Kramer. How wrong I was, as the future Oscar-winner's charms eventually led The Coen Brothers' sly tale of mistaken identities and ulterior motives from box office failure to cult phenomenon.
While not Universal's first Lebowski gift set, it's the most elaborate so far, with pithily familiar tchotchkes—a bowling ball pencil holder for our desk, a cozy sweater to keep the 4K Ultra HD disc case warm, a polishing cloth that really pulls the set together— packed inside a collectible bag. Ported bonus features, a high-def Blu-ray version, and a Movies Anywhere digital copy provide further proof that The Dude will abide for years to come.
Ingmar Bergman's Cinema (Criterion Collection)
In honor of what would have been his 100th birthday, Criterion proffers this unprecedented 39-film collector's edition. Noted as a true auteur for his use of compelling visuals in pursuit of metaphorical questions and philosophical truth, Ernst Ingmar Bergman left behind a stunning body of work, and this menag- erie surveys the bulk of it, from 1946 through 2003. The biggest such assemblage ever on home video, it has been thoughtfully curated as a "film festival," with opening and closing nights bookending double features and centerpieces.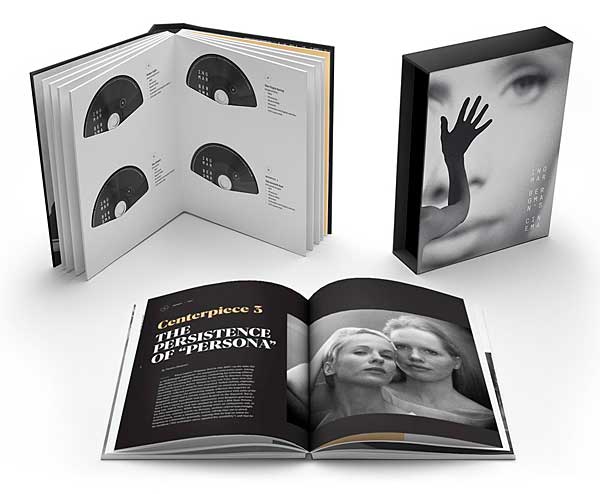 The usual suspects are here, led by a new 4K restoration of The Seventh Seal, plus Fanny and Alexander in both theatrical and TV cuts beside a cavalcade of previously unavailable films. The 30 discs are amassed adjacent to a magnificent new book containing writings by the man and his admirers, plus a guide to the dozens of hours of extras. Frankly, it would be impossible to experience this set without gaining a new appreciation of Bergman's immeasurable talent, and at least a basic grasp of Swedish.
Batman: The Complete Animated Series Deluxe Limited Edition (Warner)
The mysterious, menacing voice of Kevin Conroy yields a timeless Dark Knight, one profoundly respectful of comic book lore yet miraculously suitable for kids. The show's initial 1992-95 broadcast put it at the twilight of traditional cel animation, and this first-ever remastering reveals a captivating tactile beauty. The included theatrical release Batman: Mask of the Phantasm is PG perfection, and the direct-to- video Batman & Mr. Freeze: SubZero was to be a simple tie-in to Joel Schumacher's Batman & Robin, but it far outshone its inspiration.
Batman's deep rogues' gallery is led by The Joker (the incomparable Mark Hamill) alongside Harley Quinn (Arleen Sorkin); all three are adorably immortalized here as POP! mini- figures. A new feature-length documentary brings welcome perspective, while a digital copy of all 109 episodes adds modern convenience.