2015 Blu-ray Gift Guide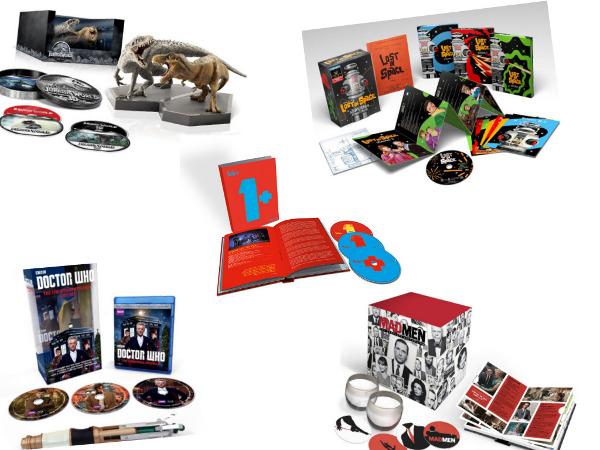 As 2015 draws to a close and gift-giving holidays loom, you can take comfort in knowing that Blu-ray is still the king of physical media, and plenty of studios continue to go above and beyond to release extra-special editions of movies, music, and beloved TV series sure to make a lasting impression. Here are 10 for your consideration.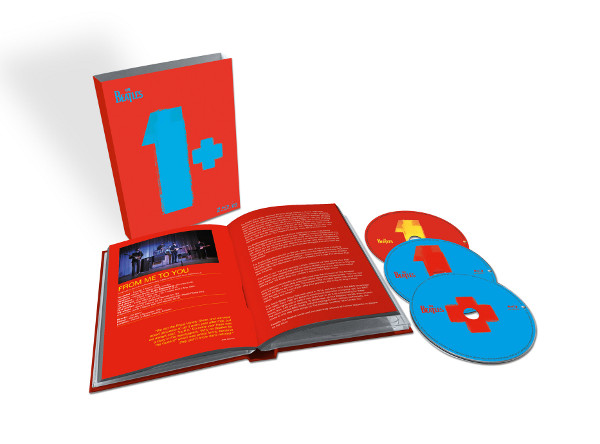 The Beatles 1+ Deluxe Edition (Universal Music)
The Beatles and Star Wars have at least two things in common: I adore them both, and I suppose we will never be done spending money on them. I picked up The Beatles' 2009 remastered CD boxed sets—stereo and mono—and only recently surrendered to Michael Fremer's stellar review of the mono vinyl collection and had to grab that one as well. And now there's this.
The 2000 compilation 1 is being revisited, and while there are multiple versions to choose from, the one to get is the deluxe 1+. It begins with a remixed CD of the band's 27 #1 singles but goes far beyond, with the inclusion a music video for each song on Blu-ray 1, plus 23 bonus and alternate clips on Blu-ray 2.
All of the videos have been restored in 4K to stunning effect. The corrected colors of the Sgt. Pepper's uniforms are now so vibrant that I didn't want to blink. Every video cut has also been remastered for LPCM stereo and DTS-HD Master Audio 5.1, and both options are magnificent. The lads were the unintentional pioneers of the music video, and while the vintage clips lack the slickness of typical MTV fare, they display a certain avant-garde charm, although some do start to feel like a simulated drug trip.
Sir Paul McCartney has provided four audio commentaries, while Ringo Starr appears in five on-camera introductions. The package itself is a gorgeous, uncompromisingly produced book that I found almost impossible to put down. An absolute must-buy, for yourself and someone you love.
$54.21 on amazon.com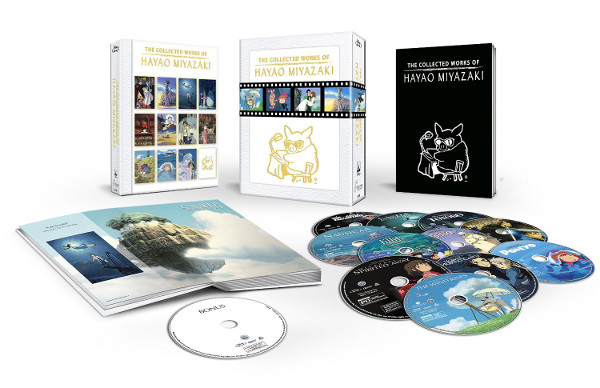 The Collected Works of Hayao Miyazaki (Disney)
Compiling all eleven of the master storyteller's feature films, this beauteous box is the ultimate celebration of Miyazaki's widely beloved yet not-quite-mainstream animation. It offers a fascinating survey of his evolution as an artist, from 1979's Lupin III adventure Castle of Cagliostro (later cannibalized for the laserdisc-based arcade game Cliff Hanger), then onto original works such as Nausicaä of the Valley of the Wind, Castle in the Sky, My Neighbor Totoro, Kiki's Delivery Service, Porco Rosso, Princess Mononoke, Oscar winner Spirited Away, Howl's Moving Castle, Ponyo and The Wind Rises. Each makes marvelous use of the high-definition format, with magnificent transfers that do justice to the hypnotic hues and distinctive characters and environments.
The included booklet puts Miyazaki's work into context far better than I can, with insightful quotes that further reveal his unique world view. While the bonus features from the older individual movie releases appear to have gone missing, we're given a new disc of extras, most notably some rarely seen television work that predates Cagliostro by several years. And to cap it off, there's the entire press conference called to announce Miyazaki's retirement in 2013.
Like several of Disney's multi-disc sets this year, this edition is an Amazon exclusive.
$215 on amazon.com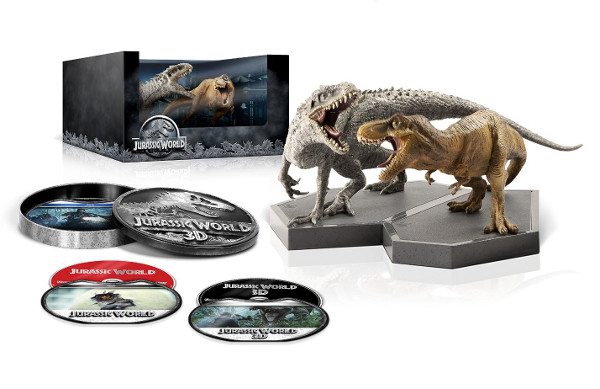 Jurassic World 3D Limited Edition Gift Set (Universal)
At well over one-and-a-half BILLION dollars worldwide, Jurassic World is the year's biggest hit (pre-Star Wars), and while the first film put DTS on the map, this fourth tale packs an earth-shaking DTS-HD Master Audio 7.1 track: How's that for evolution? Although not lensed in native 3D, this stereoscopic conversion is quite enjoyable as well. Packed in a convenient tin inside the gift box is the Blu-ray 3D disc, a 2D Blu-ray, and a DVD; you also get an iTunes/UltraViolet Digital Copy. But let's not forget Chris Pratt's co-stars, the dinosaurs. The meticulously sculpted statues of the genetically-engineered Indominus Rex and always-popular Tyrannosaurus look great up next to one another but they also have the heft to serve as bookends that are guaranteed to scare a new generation away from reading.
$81.69 on amazon.com
Lost in Space The Complete Adventures (Fox)
I'm too young to recall the original primetime run, but like plenty of Baby Boomers and Gen-Xers, I discovered Lost in Space in syndication. Certain aspects of these three seasons will surely come across as goofy to today's viewers, but there's no denying the heart and genuine drama of the "Space Family Robinson." The show transitioned from black-and-white to color and, as was the trend in the mid-to-late '60s, hues were often employed in an exaggerated fashion to sell the fledgling technology. As a result, the series holds up remarkably on Blu-ray—released to commemorate the 50th anniversary of its broadcast debut—with a thoroughly satisfying 4:3 1080p image.
An extraordinary array of vintage supplements has been assembled from a variety of sources for the occasion, all in HD, along with several audio commentaries from surviving stars Mark Goddard, Marta Kristen, Bill Mumy, and Angela Cartwright, plus quite a bit more across these 18 discs. Such über-sets are seldom complete without a few doo-dads, and this one contains blueprints for the B-9 Class M-3 General Utility Non-Theorizing Environmental Control Robot ("Robot" to his friends), colorful character cards, and a remarkably accurate mini-reprint of Mumy's first-episode script. This was obviously a labor of love for the Blu-ray producers.
$102.32 on amazon.com

Game of Thrones The Complete First and Second Season Steelbooks (HBO)
Repackaged in slender Steelbooks (not Valerian steel, I asked), each with a nifty family sigil magnet for the fridge, these first two years of HBO's game-changing fantasy/adventure series give late arrivers another chance to start catching up before Season Six premieres in Spring 2016. But no one has ever heard Game of Thrones like this: Every episode has been remixed in Dolby Atmos, for the benefit of those so-equipped. This is the biggest show on television and now the audio is just as big, filling the room with an enhanced soundfield. We can only imagine what later seasons will sound like when the dragons show up in force, but until then the keen placement of voices and other cues in the mix help to flaunt what Atmos can do. And, oh yeah: "Blackwater" (Season Two, Episode Nine). The vast complement of extras has been ported over to these new sets and both include a multi-format Digital HD copy as well.
$49.99, $44.96 on amazon.com