2004 Reviewer's Choice Awards Page 8
Apple iTunes Music Store Internet-based Music Seller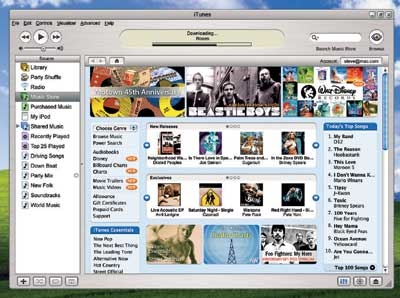 (original review, February/March, "The Download Challenge") While the future might be filled with subscription-based music libraries accessible from anywhere, I suspect most people still prefer buying their music outright and using it unencumbered by an Internet connection and monthly bill. That's one reason Apple's iTunes Music Store, which pioneered the 99¢ song download, has been more successful than rival services with all-you-can-hear plans at about $10 a month. It also helps, of course, that Apple's interface is a pleasure to use and works seamlessly with its iTunes software and wildly popular iPod player.
When I compared the iTunes Music Store with three competitors, it offered the deepest pop and classical catalogs with the fewest restrictions. Though you download songs in the AAC format (which sounds better than MP3 at the same bit rate), the Windows or Macintosh iTunes software lets you burn your downloads to disc in the same PCM format as on standard music CDs. And it manages your MP3 collection, too. Unlike our other award winners here, the iTunes Music Store isn't a piece of hardware. But in the connected world, good software and good service may count for even more.
-Michael Antonoff
Apple iTunes Music Store apple.com/itunes, 800-692-7753
Yamaha RX-Z9 Digital Surround Receiver
Photo by Tony Cordoza
(original review, May) You'd expect a flagship surround sound receiver to have vast power reserves and very low noise - especially one that's THX Ultra2-certified - and the Yamaha RX-Z9 has both down cold. But it's also one of the first receivers to automatically set speaker "size," level, and compensation for their varying distances to the listening position - a job it does completely and accurately. This is especially valuable given that it can power up to nine channels, including a pair of small Presence speakers intended to create a more enveloping sound when you use Yamaha's advanced digital signal processing.
The RX-Z9 provides consistent bass management and distance compensation for all inputs and formats, including multichannel analog audio from a DVD-Audio or SACD player. Even better, and much rarer, its i.Link (FireWire) inputs let you digitally connect a compatible disc player - it doesn't have to be a Yamaha - to avoid a potentially degrading cycle of analog-to-digital conversion. At $4,499 (list), the RX-Z9 is expensive, but it's unsurpassed in performance and features. In a large, no-holds-barred home theater, it'll be worth every penny.
-David Ranada
Yamaha yamaha.com/yec, 800-492-6242
Zvox 315 Sound Console One-Piece Speaker System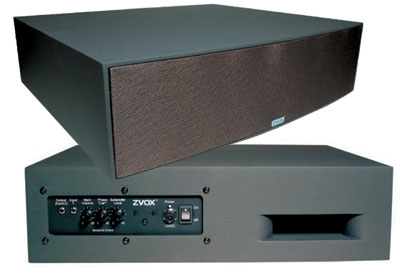 Photo by Tony Cordoza
(original review, October) What's not to like about a small box not much larger than a typical center speaker that turns the audio from an iPod or DVD player into room-filling stereo sound and costs less than a dozen DVDs? The Zvox 315 Sound Console ($200) contains three small, forward-facing drivers and a larger woofer that radiates from a slot in the rear. A sealed tube connects the left and right drivers to help keep the enclosure small.
There's no instruction manual because the only controls are for volume, woofer level, and PhaseCue, which mixes different combinations of the left- and right-channel signals in and out of phase and sends them to the various drivers to create an impressive spread of sound, far larger than the box itself. The Zvox 315 is easy to use and works with any gear that can feed its stereo minijack input - you can even use it outdoors or in the car. It's a remarkably ingenious, affordable route to satisfying sound when there's no room - or money - for a full system.
-Rich Warren
Zvox Audio zvoxaudio.com, 866-367-9869