2004 Reviewer's Choice Awards Page 6
Hsu Research Ventriloquist VT-12/ STF-1 Home Theater Speaker System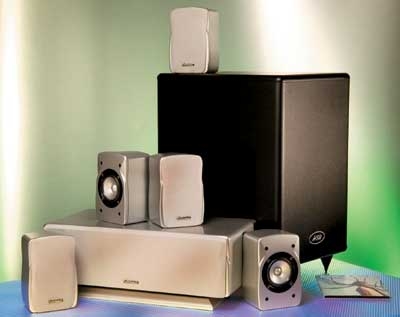 Photo by Tony Cordoza
(original review, October) Hsu Research - best known for its subwoofers - addresses a common but widely ignored problem with this inexpensive 6.1-channel speaker system. Tiny satellite speakers inevitably poop out in the upper bass/lower midrange well above where a real subwoofer ideally kicks in - which usually robs the sound of warmth and weight.
Hsu's Ventriloquist VT-12 array includes five tiny satellites, each with a 2 1/2 -inch mid-range/tweeter, and a much larger center speaker with dual 4 x 6-inch woofers flanking the same small driver. For our review, Hsu combined the main speakers with its compact yet powerful STF-1 subwoofer. Here's the clever part: signals for the front left/right channels pass through the center speaker, and its woofers not only reproduce center-channel sound but also help "fill in" the sound on either side.
Though you have to be careful about how you place the satellites, Hsu's ingenious solution worked very well, delivering impressive sound for a system that you can buy factory-direct for $498. Hsu would deserve an award just for attempting to solve the problem of blending tiny satellites with a subwoofer. That it was so successful is icing on the cake.
-Daniel Kumin
Hsu Research hsuresearch.com, 800-554-0150
Denon AVR-3805 Digital Surround Receiver

(original review, July/August) In my review, I said that the Denon AVR-3805 is "perfectly balanced between the conflicting demands of versatility and usability, between sheer audio performance and price," and I haven't seen anything since that would change my mind. For a reasonable $1,199 (list), you get 7.1-channel operation (including Dolby Pro Logic IIx processing for stereo, four-channel, and 5.1-channel sources) with impressive power reserves of more than 93 watts per channel even when seven channels are going at once.
The Denon also automatically and accurately sets speaker levels, "size," and distance compensation and can receive digital SACD and DVD-Audio signals from compatible Denon players. To top things off, the AVR-3805 can drive two separate sets of surround speakers, one optimized for multichannel music and the other for movie soundtracks. Extravagant? It might be the only way to get the very best sound from each one - you could buy the two additional surround speakers for the price difference between the Denon and many comparable receivers.
-David Ranada
Denon usa.denon.com, 973-396-0810
Samsung HL-P5063W 50-inch DLP HDTV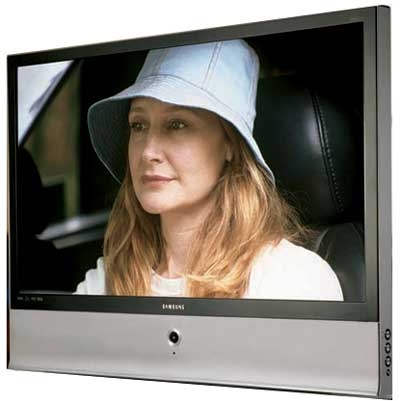 Photo by Tony Cordoza
(original review, October) There's a lot to like about rear-projection TVs based on Texas Instruments' DLP (Digital Light Processing) technology, but above all else they deliver big-screen, high-def images in shallow, wall-hugging cabinets and cost way less than comparable-size plasma TVs. With Samsung's HL-P5063W, the price advantage gets even better. At $3,800 list (I've seen it selling for about $1,000 less than that), it's cheaper than many other rear-projection DLPs in the 50-inch range.
And there's good news here for folks who like to get close to deliciously sharp HDTV images: the set's HD3 DLP chip - a new design that made its debut in this set - includes a feature called Smooth Picture that helps reduce the "screen door" pattern you usually see when you watch a fixed-pixel TV close up. While there was some picture softness and noise when I used the composite/S-video and standard-definition (480i) component-video inputs, HDTV programs and DVDs on a progressive-scan player looked terrific.
-Al Griffin
Samsung Electronics samsungusa.com, 800-726-7864