2004 Reviewer's Choice Awards Page 7
Pioneer Elite DVR-57H DVD/TiVo Recorder

Photo by Tony Cordoza
(original review, January) I always found even the simplest DVD recorders difficult to use - until I tested Pioneer's Elite DVR-57H. Pioneer was the first to marry a DVD recorder with the extremely user-friendly interface of a TiVo hard-disk recorder, and the result was the DVR-57H, a DVD recorder that's actually fun to operate! You use the TiVo program guide to select shows to record on the 120-GB hard drive and then use that same interface to easily copy any shows you want to save to a DVD-R or erasable DVD-RW disc. The DVDs you burn are complete with menus incorporating TiVo graphics as well as program information from the TiVo guide. It all fits together much more smoothly and easily than with a typical DVD recorder.
But for all its operational simplicity, the DVR-57H doesn't stint on performance, offering excellent quality in the top two recording modes and fine playback of DVD movies, especially using the progressive-scan output. Granted, the $1,000 list price is steep, but $800 less than when I reviewed the 57H. And the nearly identical DVR-810 that followed (reviewed in the June issue), now costs $500.
-David Ranada
Pioneer pioneerelectronics.com, 800-746-6337
Voom High-Def Satellite Service
Photo by Tony Cordoza
(original review, April, "Va-Va-Voom!") The newest satellite-TV service is the place to turn if you want the most high-definition TV. With more than 35 HDTV channels - including Showtime HD, Playboy Hot HD, ESPN HD, HBO HD, Cinemax HD, TNT in HD, and Discovery HD Theater - Voom offers at least triple the number of any cable system or other satellite service. There are 21 exclusive high-def channels, including ten that show mainly movies all day long. While the picture quality varies considerably on those movie channels, it rates an A or B on all the other original channels. Subscription packages range from $50 to $90 a month, and all include some 80 standard cable channels and 18 music channels.
Voom's dish antenna and Motorola DSR-550 receiver, which has a built-in HDTV tuner, cost $499 with installation, or $9.50 a month with a $49 installation charge when you commit to a year of service. An antenna for local high-def broadcasts is included in the installation, and Voom's onscreen program guide seamlessly integrates your off-air stations with the satellite channels. When it comes to sitting down for an evening of HDTV, Voom is the complete feast.
-Gary Merson
Voom voom.com, 800-438-8666
Bose Lifestyle 38Home Theater DVD System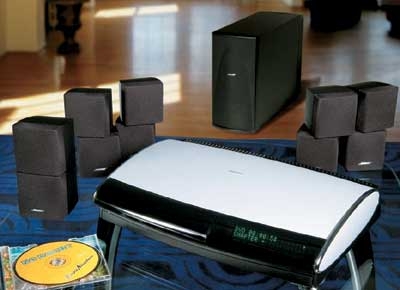 Photo by Tony Cordoza
(original review, November) With its hard-disk storage and other goodies, the Lifestyle 38 blows away home theater packages that merely play DVDs in surround sound. High-speed CD ripping has never been easier. Place a disc on the tray, press a button, and the Lifestyle 38 does the rest - it even tracks down disc and song titles and other info from its internal (and upgradable) database. As you listen to the 200 hours of onboard music, using the superbly designed universal remote - which works through walls thanks to its use of radio-frequencies instead of line-of-sight infrared - you can express your musical likes and dislikes. The uMusic system remembers your preferences and thereafter intelligently plays the music you like most, neatly solving the problem of finding "good" music in a big archive.
The $2,999 system sports five of the familiar Direct/Reflecting cube speaker arrays and an Acoustimass bass module that can be counted on to deliver the sonic goods. The supplied ADAPTiQ software even calibrates the system's sound for your room's acoustics. Add some optional gear, and the Lifestyle 38 can be used in a multiroom setup in which up to 15 remote Bose systems can access one of two audio streams. The elegant integration of so many features, utter simplicity of use, and trademark Bose sound quality all add up to a well-deserved Reviewer's Choice Award.
-Ken C. Pohlmann
Bose bose.com, 800-444-2673