2004 Reviewer's Choice Awards Page 3
B&W FPMHome Theater Speaker System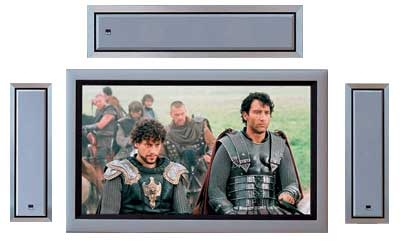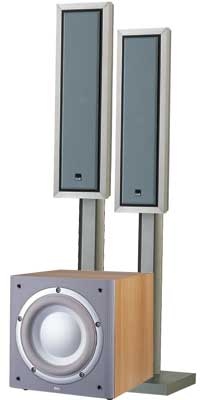 If you've seen the top speaker in B&W's high end Nautilus line - which looks like a high-fidelity robot from another galaxy - you might be surprised that the company could come down to earth enough to create the FPM (flat-panel monitor) series. From a design standpoint, the B&W FPMs simply match the plasma-TV aesthetic better than any other "flat" speaker out there. The FPM-5 satellites in the $4,650 system I tested shared the "picture frame" look of my plasma set, and the speakers' 4-inch depth and 26-inch length were a perfect visual complement to the TV.
Supported by B&W's ASW 675 subwoofer, the FPMs did a great job with cavernous, reverberant interiors and slamming sound effects in movie soundtracks. And their superb imaging and midrange clarity on music gave them a distinct resemblance to B&W's more far-out speakers.
B&W Loudspeakers www.bwspeakers.com, 800-370-3740
Definitive Technology Mythos Home Theater Speaker System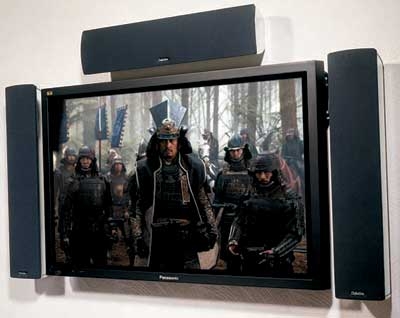 Photo by Tony Cordoza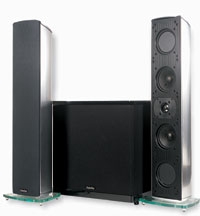 Definitive Technology, longtime champion of the bipolar tower speaker, got everyone's attention when it previewed the Mythos system. Based on the Mythos Two satellite, a 4 1/2 -inch-deep direct-radiating speaker with a polished-aluminum cabinet, this $3,700 rig can stand up against systems costing three times as much. Both the Mythos Two and the matching Mythos Three center speaker come with hardware for wall mounting, and the Two has an elegant glass base (shown below) for placement on a shelf or stand.
Movie soundtracks had a seamless continuity between the front and rear sound fields and music sounded lush yet detailed, with an incredibly wide soundstage. Equal credit must go to the compact SuperCube 1 subwoofer for contributing to the system's dynamics, which were nothing short of awesome.
Definitive Technology definitivetech.com, 410-363-7148
MartinLogan Fresco Home Theater Speaker System
Photo by Tony Cordoza Long before most companies had even thought of making a flat-panel speaker, MartinLogan had made a name for itself with its excellent hybrid electrostatic models. So it wasn't too surprising when the company came up with a statement product wedding lush sonics with flat-panel flair.
The five direct-radiating Fresco satellites use an advanced thin-film (ATF) transducer to reproduce midrange and high frequencies and two 4-inch cones for the midbass. Each Fresco can be mounted either vertically or horizontally, comes with a wall-mount bracket that allows it to pivot up to 90°, and has an EQ switch for on/off-wall placement.
The $5,790 system I reviewed included the stylish yet powerful Grotto subwoofer. Movies sounded seamless, with excellent clarity and dy namics. The same clear, seamless, and effortless sound made the system perfect for multichannel music, which it reproduced with three-dimensional detail.
MartinLogan martinlogan.com, 785-749-0133