2004 Reviewer's Choice Awards Page 5
Kaleidescape System DVD Movie Jukebox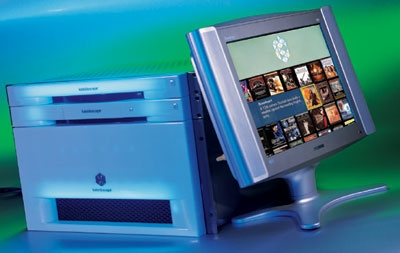 Photo by Tony Cordoza
(original review, February/March) Kaleidescape shattered both technological and legal boundaries when it delivered the world's first hard-drive DVD storage system. A year later, there's still nothing cooler. DVDs are saved to the server with zero additional compression and with all of the original features retained, including things like commentaries, Easter eggs, and deleted scenes. Kaleide-scape's Movie Guide service automatically catalogs stored movies, loading information like plot summaries, names of the actors and director, and ratings along with the DVD cover. The terrific interface makes it easy to browse your collection.
Picture and sound quality were pristine, and pressing play offered near-instantaneous gratification, as the movie simply starts - bypassing menus, trailers, and FBI warnings. Since my review, Kaleide-scape has added some new tricks, including an improved Movie Player, the K2500, that sports Faroudja DCDi video processing and upconverts standard video to high-def for output to your TV through an all-digital HDMI (High-Definition Multimedia Interface) connection.
There's no sugar-coating the price. The Kaleidescape is expensive - Ferrari expensive. The basic system lists for $27,000, which includes a server capable of storing 180 DVDs (expandable to 500 discs), one Movie Player, and a DVD Reader for importing discs. But for movie lovers with the means, this is the ticket.
-John Sciacca
Kaleidescape kaleidescape.com, 650-625-6100
DirecTV HR10-250 HDTV Satellite Receiver/TiVo Hard-Disk Recorder
Photo by Tony Cordoza
(original review, September) HDTV gets even better when you can enjoy those pristine images with all the convenience of TiVo, which lets you pause or replay "live" broadcasts, fast forward through commercials, and have favorite shows automatically recorded. DirecTV's HR10-250 receiver/TiVo recorder ($999 with a DirecTV subscription, plus $5 a month for TiVo service - waived for Premier subscribers) has four HDTV tuners, two for satellite programs and two for local broadcasts, so you can record two shows at once. It also has a 250-gigabyte drive that holds about 30 hours of high-def programs or 200 hours of standard-def shows. And since DirecTV's broadcasts are digital, the recorder doesn't have to do any encoding on the fly, which means you get the best possible picture quality.
Images recorded on the HR10-250 were identical to the originals, and its off-air HDTV tuners are excellent. It also does a good job of upconverting standard-def programs. The HR10-250 lets you watch HDTV on your own schedule - and does it very well.
-Gary Merson
DirecTV directv.com, 888-347-3288
Sharp XV-Z12000 DLP Front Projector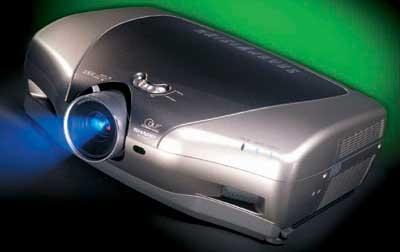 Photo by Tony Cordoza
(original review in June, "Ultimate Home Theater!") The market is flooded with low-priced DLP-based front projectors that were originally designed for corporate boardrooms and then adapted for home theater use. But high-end models engineered from the ground up for movies and HDTV blow them away. Sharp's $12,000 XV-Z12000 is a perfect example of that breed, delivering a jaw-dropping picture that you'll want to charge your friends to watch. And they'll probably want to pay.
Along with a flexible lens-shift function, which really expands placement options, the Sharp offers unmatched picture-customization options, with full control over color temperature, gamma, film-mode processing, and other esoteric functions that delight videophiles. And its image quality is excellent, with great video processing, rich, spot-on colors, and better reproduction of dark scenes than any single-chip projector I've seen. Compared with less-expensive DLP projectors having the same resolution, the XV-Z12000 makes a strong case for paying the extra dough.
-David Katzmaier
Sharp sharpusa.com, 800-237-4227