2003 CES, Day Three
This year's CES makes one thing abundantly clear: Large cathode-ray displays are dead. There are virtually no big CRT monitors or television sets being shown here. Synonymous with the 20th century, CRTs are the electronics industry's dinosaurs.
Flat-screens are the future. Several major manufacturers are making a big push with LCD and plasma screens, and some are also showing very intriguing projectors. Philips has a massive display at the Las Vegas Convention Center with dozens of its plasma units dazzling the hordes, but Samsung, Sharp, Panasonic, and Pioneer are pushing just as hard. The net effect is a forest of flat-screens, like the video geek's concept of paradise.
Sharp and Samsung are side by side on the show floor, which is only appropriate considering that the two companies may soon dominate the flat-screen market. Both have poured precious resources into research and development for new display technologies and both have made superhuman public relations efforts to redefine themselves as upscale manufacturers.
Those efforts are paying off. Samsung is displaying its LTN465W, a 46" high-def LCD unit said to be the world's largest production model. Projected retail price is about $11,000, with availability expected late in 2003. The LTN465W will be the flagship of the LCD line, with six new HD widescreen models introduced here. The smallest, the $1500 LTN1785W, measures 17" diagonally and the others step up in logical size (and price) increments. The 22" model, the LTM225W is the sole model in the line to have a XGA screen resolution of 1280 x 720, the rest are 1280 x 768. All models boast DVI inputs and support 1080i, 720p and 480p.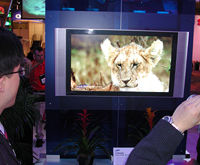 Sharp's Aquos line of LCD televisions is one of the industry's most impressive. New at CES are sibling widescreen high-def LCD units, the 30" LC-30HV4U and the 37" LC-37HV4U, priced at $5500 and $9000 respectively. Both feature DVI-D inputs. Sharp is also making headway with CG (close grain) Silicon displays, which offer far better resolution and detail than typical LCDs. At present, CG Silicon is limited to small monitors for cameras but it may eventually be used in larger displays.
Sharp's most important launch, from the home theater perspective, is its new DLP projector, the XVZ-10000U. Built on the success of the acclaimed XVZ-9000U, the new projector has the Mustang/HD2 DLP chip set from Texas Instruments, with Sharp's upgraded proprietary "Computer & Video Integrated Composer System" technology. The 16:9 projector has an astounding 2600:1 contrast ration, 1280 x 720 resolution, six-segment 5X color wheel, and 1:1.35 manual zoom lens with lens shift function for hassle-free placement. Estimated time of arrival: sometime in February, according to company reps here, with suggested retail at approximately $12,000. The $4k Theago, a lightweight entry-level projector, joins the XV-90U among Sharp's affordable home theater products.
Paris-based DreamVision International has introduced the $11K DreamWeaver, a true HD DLP projector in a sleek hyper-modern housing. Also sporting the Mustang/HD2 chipset, the DreamWeaver has every conceivable video input and supports a wide variety of formats, including all versions of PAL, SECAM, NTSC, and ATSC. The DreamWeaver could be the projector of choice for home theater fans with truly international horizons.