2003 CES, Day Four
Runco has made great strides in projector development recently. The Union City, CA–based company unveiled three new DLP projectors in Las Vegas, all of them sporting single 16:9 HD2 chips, DVI inputs, and 1280 x 720 resolution. The least expensive of the three, the Reflection CL-720, supports the primary varieties of NTSC, PAL, and SECAM, and can be ordered from the factory with a short throw or long throw lens, for images as small as 40" diagonally or up to as large as 300". Brightness is specified at 750 ANSI Lumens when the projector is calibrated for home theater; contrast ratio is a very respectable 1500:1. The CL-720 is said to be "HDTV ready," although the product sheet handed out at the LV Convention Center doesn't list any ATSC format among those supported.
True high-def DLP projectors from Runco are the Reflection VX-1000ci, successor to the acclaimed VX-1000c. Brightness is listed at 884 Lumens when calibrated for home theater; contrast is 2000:1. The 1000ci can cast a widescreen image from 40" to 200"; supported video formats include NTSC North American and NTSC International, PAL, and the three most popular versions of digital video—480p, 720p, and 1080i. The big bruiser in the series is the VX-5000ci, with calibrated brightness at 912 ANSI Lumens and contrast ratio at 2200:1. The 5000ci casts the same size image and supports the same array of formats as the 1000ci, but can be ordered with "premium professional grade" optics. Suggested list price is $26,995 with availability slated for February.
Now a division of Runco, Vidikron launched two new products here, the Vision One LCD projector and the VP-46 plasma display. Yet to be priced, the VP-46 is a 16:9 widescreen with brightness rated at 300cd/m2 and an 850:1 contrast ratio. Viewing angle is a respectable 160°:, and supported formats include 480p, 540p, 720p, and 1080i.
The Vision One is claimed capable of 5000 ANSI Lumens brightness, powered by four lamps with a rated lifetime of 6000–8000 hours. Contrast ratio is 1000:1, resolution is 1600 x 1200 pixels, and supported formats include 480p, 540p, 720p, and 1080i. The Vision One comes with several lens options, including one specially designed for viewing films in the 2:35:1 aspect ratio. Input array includes RGB on a 15-pin D-sub connector, RGBHV- RGB x 5, DVI, Component (RGB x 3), S-Video, Composite, RS-232, and USB. The Vision One is best used with the Vidikron/Faroudja VF-1 Theater Manager, according to spokesfolks on the convention center floor. Package price is $80k.
Faroudja is demonstrating a sleek addition to its Digital Cinema Series, the $14,500 FDP-DLPHD10. The DLP projector boasts resolution of 1260 x 768, contrast ratio of 1100:1, and Faroudja's renowned color processing and 3:2 pulldown circuitry. Compatible with most national and international video formats, the FDP-DLPHD10 automatically detects, processes, and displays almost any signal fed it, including 480p, 720p, and 1080i. A powered zoom lens and adjustable color temperature make this projector attractive for those who view video from a wide variety of sources. Faroudja is also showing its NRS-DCS and NRS-DVI digital video processors, which offer deinterlacing, color scaling, detail enhancement, and audio processing. The NRS-DCS features an internal DVD drive for minimal circuit interference; the DVI version lacks the drive but is functionally very close to its sibling. The price ranges from $12K to $30K depending on configuration.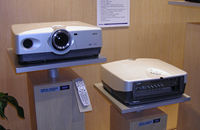 Available around March 1, Yamaha's DPX-1000 is an HD2 DLP projector with brightness rated at 800 ANSI Lumens, and a 2700:1 contrast ratio. The DPX-1000 features Faroudja "DCDi" processing for NTSC signals. Inputs include component, S-Video, composite, and DVI.
Videophiles who employ multiple sources will want to look into CenterStage professional video processors from Focus Enhancements of Campbell, CA. Intended to minimize unwanted artifacts when upconverting video formats to displays not designed for them, the CenterStage scales input signals to "popular native formats" of any connected monitor or projector. The company's processors are described as "resolution multipliers" and are said to support all combinations of input and output ratios and to offer adjustment of color level and hue, brightness, and contrast. An auto-save function keeps settings for any source—a real time saver if you are assembling a project from several sources. Prices range from $995 for the CS-HD (for converting analog video to HD level) to $2495 for the CS-2, with an optional SDI input. The CS-2 is said to be the world's first video processor with DVI-HDCP (copy-protected high-def datastream) inputs and outputs. The CS-1 and CS-2 are available now; the CS-HD will begin shipping sometime in the first quarter of 2003.
CRTs haven't completely disappeared, of course. Proton was one of the few companies to venture forth with a new direct-view CRT monitor. The HWT-36A is a 34" diagonal "HDTV ready" widescreen monitor with dual NTSC tuners. Legacy video viewed on the HWT-36A, including live programming, is "up-rezzed" to progressive scan, and 480p sources are upconverted to 1080i. The HWT-36A handles 480i, 480p, 720p, and 1080i. A four-source picture-in-picture feature allows monitoring of security cameras while viewing a DVD or television program. Compared to its flat-screen competitors, the HWT-36A occupies a lot of space with its 24" depth, but it may be ideal for some consumers. Price quoted in Las Vegas: $3000.