2002 CES Day One
The 2002 Consumer Electronics Show officially opens Tuesday, January 8th, but several major manufacturers took advantage of the relative peace to host press conferences on Monday.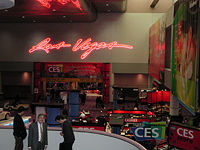 Panasonic will push the DVD format this year with several products of interest to home theater fans—foremost among them a 40" diagonal LCD monitor. The futuristically styled screen does 720p video in 16:9 aspect ratio, and is capable of simultaneous display of Websites, should you so desire. At only 80lbs, it can be easily moved around, and a suggested retail price under $4000 could bring a whole new generation of movie fans into the home theater fold.
Recordable DVD is also a high priority for Panasonic, which hopes to leverage a new high-efficiency "second harmonic generation" (SHG) blue laser into several new products. The company's prototype high-definition DVD recorder accommodates four hours of HD video on a single 50GB rewritable disc. More affordable DVD recorders based on this prototype are certain to follow, to the delight of movie lovers—and the dismay of Hollywood executives and attorneys.
Panasonic is also addressing the issue of style with two new slim-profile DVD players. Only 1.7" high, the silver-and-mirror finished DVD-XP30 and the DVD-XP50 are intended to match Panasonic's new super-slim SA-XR10 A/V receiver. The players handle almost every variety of optical disc except SACD, and will play discs encoded with MP3 or Windows Media. The DVD-XP50 plays DVD-Audio and DVD-RAM. Both players offer progressive scan video output for maximum image quality from legacy video sources. The players will be available this summer, with a suggested retail price of about $350 for the DVD-XP30 and $400 for the XP50.
Not to be outdone, Pioneer has added a DVD recorder to its lineup. The Elite Series DVR-7000 is the company's first such product for the US market. The 7000 can record on both DVD-R and DVD-RW discs, and can play DVD-Video discs in progressive scan mode. DVD recording is a crucial part of the company's game plan for the coming year, according to Tom Haga, president of Home Entertainment for Pioneer Electronics USA. The company's DVD recording technology has won accolades from many video and computer publications in the past year.
Pioneer isn't slacking on the display front—two new "PureVision" plasma televisions made their debut here, the 43" PDP-4330HD and the 50" PDP-5030HD. Capable of XGA level of resolution (1024 x 768 pixels) and five screen modes for both 4:3 and widescreen formats, the new plasma sets come with a stand-alone receiver for NTSC video signals, which are line-doubled for progressive scan output. Both sets weigh less than 100 lbs. and are less than four inches thick, making them ideal for wall mounting. Several image enhancing techniques have been incorporated into their design, yielding "more detailed, smoother images" free of false contours and extraneous color. The 4330HD will sell for $11,500 and the 5030HD for $15,500. Both will be available later this month.