$129 Receiver Adds High-Quality Bluetooth Streaming to Any System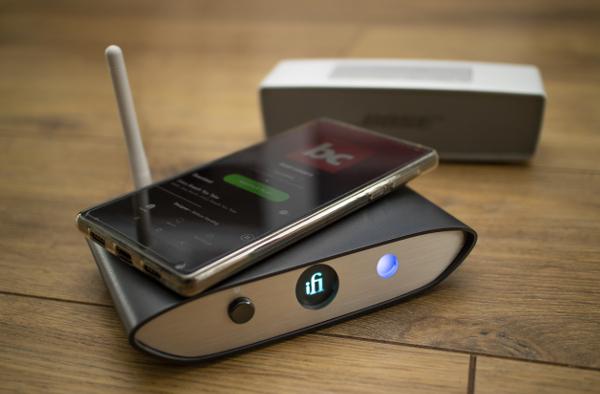 U.K.-based iFi Audio aims to boost the quality of Bluetooth streaming with a compact device that can be connected to any audio system via an analog or digital connection.
Hailed as the "world's first Bluetooth receiver supporting all the latest hi-res codecs for the best-quality music streaming from smartphones, tablets, PCs, and Macs," Zen Blue is the first product in the new Zen Series of desktop audio products; it's slated to ship in October for $129.
The receiver is housed in an aluminum enclosure 6 inches wide, 1.5 inches tall, and 4 inches deep and uses Qualcomm's new QCC5100 Bluetooth chip to process incoming data in addition to supporting aptX HD-enabled Bluetooth streaming, aptX Low Latency (for synchronized audio and video), and LDAC and HWA technologies from Sony and Huawei, respectively, which are designed to improve the quality of Bluetooth streaming. Standard SBC Bluetooth and the AAC codec favored by Apple iOS devices are also supported.
The aptX HD, LDAC, and HWA codecs are 24-bit devices but aptX HD tops out at 48 kHz while LDAC and HWA support sample rates up to 96 kHz. The receiver's core Qualcomm chip can be updated to support future Bluetooth codecs.
Created with input from noted audio designer John Curl, the ZEN Blue has separate digital and analog stages: Sound is routed from the QCC5100 chip to a specialized ESS Sabre digital-to-analog converter (DAC) featuring an integrated "time domain jitter eliminator," which is said to keep distortion low and dynamic range high. LEDs on the front panel indicate incoming sample rate and which Bluetooth codec is being received (via a change in color).
In an unusual twist for a product at this price level, the receiver provides a balanced analog output and includes high-quality C0G capacitors from TDK and a low-noise power supply from Texas Instruments.
The ZEN Blue remembers up to seven paired Bluetooth source devices, making it easy to switch from one device to another, and can be connected to any audio system via an analog RCA or an optical or coaxial digital connection; a switch is provided for routing the signal through the DAC to the analog output or directly to the digital output. A 4.4mm Pentaconn jack is also included for connection to systems equipped with a balanced input.
Wireless reception is described as "impressive" due to the implementation of the latest Bluetooth 5 specification.
iFi Audio said the ZEN series will be expanded in the coming months to include a DAC with an integrated headphone amp and other products.
For more information, visit ifi-audio.com. Zen Blue will be available on amazon.com in October.