'3D-Audio Soundbar' Nails Crowdfunding Goal in Days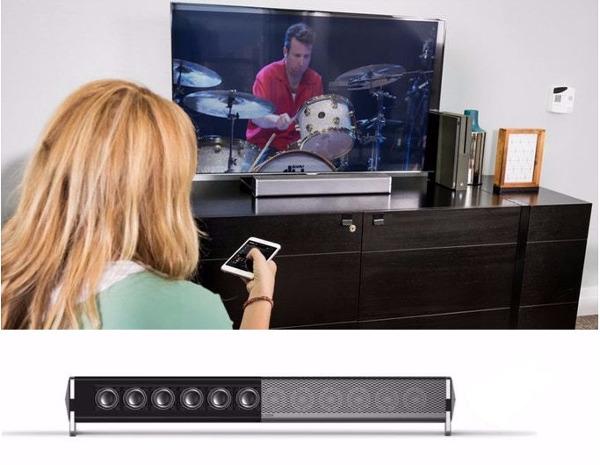 Yarra 3DX, hailed as "the world's most advanced 3D-audio platform" is off to a brisk start.
San Diego-based Comhear launched a Kickstarter campaign on Tuesday to bring working prototypes of its "beamforming" soundbar to production-ready status and attracted 616 backers with combined pledges of $237, 271 — more than four times its $50,000 goal — in less than three days. The campaign ends October 27.
Ten months in the making, the Yarra 3DX soundbar uses the company's MyBeam technology to provide "immersive 360-degree sound" for home entertainment, gaming, and virtual reality applications. The system, which is expected to available next spring for $599, includes a highly compact soundbar with a dozen 1.3-inch drivers, a stand-alone powered subwoofer rated down to 50 Hz, an app for setup and control, and "several high-resolution music albums" produced by AIX Records. Measuring 21 x 2.6 x 3.2 inches, the soundbar has adjustable end stands that can be used to elevate the unit and a row of multicolored LED lights along its bottom edge that can be turned on or off.
Comhear is offering a number of discounted pledge rewards ranging from $299 for one system or $899 for three systems (each 50 percent off retail price) to $2,069 for 10 systems (a 65 percent discount).
The MyBeam technology at the core of Yarra 3DX was developed in conjunction with researchers at University of California San Diego (UCSD) and is installed in Great America's Mass Effect: New Earth attraction in California, which is billed as a "4D Holographic Journey" based on the popular Electronic Arts' video game series "Mass Effect" developed by BioWare.
Yarra 3DX supports hi-res 96-kHz/24-bit audio and wireless connectivity and has USB and HDMI digital inputs as well as analog inputs. The system provides localization controls for up to three listener/viewers, near- and far-field settings, and modes for music (stereo), gaming, and movies.
Comhear explains how the system works on its Kickstarter page:
We experience sound in three dimensions. Our ears and brain are able to calculate the exact location of sound events in 3D space using only our two ears. It turns out that all of the spatial information is coded in the air pressures that are received at our left ear and right ear. Beamforming technology achieves its remarkable immersive sound quality by knowing exactly what information needs to be delivered to each of our ears — and it does it by constructively and destructively "beaming" phase coherent signals to each ear. No other technology can accomplish transaural, sound field modeling. Headphones try but fall short because of left and right ear isolation. Beamforming delivers:

Highly localized sound without headphones
Immersive listening experiences
Spatial details unavailable with traditional speakers
An "outside your head", realistic sound stage

Yarra 3DX allows users to optimize the sound for head position, size, and location by selecting user defined HRTFs (head-related transfer functions). The result is better audio fidelity, more accurate sound staging, greater low level detail, and completely natural hearing that surpasses traditional sound bars — and even multiple speaker setups and immersive headphones.
"Yarra 3DX replaces traditional multi-speaker home theater setups for movie viewing, gaming, and music listening," said Comhear CEO Gerry Chastelet, noting that reaction to demos at CES 2017, the LA Audio Show, and other venues has been positive. "It's also a great alternative to headphones, allowing for a fully immersive, yet shared audio experience…We are confident Yarra 3DX, powered by our disruptive MyBeam technology, will transform the way people listen and engage with audio."
Slated for delivery in March 2018, the system will be available in black or silver.
For more information, visit kickstarter.com.