KEF XQ10 Speaker System
Having grown up with LPs, I fondly recall how a good jacket design could make me pick up an album, examine it thoughtfully, and struggle in vain to keep those crumpled bills in my teenage pockets. The 12-by-12-inch form factor made stars of Storm Thorgerson, who designed LP jackets for Pink Floyd; Keith Morris, who shot unforgettable portraits of Nick Drake; and Hipgnosis, the firm whose memorable designs fascinated Led Zeppelin fans. So don't talk to me about downloads. Even compared with CDs, they offer a user experience that's sterile and boring.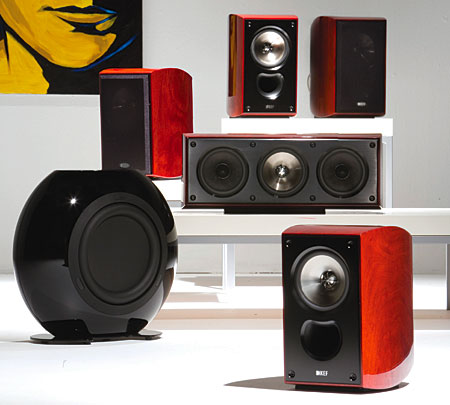 One reason why I like reviewing loudspeakers is that no one will ever design a downloadable one. Speakers are still physical objects with the power to mesmerize the prospective buyer. While they often fall short of their aesthetic potential, it is possible to throw a red mahogany finish onto a curvaceous shape and attract the interest of the consumer—or, perhaps, a tired, cranky, footsore critic at a trade show, who suddenly looks up and says, "When can I get that in for review?"
Pour Me Some Red
So that's how the KEF XQ Series seduced me, with a dark red-wine finish called Khaya mahogany. It is the pinot noir of the loudspeaker community. The XQ also comes in bird's-eye maple and piano black, in every case with a high-gloss finish. All veneers are hand matched.
These heart-movingly beautiful enclosures are curved to mitigate internal standing waves—and the curves are not only at the sides, but also at top and bottom. KEF provides rubber wedges to stabilize the bottom surface if you choose not to bolt the speakers to anything. The enclosures are also internally braced to control resonance, precisely optimized in volume for the needs of the drive units, and constructed in three tiers to minimize mechanical interaction between the drivers. The crossover is borrowed from KEF's formidable Reference Series, with circuit boards decoupled from the driver chambers to isolate them from cabinet vibration and acoustic pressures.
Hiding behind the magnetized grille is a newly designed 0.75-inch aluminum-dome tweeter, which is set into the center of the 5.25-inch midwoofer. This coaxial driver array, or Uni-Q as KEF calls it, is a hallmark of the company's speaker designs. Note the "tangerine" waveguide, which KEF claims results in the tweeter having wider and more even dispersion into the room. The front-mounted port is close to the driver array and seems to be smiling. The XQ10 is a two-way Uni-Q monitor. On the three-way XQ50c center-channel speaker, a pair of 5.25-inch woofers flanks the Uni-Q array.
The HTB2SE subwoofer appears to be a close relative of the HTB2 reviewed in June 2006 as part of the egg-shaped KEF 3005 sat/sub set. Rated power is 250 watts of Class D. The naked driver's staring-cyclops-eye effect will either charm or unnerve guests.
As usual, the Rotel RSX-1065 served as my reference A/V receiver, and in this instance, I was especially grateful for the large reserves of clean, warm power it delivered to the revealing KEFs. Signal sources included a Sony BDP-S500 for Blu-ray playback and an Integra DPS-10.5 (another happy long-term relationship) for DVDs and SACDs. I also used a Rega Planar 25 turntable, Shure V97xE cartridge, and NAD PP-1 phono preamp. This review was, in a rare departure, CD free.
Culinary Rats, Crooked Lawyers, Honest Cops
The XQs' revealing nature could lead to pleasure, discomfort, or both in the same movie. Ratatouille offers an eventful Dolby Digital 5.1 soundtrack complete with shotgun blasts, enveloping rain, and a whirlwind tour of the Paris sewer system. Moments of sheer delight abounded—I'll never forget the way the orchestra tracks the rat-hero with solo flute and pizzicato strings as he scampers up and down the pipes between the netherworld and our world. But when the orchestra plays full throttle, with loudly bowed strings, in a mix that's bright to begin with, the XQs didn't lie about the effect of now-antiquated lossy audio compression.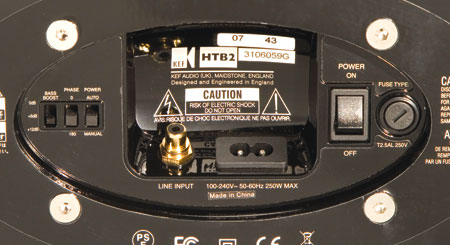 Michael Clayton uses surround in a more subtle manner. It might have sounded great in a high-resolution surround codec, but it still worked in Dolby Digital 5.1. There were many moments of all-channel ambience, but the mixer kept them at a low level, whether George Clooney's driven lawyer was standing in a field admiring some horses or even on the noisy daytime streets of New York. These open-sounding interludes of tranquility contrast with many scenes of tense one-on-one dialogue, which were recorded dead flat, making the audience feel as trapped as the desperate characters. Sometimes less is more, especially when it's being beamed at you by a coaxial driver array.
We Own the Night is another rigorously restrained soundtrack. Although the Blu-ray release is in Dolby TrueHD, the pluses are hard to describe. The greatest beneficiary is probably the impressively hushed dialogue, spoken just above the level of audibility, giving the XQs another chance to strut their extraordinary low-level resolution. It's clear that Joaquin Phoenix and Mark Wahlberg, who costarred and coproduced, wanted to stress ensemble acting over gross effects. A bullet-riddled car chase is muffled by heavy rain and closed windows. Even in this subdued form, it was absolutely riveting. Musical material for the 1980s-era hero-cop story is full of period classics by Blondie, the Clash, the Specials, and the Nile Rodgers–induced groove of Bowie's Let's Dance. Having been weaned on the vinyl versions, I was intrigued to hear them in surround-mixed Dolby TrueHD via the KEFs, which far exceeded my memories of the spatial precision of the old pair of Snell J/III speakers that served me in the '80s.
Sound the Gong
The repeated sounding of a tam-tam—that is, a gong—is among many treats on Telarc's 5.1-channel DSD recording of Cherubini's Requiem and other works with Martin Pearlman conducting the Boston Baroque. Spreading through the soundfield with a low but startlingly physical metallic hiss, the gong sounded several times in the "March Funèbre." Period instruments are not always sweet sounding, but in this case, the strings were beautifully interlarded with concert-hall ambience and delivered with the ultimate degree of transparency—a perfect marriage of ideal SACD source material, my trusty old Rotel, and the brilliantly engineered XQs.
The XQ system's intense focus could have unintended consequences. It made stereo feel like surround (good) and surround feel like hyper-surround (debatable). For example, while I normally adapt stereo sources to surround using the Dolby Pro Logic II music mode, the adaptation ruined the massed voices of Déjà Vu by Crosby, Stills, Nash & Young. Sibilants and other consonants were inadvertently detached and sent to the surrounds, while the midrange body of the massed vocals stayed in front. Switching back to stereo restored the integrity of the singers—the XQs thrived in two channels. This LP's imitation-leather gatefold, with embossed gold gothic lettering, was still a pleasure to handle. I left it leaning against my CD shelf just to admire it.
Once I go back to vinyl, it's hard to return to the present. So I stuck a hand into a painfully inaccessible part of the jazz section of my collection and came up with a handful of things starting with C: Cobham, Coltrane, Corea. The winner was Billy Cobham's second LP Crosswinds, which narrowly edged out his debut LP Spectrum because I wanted to hear the KEFs lend their laserlike focus to the Brecker brothers, Garnett Brown's trombone, and George Duke's Fender Rhodes electric piano. They emerged as an undulating rainbow of tone color. The drummer-led album punched, feinted, and charmed as well as it did when I bought it for three dollars and still had a full head of hair. KEF's little staring-eye sub will never win any awards for brute force, but it allowed Cobham's percolating rhythms to invade my nervous system. Again, two channels were more than sufficient, with no hole in the middle of the vibrantly depicted stereo soundstage.
In general, the KEFs provided a well-balanced midrange—perhaps a few rows forward of the middle of a concert hall, but the effect was subtle. High frequencies were present and sounded precise. Even in stereo, the XQs conjured up a quasi-soundfield that extended a few inches around the front speakers in all directions—with the result that I did more stereo listening than usual. In the end, it was the XQs' spatial prowess that nailed me to the sofa. The speakers effected sea changes in my perception of movies and music, especially music I'd been listening to for decades. Oh, and they look amazing. Here is a set of speakers for high-end listeners to treasure.
Highlights
Uni-Q coaxial driver array holds all frequencies together as they hit your ears
Impress your friends with the red mahogany finish