Dynaudio DM 2/10 Speaker System
Ten inches woof big.
Where's the subwoofer in this system? People, look at the picture. You're seeing a whole quintet of 10-inch woofers.
"Jeeves, we will dispense with the subwoofer today."
"A wise decision, sir."
For me, this evokes a happy feeling of nostalgia. The very first loudspeakers I bought, the KLH Model 17, had 10-inch woofers. Even Henry Kloss, who designed the Model 17, didn't think much of them, as he told me years later. But I loved the big, brawny drum sound they mustered—and remember, this was in the no-subwoofer days of two-channel audio.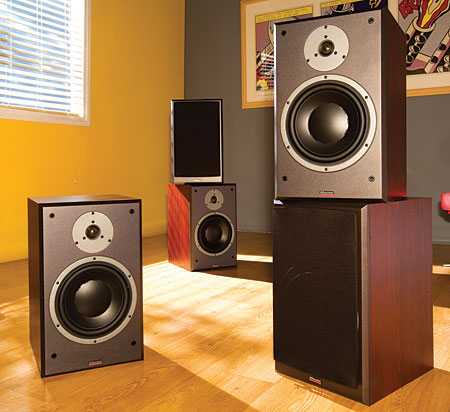 Still, the midrange left me wanting something better, and that set me on the upgrade path. Today, the two-way, 10-inch configuration is a relative rarity for valid technical reasons. It's harder for a big driver to split midrange duties with a tweeter and blend seamlessly both on axis and off. How hard depends on the crossover and the characteristics of the woofer and tweeter. In any case, bass drivers this large are rare in stand-mount speakers.
Nonetheless, Dynaudio decided to resurrect the two-way, 10-inch configuration in the DM 2/10. Why? The company's Website lists several uses for this speaker. These include "straightforward and cost-effective" use in home theater systems, multizone audio, and other custom-install applications. You can integrate the speakers into audio/video furniture or in-wall cavities, but they might also serve a more traditional use as stereo bookshelf speakers (with the proviso that shelves are not the best places for speakers). Dynaudio also mentions commercial applications: bars, shops, restaurants.
Of course, the home theater applications are what concern us here. What, I wondered, would revisiting this concept of my stereo teenage years do for surround sound? And what would the average—no, the adventurous—surround buff make of it?
Aren't you just a little curious about what a surround system could do with five big 10-inch woofers? Consider the possibilities of using five big speakers, eliminating the subwoofer, and depending entirely on the speakers for bass. Imagine the combined radiating area of five big bass drivers in lieu of one sub driver.
Five. Ten. Inch. Woofers. Think about it.
Sir, Step Away From the Wall
Inside the DM 2/10's bulky 28-liter cabinet are a 10-inch magnesium silicate polymer woofer and a 1.1-inch textile soft-dome tweeter. At slightly more than 28 pounds, the speaker doesn't weigh much considering its bulk, which came as a relief when I lifted five of them onto my stands. But the enclosures do include some internal bracing, according to the manufacturer.
On the back is a pair of metal-nut binding posts—just two, no biwiring. There's also a 3-inch port, something to keep in mind if you integrate the speaker into a piece of furniture. Each speaker comes packaged with a foam plug to reduce bass output from the port. That, presumably, would help the speaker avoid bloated bass if you place it near a room boundary. With the speakers nearly 2 feet out from the wall and nowhere near a corner, I never needed to use the plugs.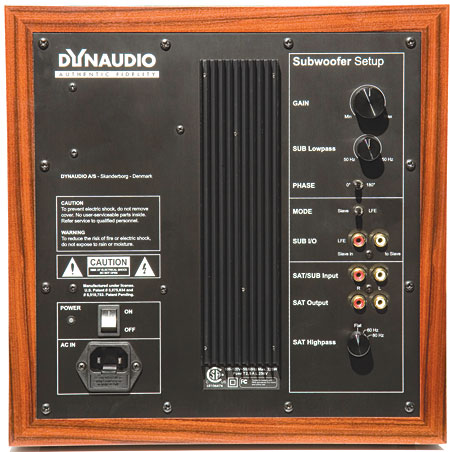 The manual recommends that you place the speakers "away from walls as far as practically possible. To reduce influences from the back and side walls, the distance to these boundaries should be at least 0.5 meters [19.7 inches]." I side with the manual on this; but please note that the farther from the wall these bulky, plain, vinyl-wrapped speakers stand, the more conspicuous they'll seem.
The finish is rosewood vinyl laminate, slightly enhanced by a dark-gray plastic baffle. Dynaudio's higher-priced lines routinely feature high-quality wood veneers and a greater degree of style consciousness. Clearly, the DM 2/10's utilitarian look has to do with the applications for which it was designed. If a speaker is going to live in a piece of A/V furniture, there's no point in making it look pretty (and thus more expensive to manufacture).
Like so many other speakers, I connected the Dynaudios to a reference system that included a Rotel RSX-1065 A/V receiver, Integra DPS-10.5 universal disc player, and Pioneer BDP-HD1 Blu-ray player. They ran full range, without a sub; the Rotel's large reserves of warm, clean power came in especially handy. The speakers have a sensitivity rating of 89 decibels and a nominal impedance of 4 ohms, which better receivers should be able to run without trouble. For best results, however, you'll need a receiver or multichannel power amp that can deliver fairly high current.
All-Star Surround
The DM 2/10s did well with David Gilmour's latest live DVD, Remember That Night—Live at the Royal Albert Hall. Although the rhythm section was understated in the mix, the big woofers aced it. Dynaudio's gentle textile tweeter took the digital edge off the Dolby Digital mix. The speakers did simplify the midrange a little, mostly to good effect, but I would have liked to hear more of backing singers David Crosby and Graham Nash. Floyd fanatics will be pleased to see keyboardist Richard Wright in tow, especially in the long, luxurious version of "Echoes" (from Meddle, my favorite Pink Floyd album). Guest vocalist David Bowie brings Syd Barrett's "Arnold Layne" to life, and his version of "Comfortably Numb" is arguably the best one to emerge since the original. The material from Gilmour's new album, On an Island, sounds fresher than it does on the CD—tightly rehearsed but not as obsessively sonic-airbrushed as the studio product.
Russian Ballet Suites includes material from Prokofiev's Romeo & Juliet, Khachaturian's Spartacus, and Shostakovich's The Bolt—all authoritatively performed by Alexander Vedernikov and the Russian National Orchestra on a 5.1-channel PentaTone SACD. The Dynaudios threw out a big soundstage. Their 10-inch woofers excelled at tympani, not only producing a powerful sound, but also holding it all together without the potential tripwire of a poor speaker/sub transition. The speakers could handle plenty of power, with the orchestra swelling impressively at the right moments. All they lacked was a fully fleshed-out string sound; even in this respect, though, the DM 2/10s outperformed a lot of more conventionally proportioned speakers I've heard in the last few years. I have absolutely no complaints about the performance of Dynaudio's tweeter.
It just felt right.
The 5.1-channel mix of Brazil logically assigns each member of the Los Angeles Guitar Quartet to each of the front and surround left/right channels, saving the front center channel for the occasional flute or other guest soloist. Somehow, nylon classical-guitar strings and the Dynaudio soft-dome tweeter are made for each other.
How Much Bass Is Enough?
Star Wars: Episode III—Revenge of the Sith would be the surround sound equivalent of a Burger King Quadruple Whopper with Bacon and Cheese (if there were such a thing). All-channel effects were in generous supply from the opening frames, with their pounding tympani and rumbling spaceship sounds. Whooshing and whizzing spacecraft raced zanily from back to front, and front to back, and diagonally. The low, windy sound that accompanied Anakin Skywalker's metamorphosis into Darth Vader gave the scene some of its ominous feel—and the speakers' low-level resolution helped out. The big woofers made their biggest contributions during the battle scenes. They delivered a steady underpinning of bass, but not aggressively enough to annoy. I liked the idea of going subless to limit the bass on an aggressive soundtrack. It left me with enough stamina to appreciate the grieving pageant of the movie's final scenes.
The Blu-ray release of Perfect Stranger includes a high-resolution PCM soundtrack. What's great about a non-lossy audio format is that it potentially does everything well. In this case, dialogue was really clear, regardless of the acoustic environment. Soundtrack music also came through well, and the soundfield held together even when fed with minimal information, like the very distant sound of traffic during a quiet nighttime street scene. The drama itself came out flat, however, despite an able cast, including Halle Berry, Bruce Willis, and an escalatingly intense Giovanni Ribisi.
Factory Girl supplemented the compelling, half-fictionalized story of Edie Sedgwick, a close Warhol friend and collaborator, with a tasty soundtrack—everything from Quicksilver Messenger Service and Johnny Kidd's "Shakin' All Over" to Bach, Mozart, and Gounod. Neatly rechanneled from stereo to surround, these slices of music form a nice counterpoint to Sienna Miller's Edie, Guy Pearce's amazingly slithery impersonation of Warhol, and the Dylan-like character who vies for Edie's love and loyalty. All this musical and vocal information came through—I never felt as though I was missing anything.
While clearly a niche product, a distant outpost in the Dynaudio galaxy, the DM 2/10 performs well. In fact, it performs better than any of the two-way, 10-inch speakers I've lived with in the distant past. The top end is very good, the midrange more than fair, and the bass controlled yet full. The speakers' homely looks won't turn any heads, but if big woofers are what you want and you've got the power to run them—well, here they are. And it doesn't hurt that each one shares the baffle with a first-rate tweeter. If sat/sub sets are too small, and floorstanding speakers too awkward, the Dynaudio DM 2/10 may be just what you need.
Highlights
Super-chunky stand-mounted speakers
Big bass from 10-inch woofers
Utilitarian look