Headphone Heaven: CanJam NYC 2023 Preview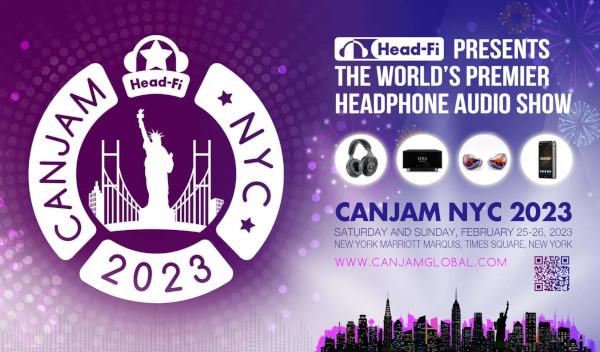 The latest and greatest in headphone technology will be on display at CanJam NYC 2023, which opens on Saturday (February 25) at the Marriott Marquis in the heart of New York City's Times Square.
Billed as the world's premier headphone audio show, the weekend event will host more than 80 exhibitors, including such top brands as Audeze, Astell & Kern, Audio-Technica, Etymotic, Focal, HiFiMan, PSB, Sennheiser, and Stax, to name a few. Attendees will also be treated to a stellar lineup of seminars, including one run by audio luminary Paul S. Barton, founder of PSB Speakers, and another by noted acoustician Dr. Sean Olive.
Show hours are 10 a.m.-6p.m. on Saturday (February 25) and 10 a.m.-5 p.m. on Sunday. Tickets are $30 for a day pass or $40 for a weekend pass and available at canjamglobal.com.
Though the focus will be on headphones and earbuds/in-ear monitors, personal electronics will also be on display and a number of companies will introduce new products, according to show organizers.
Campfire Audio, the Portland, OR-based maker of high-end earphones, will unveil what has to be one of the coolest looking in-ear monitors on the planet: the Trifecta Astral Plane. Of course, at $3,375, it's also one of the most expensive and most sophisticated IEMs around, featuring three individually vented 10mm (0.4-inch) ADLC drivers in a unique triangular configuration. In case you're wondering (we were), ADLC stands for Amorphous Diamond-Like Carbon, an ultralight and rigid diamond/graphite carbon hybrid the company introduced into its line several years ago.
The Astral Plane boasts a clear nylon housing with gold accents and includes three cables (no, they're not wireless), a selection of silicon eartips, preformed earhooks, and a leather carrying case with magnetic closures. The cables have silver-plated copper conductors and terminate in 3.5mm, 2.5mm (balanced), and 4.4mm (balanced) connectors.
Click here for video preview of many of the other products being introduced at CanJam NYC.
A Stellar Seminar Series
In addition to the product exhibits, there will be 10 thought-provoking technical seminars aimed hardcore headphone enthusiasts. Here's a quick look at the lineup:
Saturday, February 25
11 a.m. – Solid-State Fidelity: An Introduction to the World's First All-Silicon MicroSpeakers for Personal Audio Devices
Michael Ricci, Senior Director Electroacoustic Engineering, xMEMS Labs, Inc.
Ricci will introduce a new, all-silicon transduction mechanism he says is set to disrupt century-old coil/magnet driver designs. This new, solid-state architecture implements both actuation and diaphragm in silicon resulting in "unmatched part-to-part frequency response and phase consistency." He will also discuss how this innovative transduction mechanism has produced the "world's fastest and most precise µspeakers," eliminating spring and suspension recovery of coil speaker for improved audio quality and sound field reproduction.
Noon – DAC Architectures: The Good, The Bad, and The Ugly
Rob Watts, Digital Design Consultant, Chord Electronics
Although digital audio is ubiquitous these days, finding an optimal DAC (Digital-to-Analog Converter) remains a complicated, and often confusing, task. Watts will explore common DAC architectures and break down the strengths and weaknesses of each. He will also the present objective criteria by which he thinks DACs should be judged for high fidelity applications.
1 p.m. – The Influence of Geometry, Directivity and Acoustical Impedance of Headphones on Sound Perception
Axel Grell, Founder & CEO, Grell Audio
Headphone enthusiasts often measure frequency response but perceived sound goes beyond response curves. The geometry and the acoustical impedance of the headphone also have a big influence on the perceived sound. The shape and directivity of the sound field in the earcup are crucial for spatial perception. Grell will provide a historical overview and discuss current developments in this field.
2 p.m. – The Benefits of Being Balanced
Fried Reim, Chief Strategist, Lake People (Violectric)
Is balanced the best way to go? Reim will cover the fundamentals and benefits of balanced audio to help attendees determine if a balanced setup is the best option. Topics will include how balanced signals are created, handled, and output by DACs, amplifiers, interconnects, headphones and other components in the signal chain.
3 p.m. – HD Audio for All: TWS Trends for Better Music Listening
Jon Kiachian, VP & GM of MedTech and Specialty Audio, Knowles Corporation
More listeners than ever before are seeking high-definition, personal listening experiences. Kiachian will provide a technical guide to help enthusiasts better understand the fast-evolving world of TWS (True Wireless Stereo) earphones. Topics will include lossless streaming, hearing personalization, comfort, price, connectivity, active noise canceling, and battery life.
4 p.m. & ndash; Evolution of Hearing Simulation, and an Examination of Frequency Response Targets and How We Use Them
Jude Mansilla, Founder, Head-Fi.org
Mansilla will examine how the most popular hearing simulation standard (commonly referred to as "711") was developed more than 40 years ago, and how important advancements will inevitably lead to the adoption of new standards. He will also discuss frequency response targets and some important considerations around those targets.
Sunday, February 26
11 a.m. — The Harman Headphone Target Curve: 2023 and Beyond
Dr. Sean Olive, Senior Fellow, Acoustic Research, Harman International
The Harman Target is a headphone frequency response that was the culmination of a 7-year scientific study on the perception and measurement of headphone sound quality. Olive will explain what the Harman Target Curve is, how it was developed and validated, and how to best use it for interpreting and predicting how good a headphone sounds.
Noon – Headphones and Hearing: Human Hearing and Compensation for Headphone Listening
Paul Barton, Founder and Chief Acoustics Designer, PSB Speakers
Human hearing is a complex phenomenon. Not only does headphone listening get interpreted differently by our brains, but our own unique abilities to hear can affect how we enjoy what we listen to. Barton and experts from Audiodo Personal Sound will guide attendees through the science of hearing and how headphones can be designed to compensate for everything from spatial perception to personalization for unique hearing characteristics.
2 p.m. – How Interpolation Filters and Transients Crucially Affect Sound Quality
Rob Watts, Digital Design Consultant, Chord Electronics
In explaining how digital interpolation filters work, Watts will cover the importance of interpolation filtering and transients, how time domain performance can dictate fidelity and realism, and more.
3 p.m. – Ask The Reviewers @ CanJam NYC 2023!
Do cables make a difference? Is there a "correct" sound signature? What is the best in-ear monitor or headphone for my music within my budget? A panel of reviewers answer questions from the audience.
For more information on the CanJam NYC 2023 and other upcoming shows in Singapore (March 25-26), Chicago (June 24-25), London (August 19-20), Irvine, CA (Sept. 30-Oct. 1), and Dallas (November 11-12), visit canjamglobal.com.