Paul Barton Honored with Lifetime Achievement Award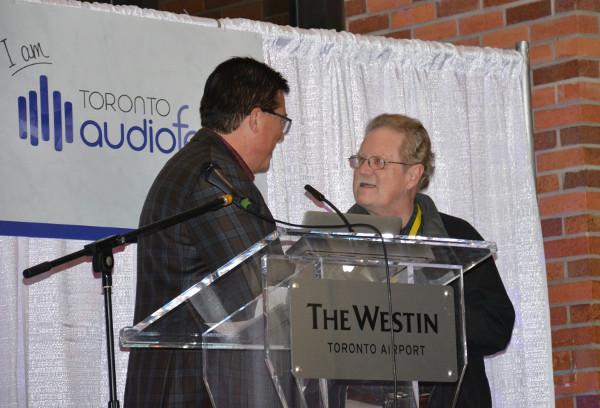 Paul Barton, noted Canadian speaker designer and founder/chief designer of PSB Speakers, was honored with a Lifetime Achievement Award on Saturday at the
Toronto Audio Fest
.
Recognized for decades of groundbreaking research and numerous contributions to the loudspeaker industry, Barton was presented an "Inukshuk" sculpture depicting a human figure made of piled stones. "Inukshuk" is an Intuit word that means "one who leads the way."
In presenting the award, Gord Simmonds, president and CEO of Lenbrook, said: "Paul Barton is a true pioneer in every sense of the word. His decades of research at the NRC [National Research Council] has helped shape the loudspeakers we know and enjoy today. Even more remarkable is that Paul is still the chief designer of PSB, breaking new ground and doing his best work ever."
Paul Barton founded PSB Speakers in 1972 with the aim of producing loudspeakers that would offer accurate, natural sound. In 1974, Mr. Barton met and began to work with Dr. Floyd Toole who was conducting research on loudspeakers and listeners' perception of loudspeaker sound quality at Canada's National Research Council facilities. That collaboration led to PSB becoming the first manufacturer to develop new loudspeaker designs from start to finish at the NRC — a practice that continues to this day.
Lenbrook is a privately held Canadian corporation that owns NAD Electronics, PSB Speakers, and Bluesound, developer of the BluOS hi-res music platform.
For more on PSB history, visit psbspeakers.com.