A Hit Overseas, Sony's 'Immersive Wearable Speaker' Is Heading to the U.S.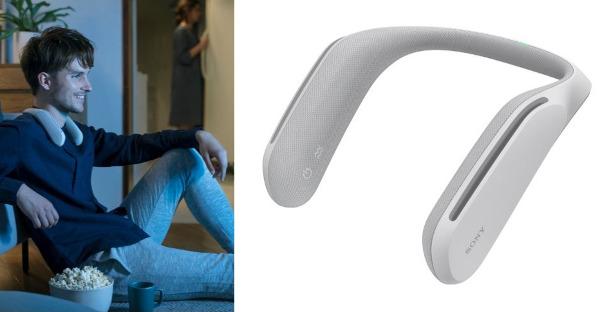 Sony's SRS-WS1 Immersive Wearable Speaker is so popular overseas that the company has decided to release it here in time for the holidays.
Designed to be worn around your neck and rest on your shoulders, the unique personal sound system uses digital signal processing and a pair of specially designed 1.2-inch drivers to "immerse" the listener in sound.
Sony claims the WS1 provides a "compact yet powerful listening experience" whether you're gaming, listening to music, or watching a movie. Vibrations created by the speaker are said to deliver a "powerful sensory experience," while resonance reducing ducts keep the sound clear. Vibration intensity can be set to high, medium, or low.
The system includes a battery-powered wireless transmitter with optical digital and analog inputs for connection to a TV, smartphone, or gaming console; the transmitter can feed two WS1 speakers to create a shared listening experience.
When fully charged, the transmitter is said to provide up to 7 hours of continuous play time; charging takes 2 hours.
"For the consumer who wants to take their movie watching or gaming experience to the next level or for that individual who would like to hear their television content more clearly, the SRS-WS1 Immersive Wearable Speaker provides a unique personal sound experience," said Michiko Araki Kelley, vice president of the New Business and Corporate Marketing Group at Sony Electronics North America.
The WS1 lists for $300 but can be pre-ordered for $250 through December 1.
For more information, visit sony.com.