Hisense Laser TV 4K DLP Projector Review
PRICE
$10,000
AT A GLANCE
Plus
Bright picture with excellent uniformity
Crisp detail with 4K sources
Powerful built-in audio system
Minus
So-so contrast ratio
Occasional banding artifacts
No extended color gamut coverage
THE VERDICT
Hisense's Laser TV strikes a good balance between performance and price for a 4K-res ultra-short-throw projector-and-screen package.
Hisense has been slowly making headway in the U.S. TV market over the past few years, mostly through its lineup of affordable big-screen LCD sets. Another product that the company has teased at trade shows, and is now actively selling, is Laser TV, a flat-screen alternative that consists of an ultra-short-throw (UST) laser-driven DLP projector paired with a 100-inch screen. While other companies including Sony and Epson offer their own UST solutions, Hisense seems especially bullish on the category: At last CES, the company announced a second Laser TV offering that incorporates a dual-laser DLP light engine and comes with a 150-inch screen, and there's also an 88-inch version in the works.
While there's no information yet concerning price or availability for those next-gen Hisense Laser TVs, the 100-inch version can be bought now for $10,000. The Texas Instruments Digital Micromirror Device (DMD) used in the projector is the same chip found in other 4K DLP projectors that Sound & Vision has tested, including the Optoma UHD65 and BenQ HT9050. In contrast with "4K Native" projectors, like certain models sold by Sony and JVC, this solution achieves 4K image resolution using XPR pixel-switching technology. Here's how that works. The new TI DMD has a native resolution of 2716 x 1528 pixels. Using a combination of video processing and physical shifting of the display chip via an optical actuator, a full 8.3 million discrete pixels (approximately the same number provided by native Ultra HD displays) are flashed onscreen for each video frame, with the shift happening fast enough that the eye perceives a full 4K resolution image. Since the pixel array that creates the image is generated using a single-chip solution, it also appears onscreen with perfect color alignment.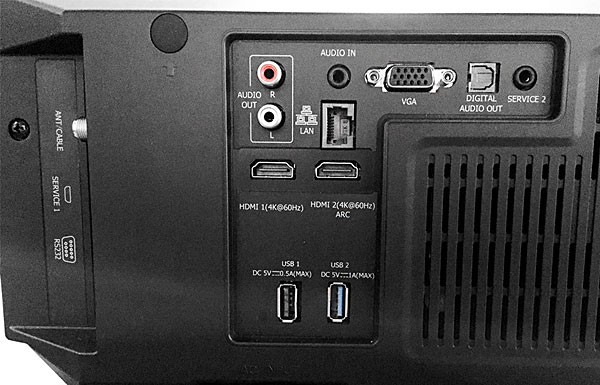 The screen that Hisense bundles with its projector is a 100-inch version of a Screen Innovations Zero Edge ST, the same type used in our earlier review of Sony's VPL-VZ1000ES. In this case, however, the screen arrives fully framed and intact—no assembly required. Screen Innovations' ST screen is an ambient-light-rejecting material designed specifically for use with UST projectors. The ST has a gain of 0.6 and a 170-degree viewing cone, making it a good alternative to big-screen LCD TVs, many of which have a considerably more limited viewing angle (typically 30 degrees).
Hisense's strategy with its Laser TV was to make it indistinguishable from a regular smart TV. To that end, it has wired Ethernet and Wi-Fi connectivity, plus a smart TV GUI that serves up apps including Netflix, Amazon, Vudu, YouTube, and Pandora. Both Netflix and YouTube provide 4K and high dynamic range support (Amazon is 4K, but no HDR). There's a built-in tuner for viewing over-the-air digital TV broadcasts—another unusual add for a front projector—and a Harman Kardon–designed 2.1 audio system consisting of two 1-inch tweeters and 2.5-inch midrange drivers, each separately powered by 15-watt amps, and a wireless sub with a 6.5-inch woofer powered by a 60-watt amp. The built-in speakers are mechanically isolated from the projector chassis, so there's no interference between audio and video components when movies get played loud.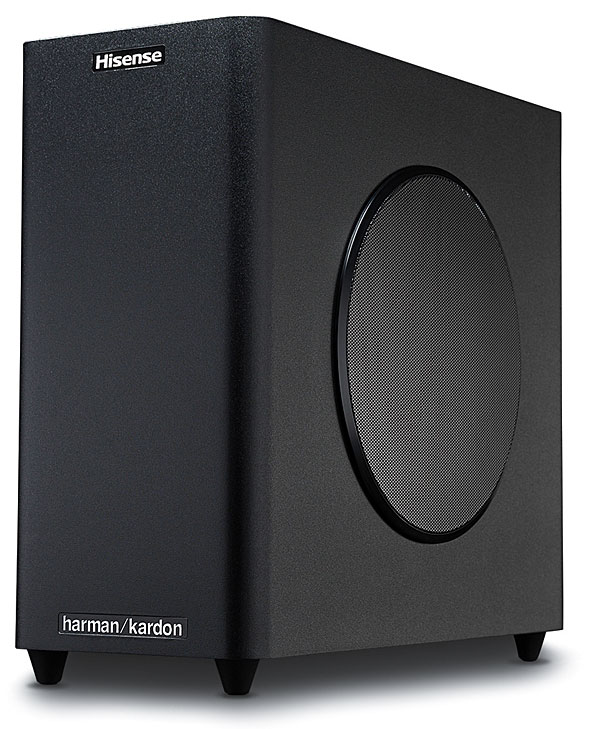 The specs for the Laser TV cite light output at 3,000 lumens (typical). Lifespan of the laser light engine is 20,000 hours in Standard mode, and 25,000 hours in Eco mode—long enough to last for two decades viewing 5 to 6 hours daily. Hisense also plans to supplement the Laser TV's smart GUI with Alexa integration. The upgrade, which will require a firmware update and new remote control with a built-in microphone, is expected sometime this spring.
Though the Laser TV's design isn't as swanky as Sony's $25,000 UST projector, effort was put into giving it a living-room-friendly appearance. The 24 x 8.1 x 15.7-inch (WxHxD) case is fronted by a black mesh speaker grille. A metal-hued strip swoops diagonally from top to bottom, giving the chassis an aerodynamic look. Connections on the rear panel include a LAN port, an RF antenna input, and two each USB and HDMI 2.0a (one with ARC) ports. There are also optical digital and analog RCA audio outputs for routing audio back to a receiver.
Hisense supplies a sturdy, metal-encased remote control with the Laser TV. Its main feature is a directional touchpad that's used for navigating menus and selecting items from the set's GUI such as inputs and picture modes. There's a quartet of buttons at the top that take you directly to the big four streaming services: Netflix, Amazon, Vudu, and YouTube. Buttons to adjust volume and change channels are located on the bottom half, where they can be easily accessed with your thumb—a good thing for a projector where you're likely to be using the built-in sound system and OTA digital tuner.
Setup
Setup of the Laser TV is made somewhat easy by the fact that it ships with a preassembled screen. Most of the work involves mounting the screen on your wall, and Hisense provides adjustable, heavy-duty hardware mounts to help make that process go smoothly. Once mounted, I positioned the projector on a 20-inch-high table beneath the screen. The distance from the projector's back surface to the screen plane was 6 inches, and the same distance spanned the projector's top surface and the screen's bottom edge.
Tweaking image geometry involves calling up a test pattern from the setup menu and leveling the height of the five adjustable feet on the projector's bottom. The Screen setup menu provides settings for floor, ceiling, and rear-projection installations; Screen Type (in this case, ALR); Geometric Correction (not recommended since it's an electronic adjustment that reduces picture resolution); and Focusing.