Denon AVR-X4200W A/V Receiver Review
PRICE
$1,499
AT A GLANCE
Plus
Very solid amplifier performance
DTS:X, Dolby Atmos on board with seven-channel power and nine-channel processing
Good streaming-audio client performance and ergonomics
Minus
Ho-hum remote
Firmware/feature upgrade process is clumsy
THE VERDICT
Denon's latest-generation upper-echelon AVR does all of the most current modes, sources, and processings very competently indeed, with ample audio power and fully up-to-date video abilities.
Full disclosure: Denon holds a special place in my hi-fi heart, because the brand's former parent company, Nippon Columbia, brought me to Japan for my first time, on a sort of mini–press junket cooked up by the firm's U.S. marketing guru. When I say mini, I mean it: It was just myself; Ken, the marketing guy; colleague Ken Pohlmann; and the late consumer electronics editor Bill Wolfe, whom I already knew well through long associations at titles like Video, Car Stereo Review, and (Plain Ol') Stereo Review (S&V's precursor).
I don't remember the official excuse for the trip—some digitalaudio development, no doubt— but in retrospect, I'm pretty sure it was Ken's way of consuming his remaining marketing budget in congenial company. It was an epic trip: We endured an incredible 23-hour Boeing 747 incarceration (due to a polar turnaround for a medical emergency somewhere back in steerage), a major typhoon immediately after arrival, and some insanely inebriated, four-hour traditional Japanese dinners that left my folded legs nearly useless, followed by next-morning technical briefings at 7:30. There would be subsequent Japan trips, but none to equal the first.
Anyway, the point of all this is—there isn't any point, except that Denon's latest A/V receiver line is now upon us, sampled here by the AVR-X4200W, the brand's next-to-next-to-top model: precisely the sweet spot for high-end value, in my view. As with so many other AVRs, its list of features is far too long to even abridge here, but the highest points are Dolby Atmos/DTS:X, Auro-3D (an optional $199 software update available direct to the receiver via the internet), and Audyssey MultEQ XT32. That last one includes Audyssey's Platinum suite of Dynamic Volume and Dynamic EQ options plus a couple of subwoofer-EQ offerings—as well as the company's largely forgotten Dynamic Surround Expansion mode, or DSX, about which I'll say more later.
You also get the usual Wi-Fi networkability, AirPlay and Bluetooth wireless options, and Spotify Connect, along with hooks for expansion into Denon's proprietary HEOS wireless-multiroom ecosystem, DLNA-compatible streaming-audio readiness (including DSD playback), and a whole lot more.
The Setup
Denon's layout for its latest line is fairly conventional: drop-down frontpanel door and just two big knobs, for a clean front panel. But the rear panel is quite the forest, with no fewer than 11 speaker-connection multi-way pairs and a goodly number of legacy connections, including three composite-video inputs (for vintage gamers and laserdisc enthusiasts, I suppose?) and dual component-video paths. Add to that a full HDMI complement (all 2.0a/HDCP 2.2 4K ready) and the usual analog and digital audio jacks. Since my hookup, initially at least, consisted almost entirely of HDMI and speaker cables, connection was quick and easy nonetheless.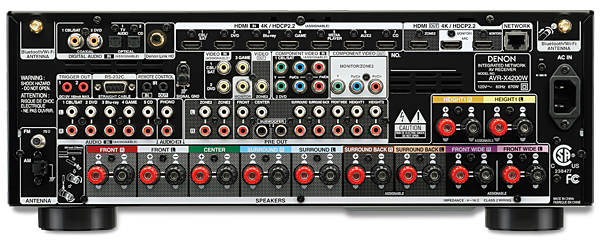 That said, as an Atmos design, the AVR-X4200W has up to 9.x-channel surround processing but with only seven power-amp channels on board. For my 5.1.4 Atmos layout, this necessitated external amplification for at least one channel-pair; I used my ever-willing 7 x 150 power amp's Nos. 6 and 7, supplied from the receiver's preamp outputs. This is in fact a 15-RCA-jack, 13.2-channel grouping, accommodating a DSX- and Atmos/DTS:X-compatible layout without switching cabling—I think. (I've been doing this for decades, and I'm not positive. Imagine a first-time buyer? I can't.) The Denon's complexity of setup options is no worse than any other similar A/V receiver's, and its manual and onscreen guides mitigate it better than some. Nevertheless, the ever-ascending complexity of home theater worries me. Still, given the general performance advantage of 5.1.4 Atmos versus 5.1.2, having nine-channel processing aboard a seven-channel receiver like this provides a good choice for the not-quite-yet-committed Atmos seeker who wants to keep all options open for the future while keeping budget in check today. We would do well to see more AVRs like this.
Aside from plugging in a Nile delta of speaker wires and a handful of HDMI cables, initial setup consisted entirely of running the Audyssey auto-setup/EQ program, which accepts up to eight different mic placements to derive the fullest picture of room acoustics. Doing so took a solid 45 minutes, and it returned the results I've come to expect from multiple Audyssey runs on various gear: Channel levels, crossovers, and distances were all spot-on or very nearly so, and a corrective EQ, with Audyssey's Reference option, focused imaging and tightened bass in familiar ways.
Elsewhere on the software front: My sample reported its firmware as up to date, but it notified me upon a subsequent turn-on that a free "feature update"—Auro-3D—was available by checking the Denon website. This rather unspecific adviso (it's a big website) led to a substantial bit of online poking around without success, so I reverted to Denon's marketing folks, who e-mailed me a direct link (and a code to sidestep the $199 upgrade fee). I ultimately did find the link on Denon's homepage, accessible from a small, bottom-of-page "Upgrades" button in the Customer Service section—Denon needs to make this easier to find, says I. The install procedure required entering (at the computer) a few provided codes and the unit's serial number, plus a rather complete product registration, and then took about 20 minutes to download. But the AVR-X4200W restarted with Auro-3D on board, as well as an onscreen hookup guide, tutorial, and amended owner's manual.
The Performance
I can dispense with the receiver's qualifications as both a two-channel amplifier and a multichannel amp straightaway: It's excellent. Denon rates it as "125 + 125 watts" while making no mention of all-channels power, an omission in which Brand D is far from alone. Whatever the case, the AVR-X4200W had no problem delivering satisfying levels from two-channel material, or movie- and music-surround programs, at high levels in my room. A punchy stereo recording like Keith Richards' accidentally audiophile Main Offender CD produced solid thwack and grind in full-range (subwoofer-less) playback, all while retaining the surprising clarity and presence incorporated within Keef's (as usual) rather buried vocals. A big-band-funk multichannel extravaganza like the Jaco Pastorius memorial/tribute Word of Mouth Revisited (SACD) yielded similar satisfactions: Horn stabs and slapped bass were snappy and butt-kickingly full of impact, while drummer Mark Griffith propelled everything with sharp, transient energy filled with ambient cues.