Onkyo TX-RZ900 A/V Receiver Review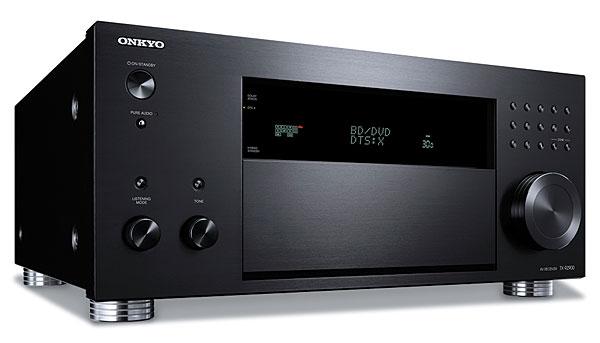 PRICE
$1,599
AT A GLANCE
Plus
Equipped with Dolby Atmos, primed for DTS:X
Abundant clean, dynamic power
AirPlay, Bluetooth, Wi-Fi all on board
Versatile, usable, hi-res-ready streaming options
Minus
Only two height channels, whether powered or line
Failed to stream DSD recordings
THE VERDICT
Plenty of performance and features, and solid human factors, with an emphasis on core audio quality, at fair "flagship" pricing.
Producing a test report on a "flagship" A/V receiver is always a bit of a high-wire act. On one hand, the receiver represents the top of the line: Maximum power, maximum features, and maximum performance are all expected—and generally delivered. On the other hand, cruiser-class designs rarely offer much of real importance that a model two or three jumps down any given maker's line doesn't also do quite competently—and for roughly half the price, which means it's the model that most folks eventually buy. This leaves the hapless reviewer with the unenviable choice of either damning with faint praise or condemning excellence for its expense.
That said, Onkyo's latest isn't literally top-of-the-line; a couple of preexisting, fully 11.2/9.2-channel models carrying higher MSRPs remain on the company's Website. Nonetheless, I will lead with this advice: If a flagship (or flagship-consort) model incorporates a feature or real utility you need—in the TX-RZ900's case, this might be Zone 2 HDMI-out—go for it in good conscience. Otherwise, "just because" is probably as good a rationale as any; it's always nice to know you bought the best.
The Setup
Although it's heavy enough at 40 pounds—much of that due to a special toroidal power transformer touted as a boon to sound quality—the newest Onkyo is half the weight of some A/V flagships of yore, so I managed to unbox it and hoist it atop my rack without sustaining permanent injury. The receiver's black-monolith looks are squarely handsome, but its tiny gold-on-black panel graphics proved entirely illegible without strong light and reading glasses. And while the central, drop-down door that conceals secondary controls moved smoothly and closed crisply enough, its closed-position stops—a pair of foam blocks glued to the subpanel—seemed rather inelegant when it was open.
Three important features, the first two also present on newer Onkyo models well down the lineup, highlight the TX-RZ900. First, it's DTS:X-ready, meaning that a future firmware update is promised to deliver DTS's flavor of object-oriented, channel-scalable surround sound—alongside Dolby's flavor, Atmos, which is also included here. Second, the receiver provides HDCP 2.2-capable HDMI connectivity, which means that it will, or at least should, accept forthcoming 4K Ultra HD Blu-ray players. Third, the TX-RZ900 is THX Select2 Plus certified. (THX categories are getting as hard to keep straight as canned-olive grades.) Onkyo also underscores that the HDMI ports support passthrough of high dynamic range (HDR) video, though unlike some other models in Onkyo's line, the TX-RZ900 performs no video processing. It is strictly a what-comes-in-is-what-goes-out device, the sole exception being incoming SD video, which the Onkyo cross-converts to HDMI but does not scale.
Thus, the only video "performance" note I made regarded HDMI source-to-source switching, which seemed noticeably faster than what I've experienced from many other Onkyo AVRs—a welcome upgrade. Otherwise, the TX-RZ900's only real video aspect was its onscreen displays, which were quick, crisp, and readable, though entirely text-based despite a "Features" bullet-point of "Graphical Overlaid OSD." Interestingly, an Onkyo receiver at half the price I reported upon nearly two years ago included very competent Marvel Qdeo video processing.
The little-mourned decline of S-video and composite-video (0/4 jacks, total) makes for a spacious rear panel; hookup was a snap. While billed without qualification as Dolby Atmos/DTS:X-ready, the TX-RZ900 incorporates only seven amplifier channels, so an Atmos/DTS:X setup with more than two "height" speakers—which I think very well worth the trouble—is not an option. Worse, Onkyo does not even permit you to route the two shortchanged channels to an external amplifier: With the TX-RZ900, two height channels is the max, period. Onkyo is by no means alone among the AVR corps in producing receivers in this architecture, but in all cases, and certainly at this price, I deplore the lack of expandability. (Onkyo's $1,699, nine-channel-power TX-NR1030 does permit flexible, 11.2-channel pre-out routing, so we know it's possible.) Neither the TX-RZ900's printed Basic Manual (supplied) nor the online Advanced Manual Web-linked on its cover, make all of this particularly explicit. (Ironically, the Dolby Atmos graphic on the TX-RZ900's page on Onkyo's own Website displays nine loudspeakers.)